Republican presidential candidate Ted Cruz earned some boos and hisses while on CBS' "The Late Show" Monday evening as the topic turned to his views on same-sex marriage.
"I believe in democracy," Cruz managed to say after host Stephen Colbert pressed him on his marriage views. The Texas senator had been saying that he believes marriage is an issue that should be decided by the states — citing the 10th amendment — when the crowd made their disagreement heard.
"Guys, guys, however you feel, he's my guest so please don't boo him," Colbert had to tell his guests.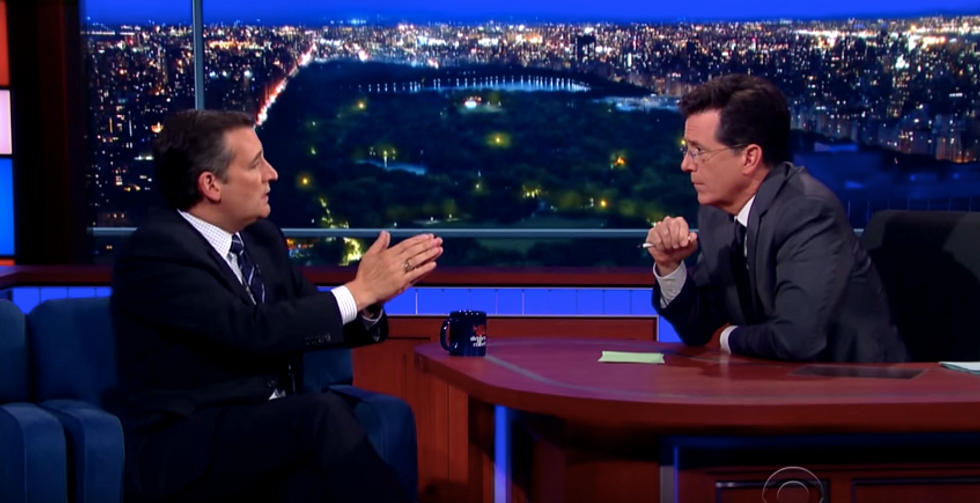 Image source: YouTube
"I don't think we should entrust governing our society to five unelected lawyers in Washington," Cruz was able to explain, referring to the Supreme Court. "Why would you possibly hand over the rights of 320 million Americans to five lawyers in Washington to say, 'we're going to decide the rules to govern you.' If you want to win an issue, go to the ballot box and win at the ballot box."
Colbert and Cruz also sparred over former President Ronald Reagan's record on taxes and amnesty for illegal aliens during the segment, leading Colbert to ask Cruz if he would be willing to compromise if his plan for the country didn't turn out the way he hoped.
"As I travel the country, I haven't seen anyone saying, 'the thing we want more from Republicans is to give in to Barack Obama and the direction we're going.' I don't hear that across the country," he said.
Watch their exchange between Colbert and Cruz below.