A distraught Islamic militant broke down in tears as he prepared to embark on a suicide bombing in Syria, video posted on jihadist forums appeared to show.
The video offered rare insight into the lives of those tapped to carry out suicide missions — often foreigners who have traveled on jihad to Syria. While most images posted on jihadist forums show militants heading with enthusiasm and bravado on their suicide attacks, the latest video made it clear that not every militant is thrilled about his assignment.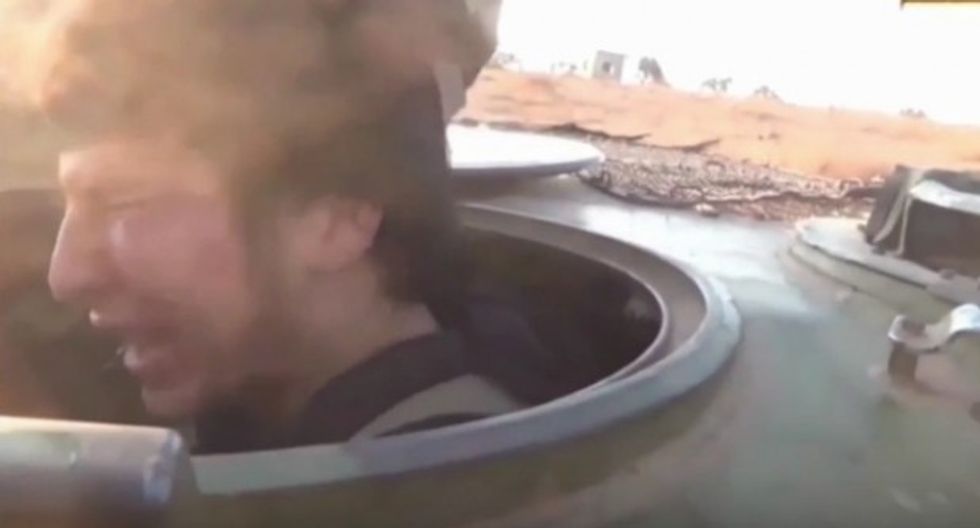 The jihadist tapped for the suicide mission sobbed when he got into the vehicle moments before driving to the attack site. (Image source: YouTube)
The apparently panic-stricken bomber — who was identified by several British media outlets as Uzbek national Jafar al-Tayyar — is first seen in the video being hugged for comfort and encouragement by his jihadist mates before he gets into the armored vehicle.
Once inside the vehicle, he sobs as the last moments of his life tick away.
Radio Free Europe/Radio Liberty offered translation of the video, reporting that one of the Uzbek-speaking Islamists warned the condemned man that the "shaytan," or devil, was trying to frighten him.
"Jafar, my brother, don't be afraid. When you are scared, remember Allah," the fellow militant said.
Jafar replied that he was not afraid of the devil, rather, "I'm just scared I won't succeed."
He is encouraged by his comrades-in-arms to lift his index finger, a salute associated with jihadist groups that expresses the oneness of Allah.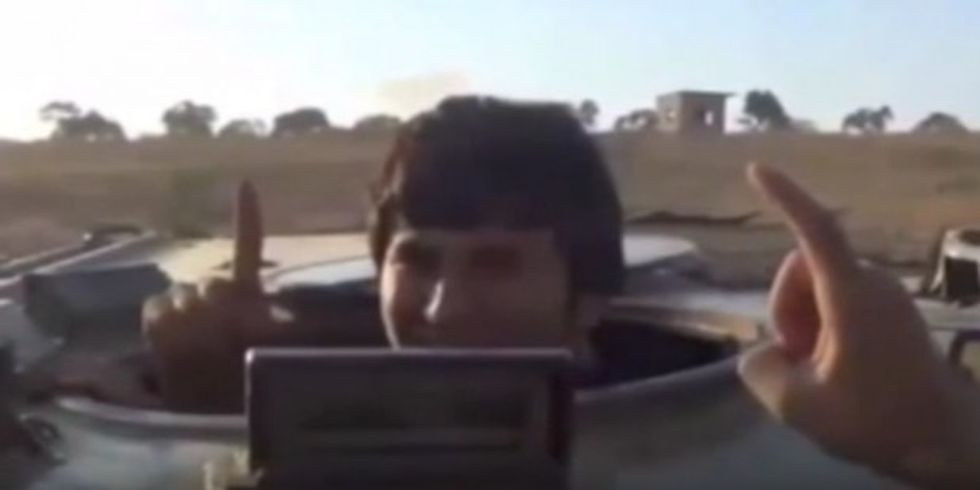 The bomber was encouraged to give the index finger salute, an act associated with jihadist group adherents, emphasizing the oneness of Allah. (Image source: YouTube)
Though this suicide bomber was reported to be fighting on behalf of Al Qaeda's Syrian affiliate, the Nusra Front, many Islamic State group fighters pose holding their index finger to the camera before they embark on suicide missions.
This video excerpt was posted by Britain's Metro news site. (Warning: video contains disturbing images.)
Britain's Daily Mirror reported that the attack was launched on the Shi'ite town of Fua in Syria's Idlib Province on Sept. 18.
The end of the video shows his armored personnel carrier driving off into the distance then detonating into a huge explosion.