Rep. Bob Brady (D-Pa.) stole the water glass Pope Francis used for his historic speech before Congress Thursday, The Washington Post reported.
The Democratic congressman confirmed to The Post that he snatched the half-full glass the pope had used from the lectern while his colleagues were distracted with the pope's departure.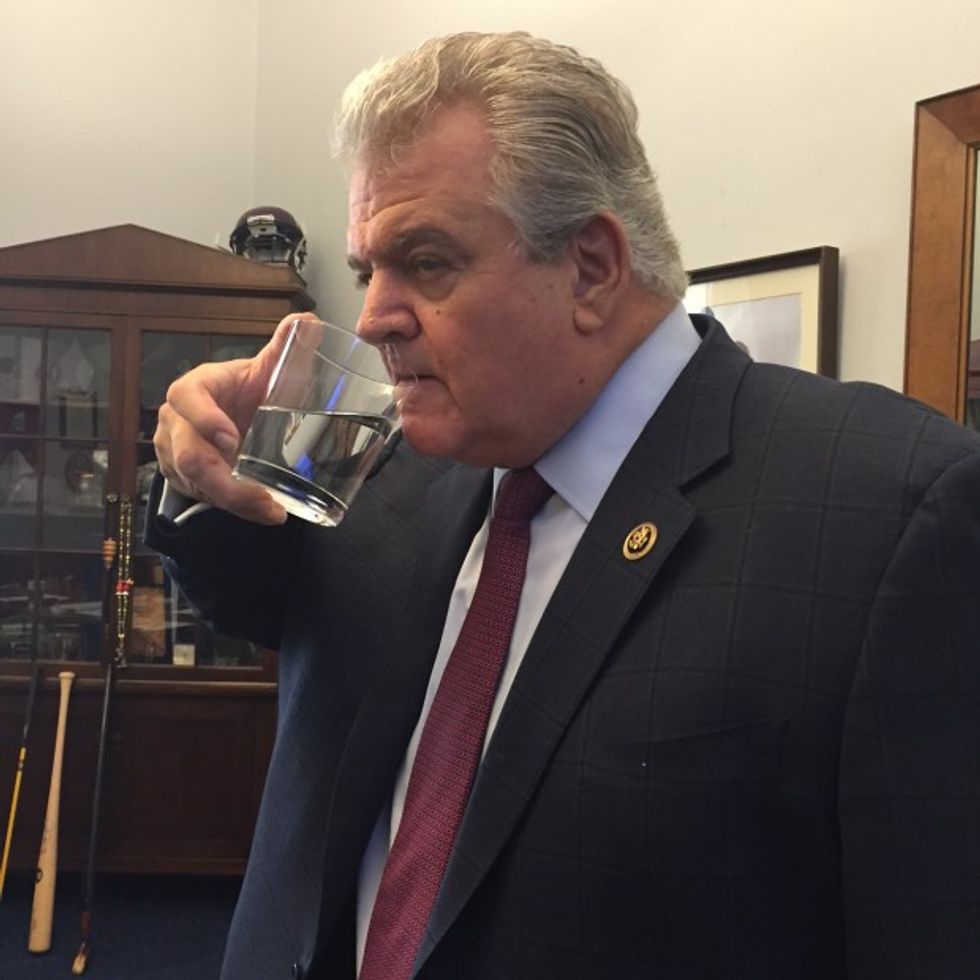 In this photo taken Thursday, Sept. 24, 2015, U.S. Rep. Bob Brady, D-Pa., drinks from a glass of water that Pope Francis used during his speech to Congress, while standing in Brady's Washington office. (Stan White/U.S. Rep. Bob Brady's office via AP)
The story was first reported by the Philadelphia Daily News.
Brady took the glass to his Capitol Hill office where he sipped some of the water. The Pennsylvania Democrat passed it around to his wife and staffers.
"Anything the pope touches becomes blessed," he told The Post. "I think so and no one is going to change my mind."
[sharequote align="center"]"Anything the pope touches becomes blessed."[/sharequote]
According to The Post, Brady invited Sen. Bob Casey (D-Pa.) to his office to dip his fingers in the remaining water. Brady's wife and mother apparently also took part in that practice.
Rep. Bob Brady drinks from Pope Francis' water glass and shares it with his staff: http://t.co/72dtuZy6gmpic.twitter.com/gb5yV06Fr1

— ABC News (@ABC) September 25, 2015
Brady told The Post Friday that he had contacted the House Architect so that he could pay for the stolen glass. He was told that a check would be sent to him.
When the story was published by The Post, many reacted online.
From the Dept. Of Weird and shameless. The+congressman+who+stole+the+pope's+water+glass+and+drank+from+it http://t.co/LPt6bYNwRj

— PETER MAER (@petermaer) September 25, 2015
Holy backwash, Batman. From @ColbyItkowitz the case of the pilfered pontiff glass: http://t.co/Xc5dZiXRUk

— Anne Rumsey Gearan (@agearan) September 25, 2015
This is just weird: The congressman who stole the pope's water glass and drank from it http://t.co/PGRUCyHtv7 via @colbyitkowitz

— Karen Tumulty (@ktumulty) September 25, 2015
Kinda creepy, actually. And who's paying for fingerprint analysis? U.S. Rep. Brady helps himself to pope's glass http://t.co/2m4NSkQnlw

— Helen Ubiñas (@NotesFromHeL) September 25, 2015
—
Follow the author of this story on Twitter and Facebook: