Former Major League Baseball star and World Series hero Lance Berkman has gotten behind a campaign to defeat Proposition 1 — Houston's Equal Rights Ordinance — over a concern that it would allow men access to women's bathrooms and boys access to girls' showers and locker rooms.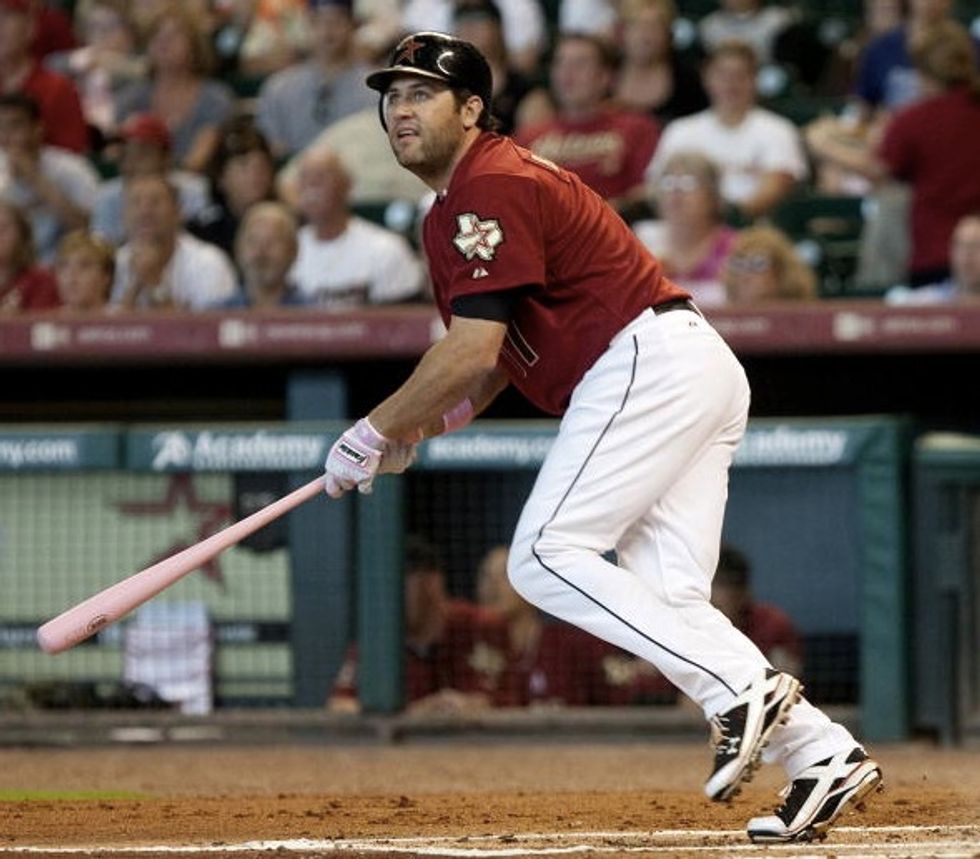 Lance Berkman #17 of the Houston Astros bats against the San Diego Padres at Minute Maid Park on May 9, 2010 in Houston, Texas. (Bob Levey/Getty Images)
The ordinance, which will be a ballot measure in the city's general election Nov. 3, protects access to public accommodations regardless of sexual orientation, gender, race, national origin, religion — as well as gender identity.
The HERO measure defines "gender identity" as "an individual's innate identification, appearance, expression or behavior as either male or female, although the same may not correspond to the individual's body or gender as assigned at birth."
Berkman — who played for the Houston Astros, St. Louis Cardinals and other teams — spoke on an audio ad for Campaign for Houston released on Thursday, KPRC-TV reported.
Here's the text of Berkman's audio segment:
"Vote no on Proposition 1. No men in women's bathrooms. No boys in girls' showers or locker rooms. I'm Lance Berkman. I played professional baseball for 15 years, but my family is more important. My wife and I have four daughters. Proposition 1 — the bathroom ordinance — would allow troubled men to enter women's public bathrooms, showers and locker rooms. This would violate their privacy and put them in harm's way. That's just wrong. We must prevent this potential danger by closing women's restrooms to men rather than waiting for a crime to happen. Under Proposition 1, if restaurants, businesses and sports facilities don't allow a man into a women's restroom, they would be subject to penalties and fines. This proposed ordinance says that it will stop discrimination. But in reality it discriminates against people who believe, like me, that members of the opposite sex should not be forced to share restrooms or locker rooms. Join me to stop the violation of women's privacy and discrimination against women. Vote no on Proposition 1. No men in women's bathrooms. No boys in girls' showers or locker rooms."
Once word got out about Berkman's stance, reaction against him was swift and continued into Saturday:
Shame on you, Lance. How to undo a spotless reputation with a burst of bigotry and stupidity RT @outsports F… http://t.co/hIgnNFithx

— Keith Olbermann (@KeithOlbermann) September 25, 2015
You know what Lance Berkman ... you can go straight to hell http://t.co/kr8cUHyEjX

— Jeff Morton (@jmorton78) September 26, 2015
Lance Berkman needs to take a moment and reflect on some basic human traits like "empathy" and "critical thinking." http://t.co/NJW97TJQs1

— Chris Kluwe (@ChrisWarcraft) September 25, 2015
get bent, Lance Berkman http://t.co/kBUoQqTx1r

— Jay Jaffe (@jay_jaffe) September 25, 2015
Lance Berkman offers up tired, anti-trans scaremongering in Houston political ad. https://t.co/8RyhL0erZc

— Craig Calcaterra (@craigcalcaterra) September 25, 2015
While it appeared most Twitter reactions were negative, some people stuck up for Berkman:
This is called 'Bigotry' today! Former Astros star Lance Berkman attacked for saying 'No men in women's bathrooms' http://t.co/gumZ0gh4US

— Dr. Michael L. Brown (@DrMichaelLBrown) September 26, 2015
Lance Berkman stands up for sanity in Houston. No boys in the girls bathroom. (How did this become a question?) https://t.co/50Yk0T3O24

— Chip Roy (@chiproytx) September 26, 2015
Proponents of Proposition 1 have dismissed the safety concerns of detractors, focusing instead on the broader equal rights advances the measure would achieve.
Berkman defended his remarks to the St. Louis Post-Dispatch on Friday, describing a scenario where one of his daughters is in a public bathroom "and there's a guy in there and I don't know what his intentions are. Is he a voyeur? Is he a child molester? Does he really think he's a woman? I don't know."
Given chatter that the term "troubled men" in his audio ad referred to transgender individuals, Berkman told the Post-Dispatch that wasn't what he meant.
"That terminology didn't apply to transgender," he told the paper. "I reserve the right to have my opinion. But I don't think there is anybody in America that wouldn't think a child molester is troubled. That language refers to that scenario or a voyeur – somebody who goes into a women's bathroom and just likes to look at people. That to me is troubled. … To me, you're introducing tremendous risk for a very little reward. It's not like we're preventing somebody from voting or depriving of a basic right that we in America consider your basic freedoms. We're talking about just, hey, if you're a guy go to the bathroom in the guy's bathroom and if you're a girl go to the girl's bathroom."
When asked if his sentiments would paint him as bigoted, Berkman — an outspoken Christian — told the Post-Dispatch that "you can't please everybody."
"I don't say this to demean any segment of the population no matter how small. … You can pick at nits and say this is discriminating or that's discrimination, but you drive yourself crazy and certainly I wouldn't want to be painted or perceived as a guy that is discriminating against any member of our population," he told the paper. "But, at the same time, I do think there are certain things that we're better not traveling down that path."
Toward the end of his career, Berkman had an at-bat for the St. Louis Cardinals that few who watched the thrilling 2011 World Series will ever forget. With the Cards on the brink of losing it all in the sixth game, Berkman hit a two-strike, two-out single to drive in the tying run in the bottom of the 10th inning. The Cardinals went on to win the game — and the Series — in seven games.
This story has been updated.
—
Follow Dave Urbanski (@DaveVUrbanski) on Twitter