Former NBA great Kareem Abdul-Jabbar said the notion that Shariah law endorses killing homosexuals, rape and making women subservient to men is "crazy" and insisted that critics of Shariah are out to make Muslims "the villain."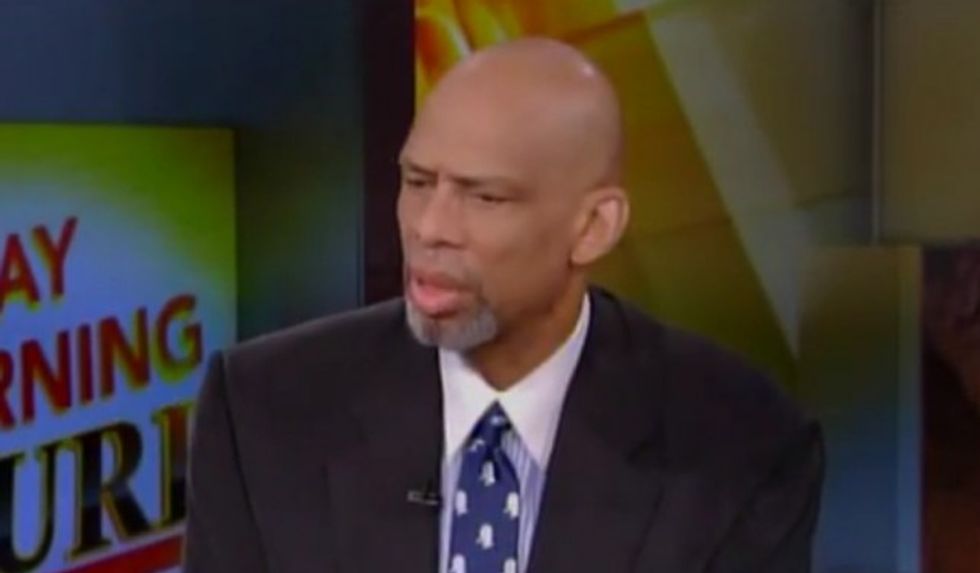 Image source: YouTube
In an interview with Fox News' Maria Bartiroma on "Sunday Morning Futures," Abdul-Jabbar's comments came after Bartiroma noted Republican presidential candidate Ben Carson's statements about not wanting a Muslim in the White House who hadn't renounced Shariah Law.
"We know that Shariah law means killing homosexuals, women are subservient to men," Bartiroma said. "Tell me about Shariah law."
Here's how Abdul-Jabbar replied:
"Islam does not OK the things that you just mentioned, killing people, rape, all of these things that have been associated now with Shariah law. That's crazy. None of the people that have that criticism of Shariah law have checked out the law. Because it's not even for non-Muslims. Shariah law is for the ruling of an Islamic state. So Shariah law could never apply here in America because America is a very diverse place. So they've got it all wrong. They don't know what the law states, actually. And they want to distort it in order to make Muslims the villain. And there's enough real villainy going on without people inventing it."
Here's the clip:
(H/T: The Gateway Pundit)
—
Follow Dave Urbanski (@DaveVUrbanski) on Twitter