While campaigning in Iowa, Carly Fiorina was interrupted by Planned Parenthood protesters who chanted and reportedly threw condoms toward her and her supporters.
A few dozen protesters gathered at a tailgate for the University of Iowa Hawkeyes where the Republican presidential candidate met with supporters and college football fans. One woman wore a birth control costume as others held signs and chanted. According to CNN, Fiorina told an aide to "let them protest" and engaged one of the Planned Parenthood supporters.
Cindy Shireman, 54, walked up to Fiorina and put her hand on Fiorina's arm before asking, "how can you as a woman not support our healthcare?"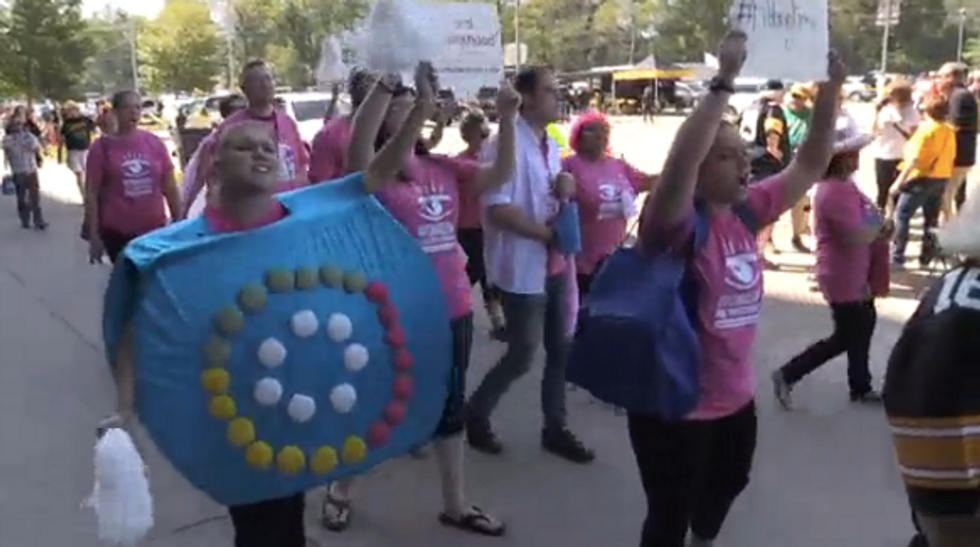 Image source: NBC News
"Oh, I support women's health care," Fiorina responded. "I don't support the butchering of babies, and you ought to go look at those videos."
"I understand we may disagree on things, but you need to ask yourself some questions. Why is it that fetuses are aborted alive to butcher their brains? Why," Fiorina asked Shireman, who identified herself as a Planned Parenthood supporter at the beginning of their conversation. "How much money does Planned Parenthood give to Democratic candidates? This is a big political rigged game."
Shireman said she'd find out the answers to Fiorina's questions and come back to talk to her in the future. She also fired back at former CEO and asked how much money she is receiving "to do the abortion agenda" to win the Republican nomination.
"I think we're making a difference, that's my reaction," Fiorina told reporters of the protesters. "I think they're scared that the people of America are starting to look at what's really going on in a Planned Parenthood clinic."
"Layoffs, lies, no surprise. Carly fumbles for these Hawkeyes," the protesters chanted.
NBC News reported that the Planned Parenthood supporters were handing out condoms to those at the tailgate and a few unopened packages were tossed Fiorina's way, but it was unclear who threw them.
A Planned Parenthood representative told NBC that Saturday's protest could be the first of many scheduled for Fiorina's campaign stops.
Fiorina, who has risen in the polls since the second GOP debate, is facing controversy ever since she made the comment that a video released by an anti-abortion group showed a "fully formed fetus" alive as someone can be heard saying they must keep it alive in order to "harvest its brain."
Fiorina has doubled down on her comment, saying people are more focused on a "technicality" than what the undercover videos show.
"Interestingly, no one has denied that babies are being butchered for their body parts in Planned Parenthood clinics and elsewhere. No one has denied that," Fiorina said earlier this week while in South Carolina.