Donald Trump and Ben Carson are pretty much dead even at the top of the Republican field vying for the 2016 presidency, NBC News reported Sunday, citing its new poll with the Wall Street Journal.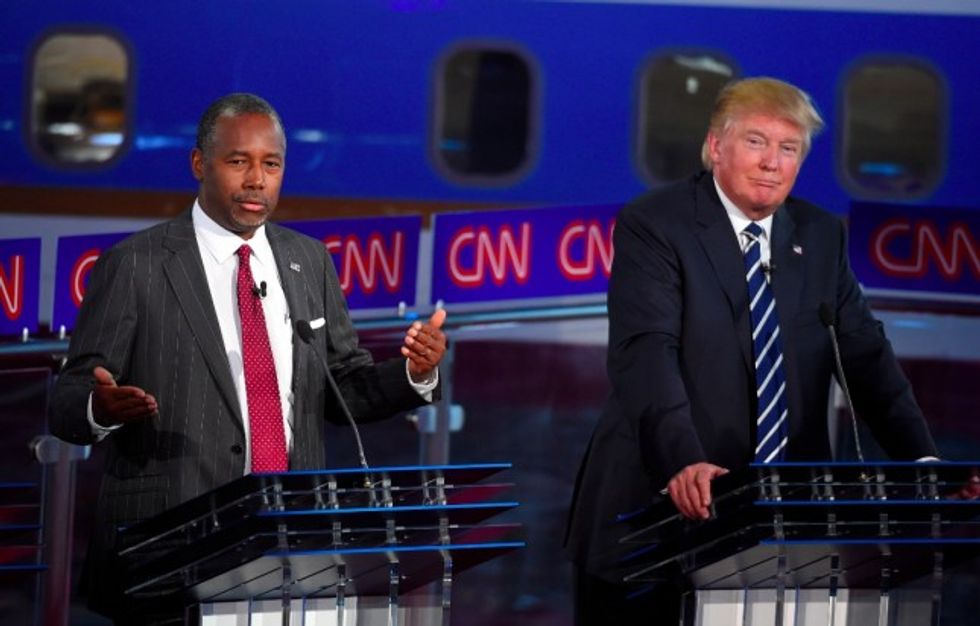 Republican presidential candidate, businessman Donald Trump, right, listens as Ben Carson speaks during the CNN Republican presidential debate at the Ronald Reagan Presidential Library and Museum, Wednesday, Sept. 16, 2015, in Simi Valley, Calif. (AP Photo/Mark J. Terrill)
In addition, fellow GOP candidates Carly Fiorina and Marco Rubio are tied for third place.
Trump leads with 21 percent, but Carson is at 20 percent among GOP primary voters, poll results found, while Rubio and Fiorina both garnered 11 percent support.
Jeb Bush is at 7 percent, John Kasich is at 6 percent and Ted Cruz is at 5 percent, the poll said, adding that no other Republican received more than 3 percent support.
More from NBC News:
Back in July's NBC/WSJ poll, Trump was in first place at 19 percent, Scott Walker (who exited the race on Monday) was second at 15 percent, Bush third at 14 percent and Carson fourth at 10 percent. Rubio was just at 5 percent, and Fiorina didn't register at all in the poll.

Adding both first and second choices, Carson tops the current GOP field at 35 percent - followed by Trump at 31 percent, Fiorina at 28 percent, Rubio at 26 percent and Bush at 19 percent.

The NBC/WSJ poll was conducted Sept. 20-24 — so mostly after Walker suspended his campaign on Sept. 21. Only one GOP primary voter (out of 59 interviews) had selected Walker before he was removed from the survey.
Among Democratic candidates, Hillary Clinton leads Bernie Sanders by 7 points with Joe Biden in the race and by 15 points without the vice president in the running, the poll indicated. By comparison, Clinton led Sanders by 34 points in July and by 60 points in June, NBC News said.
The NBC/WSJ poll featured 256 Democratic voters (plus-minus 6.1 percentage points margin of error) and 230 Republican primary voters (plus-minus 6.5 percentage points margin of error), NBC News aid.
—
Follow Dave Urbanski (@DaveVUrbanski) on Twitter