Hours before he is set to meet privately with Russian President Vladimir Putin, President Barack Obama criticized the Russian government as he called for diplomacy and international cooperation at the 70th meeting of the United Nations General Assembly.
"We cannot stand by when the sovereignty and territorial integrity of a nation is flagrantly violated," Obama said Monday in New York, referring to Russia's move into Ukraine.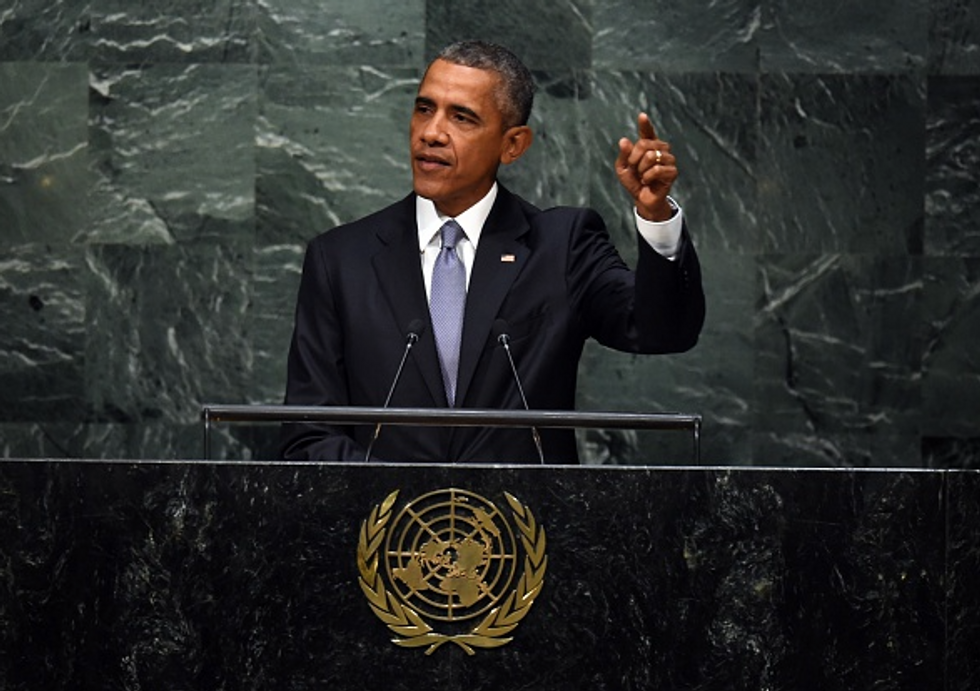 President Barack Obama addresses the U.N. General Assembly, Sept. 28, 2015 at the United Nations in New York. (Timothy A. Clary/AFP/Getty Images)
He said the basis of sanctions on Russia was not a return to the Cold War, and noted how Russia's economy has suffered.
"Imagine if Russia had engaged in true diplomacy," Obama said. "We don't want to isolate Russia. We want a strong Russia willing to work with us to strengthen the international system."
Obama referred to the "international system" several times in praising the accomplishments of the United Nations over the last seven decades.
He also called the Iran nuclear deal, which resulted in part from sanctions by the international community, an example of "strength of the international system when it works as it should."
However, he had a warning for those in the country: "The Iranian people have a proud history, but chanting death to America does not create jobs or secure the future."
Obama also said that embattled Syrian President Bashar Assad, who is getting assistance from the Russian government, must step down in a "managed transition" of power.
"After so much bloodshed, so much carnage, Syria cannot return to the status quo," Obama said.