A woman attempted to deliver a gigantic bouquet of yellow dahlias, the national flower of Mexico, to Donald Trump in protest, but there was just one problem — the revolving doors of Trump Tower in New York City.
In footage obtained by celebrity gossip site TMZ, Estefani Mercedes struggled to carry 1,000 of the yellow flowers into the building and proceeded to drop and step on many of the blossoms. At one point she asked any of the people who stood around watching her if they could help her pick up the dahlias.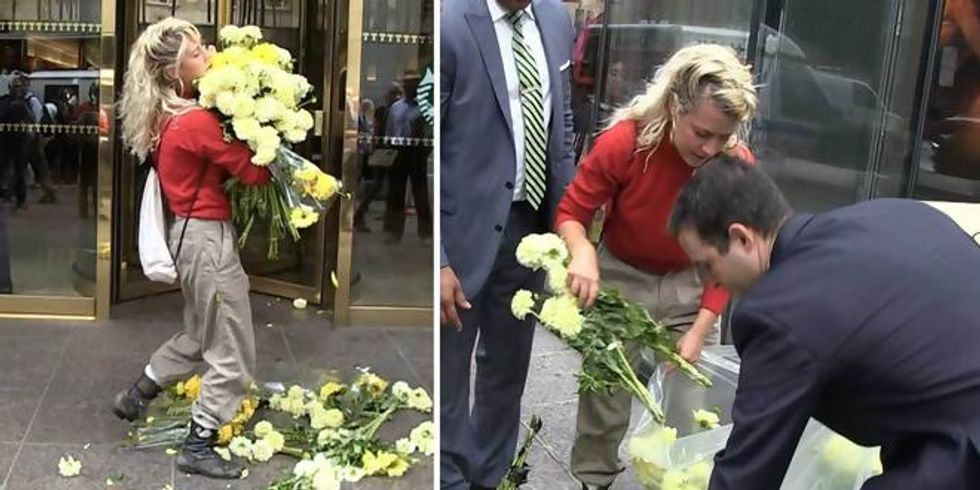 Image via Twitter @PeopleStarsNewz
Eventually, the edited footage showed Mercedes with a man in a suit whom TMZ identified as one of Trump's security officers picking up the flowers and putting them into a large clear trash bag as two other men in suits stand nearby. One of the men takes the bag away as another man hands her the one flower left.
"You can keep this one," he said.
In the video Mercedes said the flowers to Trump were courtesy of two organizations — Make the Road and the Artists Collective. 
TMZ reported that each of the flowers had a note attached to it with a sarcastic "thank you" from a Latin immigrant.
Trump, the Republican presidential frontrunner, has come under fire especially from Latinos and Hispanics for comments he has made about illegal immigration.