Following his team's loss to the Philadelphia Eagles on Sunday, New York Jets wide receiver Brandon Marshall admitted that he may have pulled the "worst play in NFL history."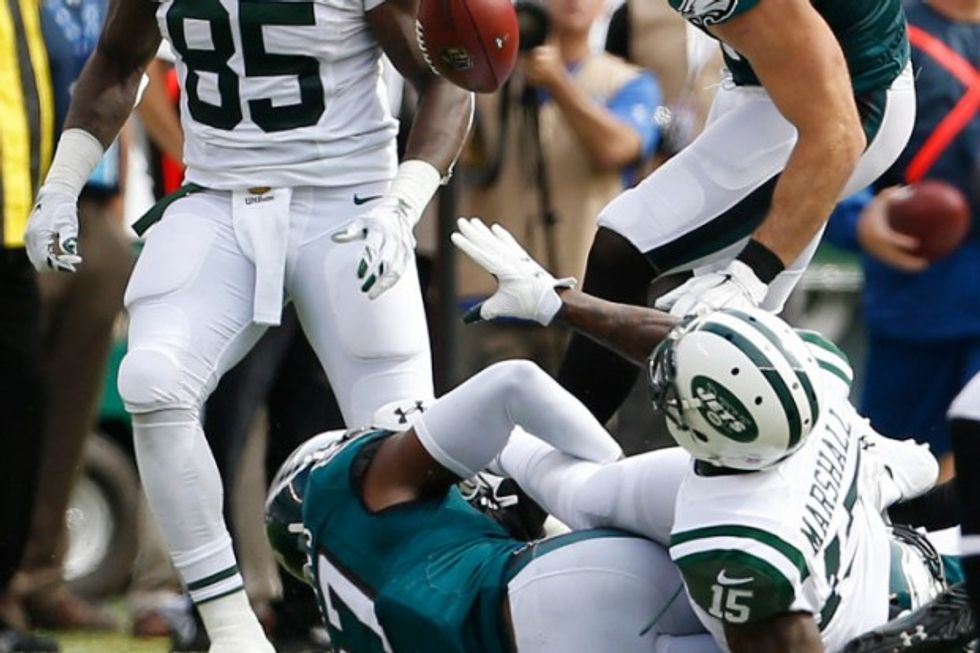 New York Jets wide receiver Brandon Marshall (15) makes a lateral pass into Philadelphia Eagles outside linebacker Connor Barwin (98) as he is tackled by Philadelphia Eagles free safety Malcolm Jenkins (27) during the second quarter of an NFL football game, Sunday, Sept. 27, 2015, in East Rutherford, N.J. The Eagles recovered the ball on the play as the pass was ruled a fumble. (AP Photo/Adam Hunger)
After catching a pass, Marshall attempted to pitch the ball behind him to a teammate — with Eagles defenders all over the place. The ball was fumbled and recovered by the Eagles. They went on to score, taking a 24-0 lead.
"Wrong time to gamble," Marshall said, calling it a "bonehead" move. "I was pressing, trying to make a play, but can't do that. That was probably. … worst play in NFL history."
Watch the play fall apart:
The Eagles beat the Jets 24-17.
(H/T: NY Post)
---