After a photo of a gun survey distributed to students at a Texas high school began to circulate online, parents were demanding to know who was collecting that information.
According to Tamra Spence, assistant director of communications for Pflugerville Independent School District, the survey was distributed to students at Hendrickson High School in Pflugerville, Texas, by their fellow peers. Spence told TheBlaze in an interview Tuesday morning that a group of journalism students, who had been studying gun rights and gun violence, decided to distribute the survey as research for a story in an upcoming issue of the school newspaper.
The survey was not mandatory and was not administered by school officials, and the high school's administration had previously not been aware of the questionnaire, Spence said.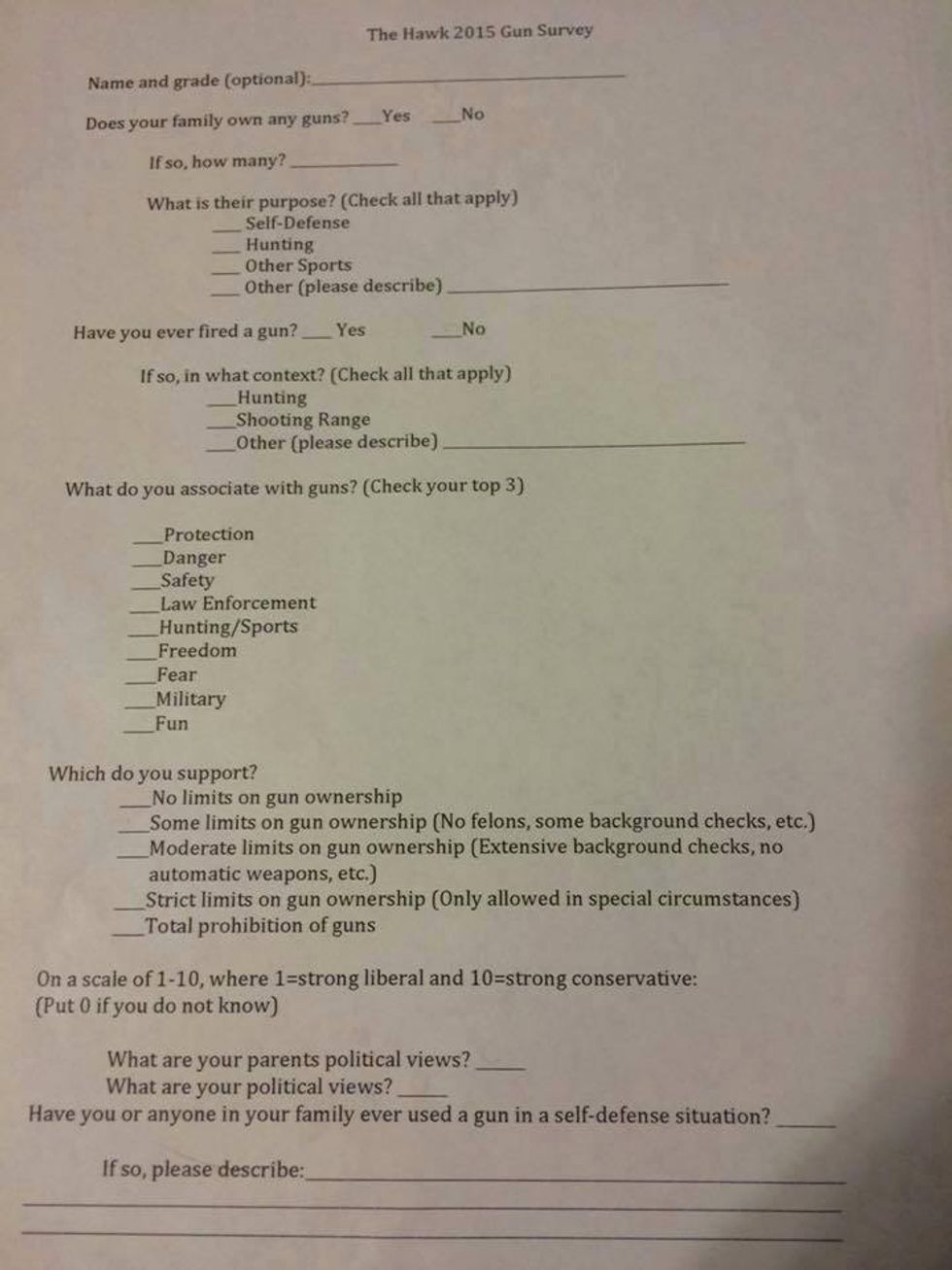 Image via Facebook/Michael Cargill
"It was for the school paper," Spence said. "The data is not going to go to the school district."
Hendrickson High School principal Daniel Garcia addressed parents' concerns about the survey in an email to the community.
"I want to clarify that this survey was voluntary, was created by students for students and is a common practice of our journalism students to gain student perspectives for their articles," Garcia said in a copy of the email that was provided to TheBlaze.
The survey, a photo of which was shared on Facebook by radio host and gun rights activist Michael Cargill, asked students to list how many guns their family owns, the purpose for the guns, the reasoning why they have ever used a gun and their political beliefs.
Many Facebook users who commented on Cargill's photo of the survey expressed outrage at the "intrusive" and "invasive" nature of the questionnaire, especially if it was mandatory for students. Stephen Parker, whose Facebook says he lives in Lubbock, Texas, commented that his wife speculated the survey could be used to gauge parents' reactions to teachers carrying on the high school's campus.
Michelle Morris, who identified herself as a parent of a Hendrickson High student, defended Garcia and said she was aware that he had concerns about the nature of some of the questions on the survey. She also clarified on the post that the survey was not, in fact, mandatory.
"Can the poster please clear up that it's the high school kids journalism class? Not the ISD or 'teachers' or the board? It's the kids and maybe that teacher of the class but by no means is this 'official' and going out to all the kids," Morris wrote. "I think there were 100 kids that were given the survey/questionnaire and even then, it wasn't mandatory. But this was driven by the high school kids."
Spence said out of the approximately 127 surveys distributed during a study hall, around 112 were voluntarily returned to help with the journalism project.
---