Rep. Jim Jordan (R-Ohio) spent all of his allotted speaking time during a tense House hearing on Tuesday trying to get Planned Parenthood President Cecile Richards to explain what exactly she was apologizing for when she issued a statement in response to a recent undercover sting video.
"If the videos were selectively edited…if this was entrapment, if this was all untrue then why did you apologize?" Jordan asked.
Richards said of Dr. Deborah Nucatola, who appeared in one of the undercover videos produced by the Center for Medical Progress, in a July statement, "In the video, one of our staff members speaks in a way that does not reflect that compassion. This is unacceptable, and I personally apologize for the staff member's tone and statements."
Richards repeatedly told Jordan that she felt it was "inappropriate to have a clinical discussion in a non-confidential, non-clinical setting." However, Richards was evasive when Jordan pressed her on which specific "statements" she was apologizing for in the statement.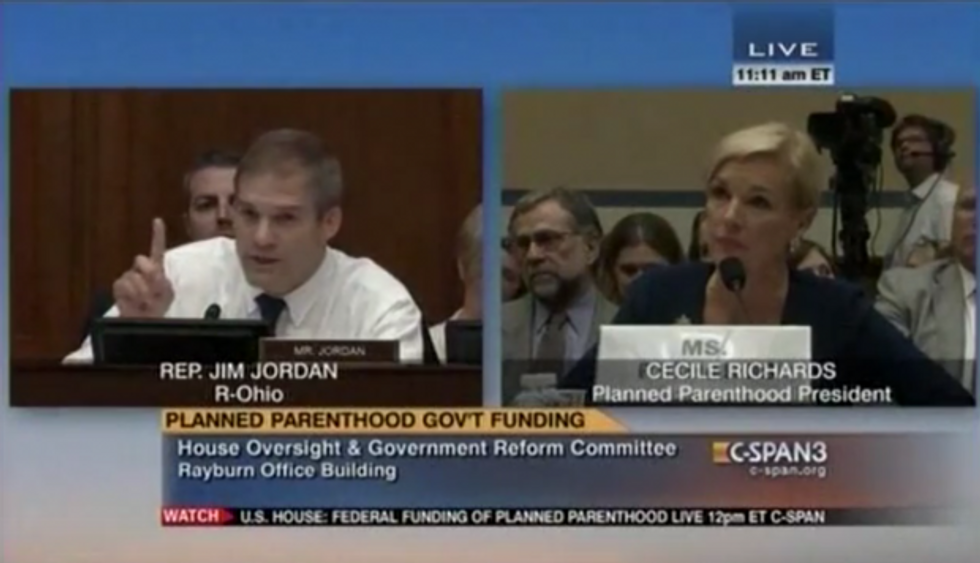 C-SPAN
"It was really the situation that she was in," Richards began.
"But…that's not what you said," Jordan shot back. "Which statements in the video were you apologizing for?"
After several minutes of back-and-forth, Richards told the Republican congressman they would have to "agree to disagree."
"I don't think we are agreeing to disagree, I think you are not answering my question," Jordan added.
Watch the exchange below:
---