With the deadline for the fundraising quarter looming, even one of Hillary Clinton's most controversial aides is making a campaign pitch for cash.
Longtime Clinton confidante Huma Abedin, who served as a deputy chief staff in the State Department and has been under scrutiny for her role with the corporate consulting firm Teneo while still working for the department, sent out an email pitch Tuesday night with the subject, "If you believe in Hillary." Abedin is also reportedly under investigation by the State Department's inspector general,
Abedin, the wife of disgraced former New York Rep. Anthony Weiner, is the vice chair of Clinton's presidential campaign, and the fundraising appeal demonstrates she isn't seeking to lower her profile.
"When we travel, Hillary relies on me for campaign updates. There's one thing she's going to ask this week: How many people stepped up and gave before the FEC fundraising deadline?" Abedin writes in the email to supporters.
The message asks for a donation of at least $10, and says, "It'll mean the world to her to know you have her back -- and make no mistake about it, she has yours."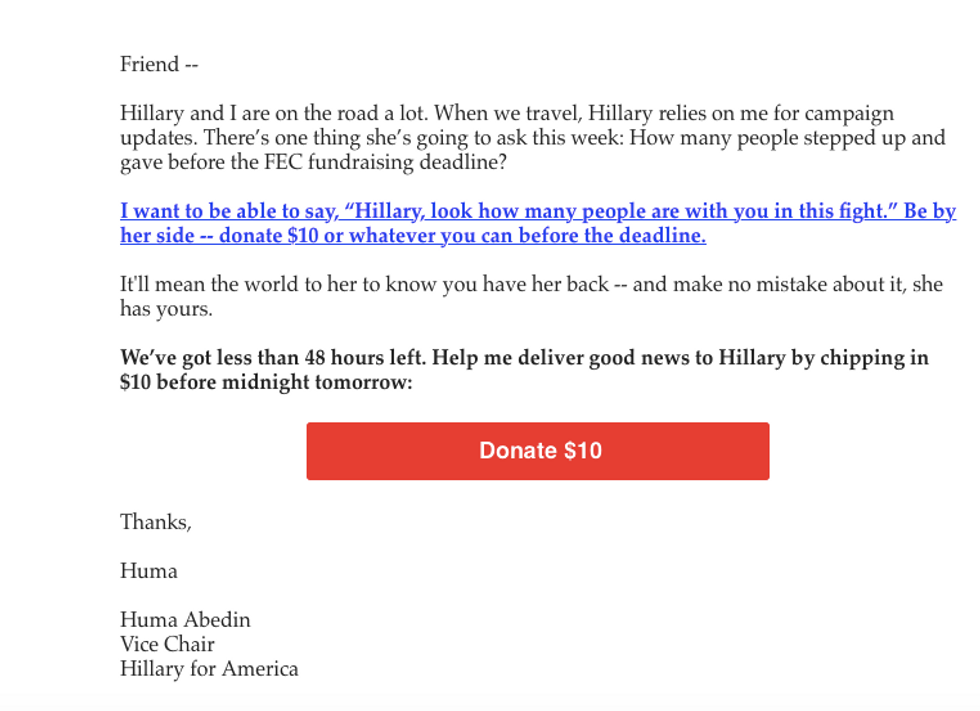 A Hillary for America fundraising email signed by Huma Abedin.