President Barack Obama will veto legislation that would ban sanctions relief for Iran until it pays tens of millions of dollars in damages to terror victims, the White House announced Wednesday.
"The president has made it clear that he will veto any legislation that prevents the successful implementation of the [Joint Comprehensive Plan of Action]," the Office of Management and Budget said in a statement of administration policy. "If the President were presented with H.R. 3457, he would veto the bill."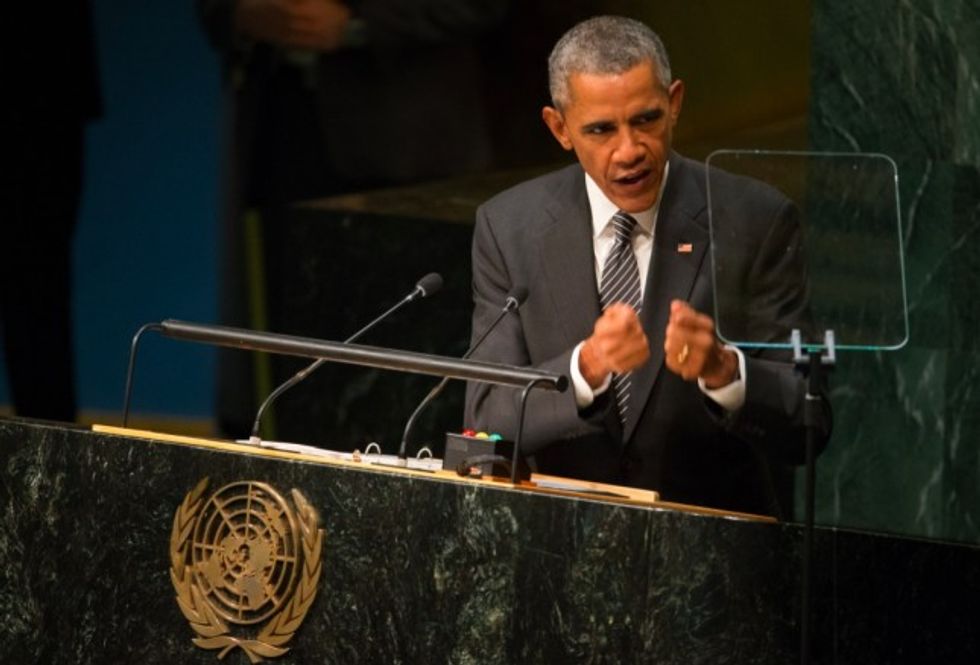 Image source: AP/Andrew Harnik
The Justice for Victims of Iranian Terrorism Act was introduced by Rep. Patrick Meehan (R-Pa.) and has 112 co-sponsors. It would specifically stop the president from waiving sanctions or refraining from applying sanctions pursuant to the Iranian nuclear deal without first certifying to Congress that the government of Iran had paid all court-ordered judgments.
The OMB statement said such a bill would be "tying the Administration's ability to fulfill U.S. commitments to non-nuclear issues that are outside the scope" of the Iran nuclear deal, also called the Joint Comprehensive Plan of Action.
The Foreign Sovereign Immunities Act gives U.S. victims of state-sponsored terrorism the ability to bring a lawsuit in U.S. courts and collect damages from those terror-sponsoring states.
Under this legislation, Iran has a debt of $43.5 billion in unpaid damages from about 80 judgments over the last 15 years, according to the Congressional Research Service.
"The administration continues to work to explore all possible avenues for compensation, but will not do so in a manner that would connect this issue to the JCPOA," the OMB statement added.
According to Meehan's office, the liability includes the 9/11 attacks, the 1996 Khobar Towers bombing, the 1983 attack on the Beirut Marine barracks and other bus bombings and suicide attacks, all linked to Iranian support in court decisions.
"Iran should not get a red cent in U.S. sanctions relief until it has paid its victims what they are owed," Meehan said after introducing the bill. "I oppose the Iran deal, but surely we can all agree that Iran should not reap any benefits from the U.S. until it has compensated the families of those whose lives were taken by Iranian terrorism."