A military source told Fox News Wednesday that Russian officials issued a demarche, ordering U.S. planes out of Syria.
But the unnamed source identified as senior defense official told Fox News that "there is nothing to indicate that we are changing operations over Syria."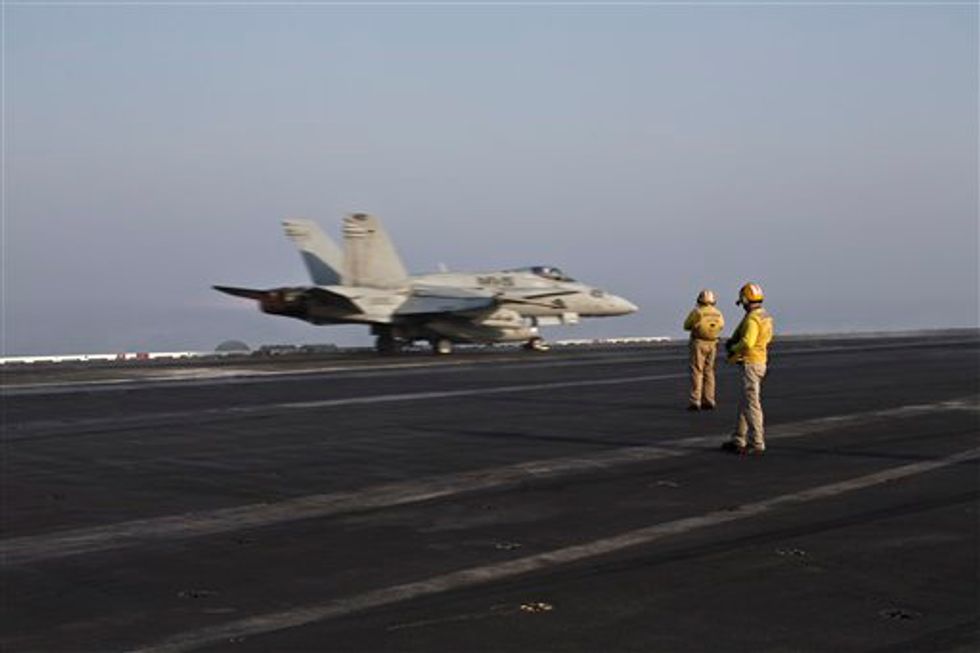 In this Thursday, Sept. 10, 2015 photo, plane directors, wearing yellow jerseys, oversee the takeoff of a U.S. Marine fighter jet aircraft aboard the USS Theodore Roosevelt aircraft carrier. Pilots onboard have flown missions into both Iraq and Syria, part of the over 6,800 airstrikes carried out since August 2014. Some 20 percent of all coalition strikes come from aircraft launched from the nuclear-powered Roosevelt.(AP/Marko Drobnjakovic)
This report comes after Russian lawmakers voted unanimously Wednesday to let President Vladimir Putin send Russian troops to Syria. The Kremlin sought to play down the decision, saying it will only use its air force there, not ground troops.
Putin had to request parliamentary approval for any use of Russian troops abroad, according to the constitution. The last time he did so was before Russia annexed Ukraine's Crimean Peninsula in March 2014.
The Federation Council, the upper chamber of the Russian parliament, discussed Putin's request for the authorization behind closed doors Wednesday, cutting off its live web broadcast to hold a debate notable for its quickness.
Sergei Ivanov, chief of Putin's administration, said in televised remarks after the discussion that the parliament voted unanimously to give the green light to Putin's plea. The proposal does not need to go to another legislative body.
Ivanov insisted that Moscow is not going to send ground troops to Syria but will only use its air force "in order to support the government Syrian forces in their fight against the Islamic State" group.
This air force though has prompted worries over Russian and U.S. jets clashing inadvertently over Syrian skies. Washington has agreed to talk to Moscow on how to "deconflict" their military actions.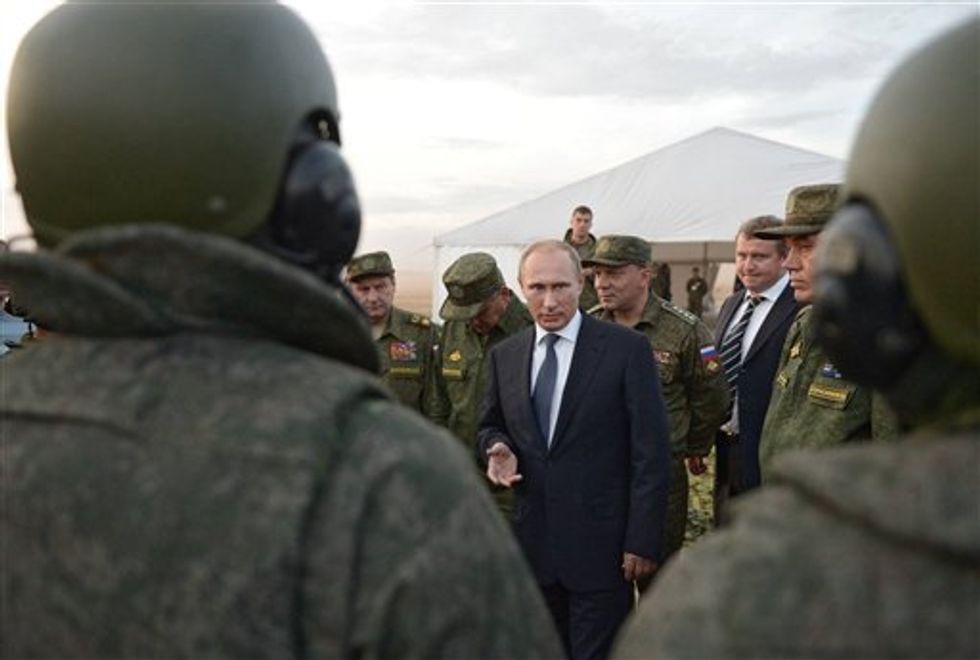 In this Saturday, Sept. 19, 2015 file pool photo, Russian President Vladimir Putin, center, meets with officers after military exercises at Donguz range in Orenburg region, Russia. With dozens of Russian combat jets and helicopter gunships lined up at an air base in Syria, Russian President Vladimir Putin is ready for a big-time show at the United Nations General Assembly. Observers expect the Russian leader to call for stronger U.N.-sanctioned global action against the Islamic State group and possibly announce some military moves in his speech on Monday, Sept. 28, 2015. (Alexei Nikolsky/RIA-Novosti, Kremlin Pool Photo via AP)
Last week, U.S. Defense Secretary Ash Carter had a 50-minute phone call with his Russian counterpart, the first such military-to-military discussion between the two countries in more than a year.
NATO Secretary-General Jens Stoltenberg Tuesday called on Russia to play a constructive role in restoring peace in war-ravaged Syria.
Stoltenberg, in New York to attend the annual U.N. General Assembly, told The Associated Press that the alliance welcomes Russia's plans to combat the Islamic State group in Syria.
Support for President Bashar Assad's regime, however, is not "a constructive contribution to finding a political solution," he stressed.
In his address Monday at the U.N., Russian President Vladimir Putin urged the world to back Assad, saying the failure to engage the Syrian military in the fight against Islamic State militants was a "huge mistake."
This week French warplanes in Syria also made their first airstrikes, killing 30 militants at an Islamic State training camp, a Syrian Activist group said.
French President Francois Hollande said six French jet fighters on Sunday destroyed the camp in a five-hour operation. This was the country's first action since it expanded its mission against IS. Until recently, France was only part of the airstrikes on IS targets in Iraq.
The Britain-based Syrian Observatory for Human Rights, which has a network of activists on the ground, said Wednesday that 12 teenage fighters and several militants from various Arab countries were among those killed near the eastern town of Jalaa.
The youths trained by IS are known as "Cubs of the Caliphate." The Observatory says at least 20 IS members were wounded.
—
The Associated Press contributed to this report.