A family pet in Michigan was found shot by an arrow this week, and while the cat survived the pointed projectile going straight through his body and the emergency surgery to remove it, veterinarians are unsure if he'll make it.
According to the Capital Area Humane Society in Lansing, the 24 hours post surgery are critical, so an official prognosis for the cat, going by Kitty, is unclear.
"Kitty is being monitored closely and we are hopeful that he will make a full recovery. Thank you again for your concern and support," the humane society said in a Facebook post Monday.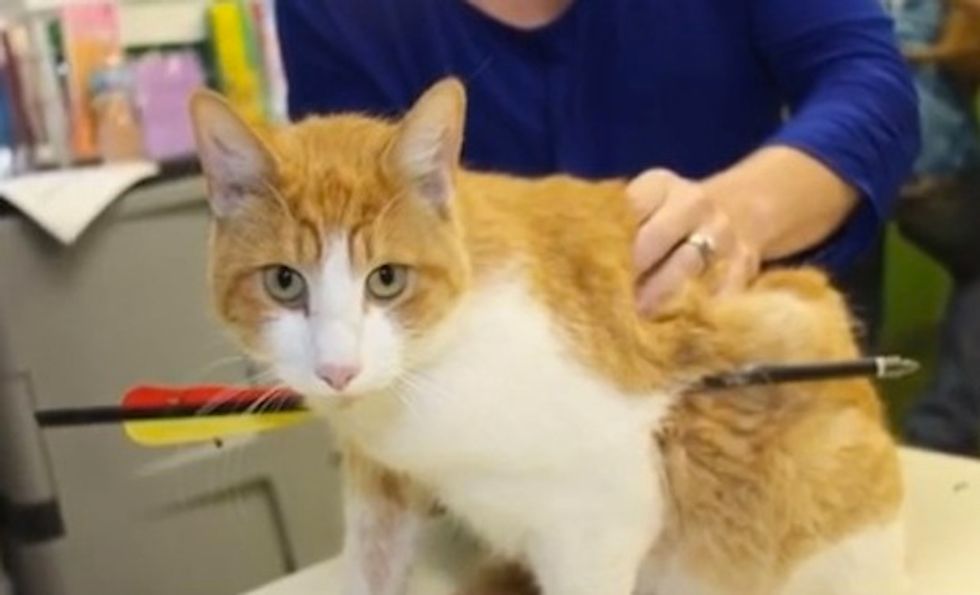 Image source: WILX-TV
The humane society along with Eaton County Animal Control and the sheriff's office are hoping to find the person who shot Kitty.
"We're investigating it to find out who was responsible for shooting this cat, I should say this family pet," Eaton County Undersheriff Jeffrey Cook told MLive, which noted that the pet's owner was notified of the incident.
Michigan Penal Code would prohibit such an act if it was done intentionally. MLive reported that this violation is a felony that could come with a four-year prison sentence.
"He's going to have a little bit of a long road. He's got a great attitude though considering what he's been through," CAHS President and CEO Julia Willson told MLive.
Dennis Warner, who told WILX-TV he found the cat, said he is a hunter himself, but finding Kitty like this upset him.
"It really breaks my heart because there's a lot of good people that are hunters and wouldn't do that, wouldn't even think about doing that," he told the news station.
Watch WILX's report on the incident:
"We want people to know that it's not OK to shoot cats, this cat is someone's pet," Willson told WLNS-TV. "That's a pretty serious crime to be shooting or try to kill someone's pet so we take it seriously."
This isn't the first cat-shot-by-an-arrow story even within the past year. In April a veterinarian was pictured bragging about shooting a feral cat, sparking outrage.