Terror attack survivor Adele Banita told Israeli media that during the stabbing spree Saturday night in which her husband and a rabbi were killed, Palestinian bystanders ignored her cries for help and "just laughed and smiled."
"Arab youths were standing around us, watching and seeing what's happening, and they didn't open their mouths; they were only laughing and smiling, just laughed and smiled," Banita told Israel's Channel 2 News.
"I was begging for help, 'Help me! Help me!'" Banita recalled crying out in the Jerusalem alley after she, her husband, their toddler and Rabbi Nehemia Lavi, 41, were attacked.
She said that she at first didn't understand what was happening.
"I felt something in my back, then I saw my husband Aharon start to struggle with him. Then the terrorist left my husband and came back to me and started stabbing me again," she said.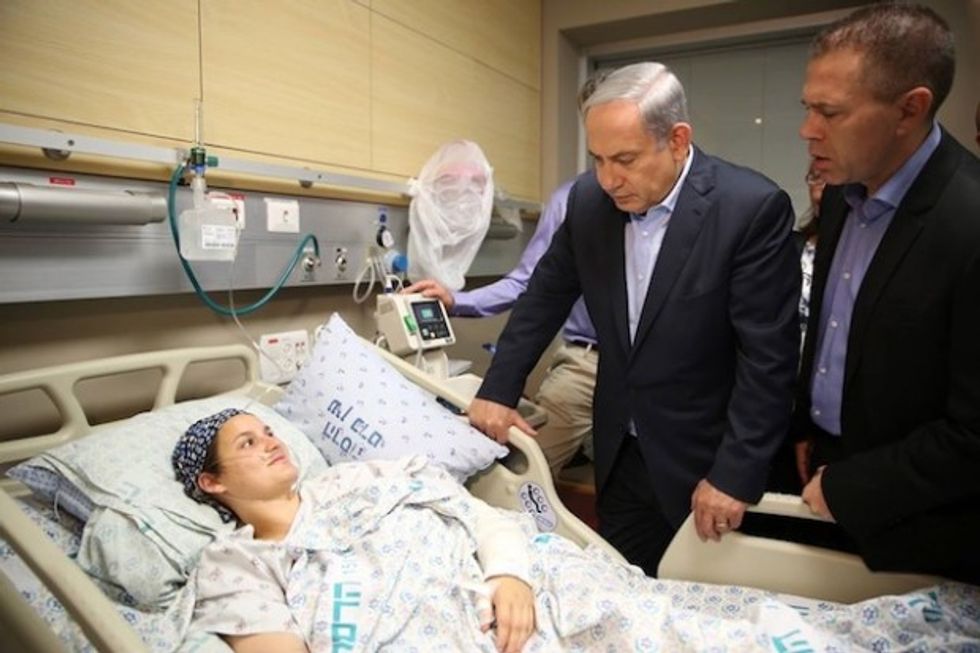 Prime Minister Benjamin Netanyahu visits stabbing attack survivor Adele Banita, whose husband Aharon and another Israeli man were killed by a Palestinian terrorist in Jerusalem Saturday night (Kobi Gideon/Israeli GPO)
In video captured during the moments of the attack that was posted in the Israeli media, a woman's hysterical cries could be heard loudly, while a shopkeeper is seen drinking a soft drink. Israeli police shot and killed the suspect.
Banita's mother, Miriam Gal, told those gathered at her son-in-law's funeral Sunday about how her daughter was screaming and trying to escape even with a knife lodged in her body.
"My daughter tried to run away with a knife in her neck. She tried to escape, but they [Palestinians at the scene] wouldn't let her and shouted at her 'hopefully you'll die too,'" Gal claimed, according to the Jerusalem Post.
"Such cruelty. The Jewish people should not be foolish, wake up. This [the Palestinians] is a nation of murderers. There entire essence is blood, blood, blood, Jewish blood. They have nothing else," she said. "Anyone who speaks of peace is an idiot, there is no other word."
Israeli Prime Minister Benjamin Netanyahu Monday night visited Adele Banita at the Jerusalem hospital where she is recovering from her wounds.
After visiting with other Israelis wounded during a slew of terror attacks in the past week, Netanyahu vowed to defeat Palestinian terrorism.
"[O]ne thing should be clear — we will win. Just as we defeated previous waves of terrorism, we will defeat this one as well," Netanyahu posted on Facebook.