The father of a student who was shot in the back when a gunman opened fire at an Oregon community college last week blasted President Barack Obama's upcoming visit as an excuse to push a "gun control agenda."
Appearing on Fox News' "The Kelly File," Stacy Boylan said that, because he does not support Obama's policies or rhetoric on gun control, his family will abstain from the president's upcoming visit on principle. Boylan said both he and his daughter Ana, who is recovering after being shot in the back, are both supporters of gun rights.
"Well, I do believe it was Rahm Emmanuel that said, 'Never let a good tragedy go to waste,'" Boylan told host Megyn Kelly.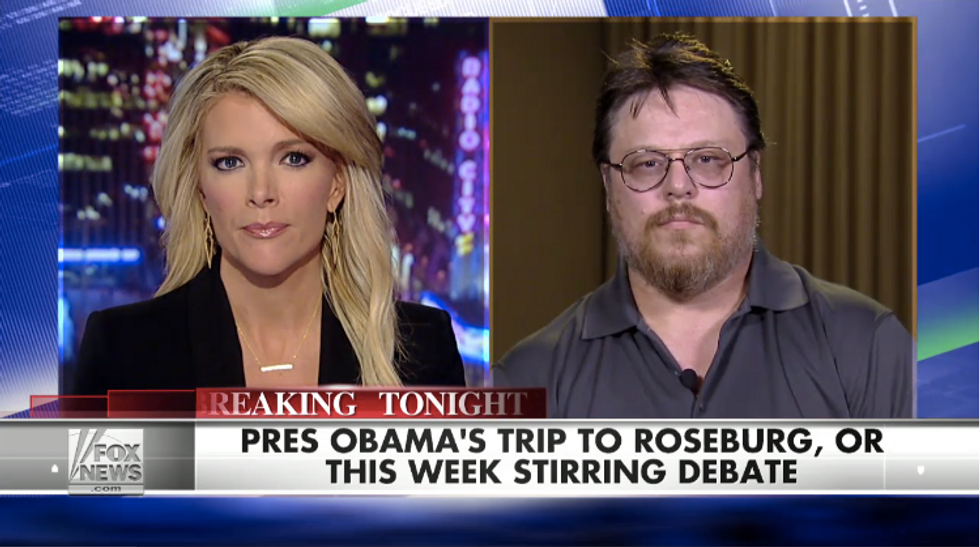 Image source: Fox News
"I just question [Obama's] motives," the father continued.
Boylan also criticized gun-free zones as problematic and said they can create a target for "crazy people."
"My daughter said to me, 'You know, what if somebody would have had a gun?' The gun-free and gun control take that issue off the table," he said. "To take away that option entirely, I don't think that's the right course."
Boylan and his family aren't the only people skeptical of Obama's scheduled Friday visit on Friday. The publisher of a local newspaper in Roseburg, Oregon, told Fox News host Bill O'Reilly that his conservative paper has talked to "dozens upon dozens of citizens, some family members of the victims, our elected officials" who say the president "is not welcome in the community."
"Now he wants to come to our community to stand on the corpses of our loved ones to make some kind of a political point, and it isn't going to be well-received," David Jaques said.
Boylan said he was appreciative of the community, especially the hospital, for the support his family has received. He said his daughter is attempting to physically recover from her injuries as well as emotionally process what happened.