In the weeks leading up to the Israeli elections last spring, reports emerged about the Obama administration's backing of groups involved in a get-out-the-vote campaign among Israeli Arabs who traditionally vote for left-wing parties, an effort later confirmed by Israeli Prime Minister Benjamin Netanyahu's pollster. The GOTV push was designed to oust Netanyahu.
Over the past week, three Arab-Israeli members of the Knesset from the Joint List, the party that was the main beneficiary of that effort, have issued statements calling for Jews to be banned from Jerusalem's Temple Mount and appearing to justify deadly Palestinian attacks against Israelis.
The Temple Mount, once the site of both the First and Second Temples, is the holiest site in Judaism and the third holiest site to Muslims.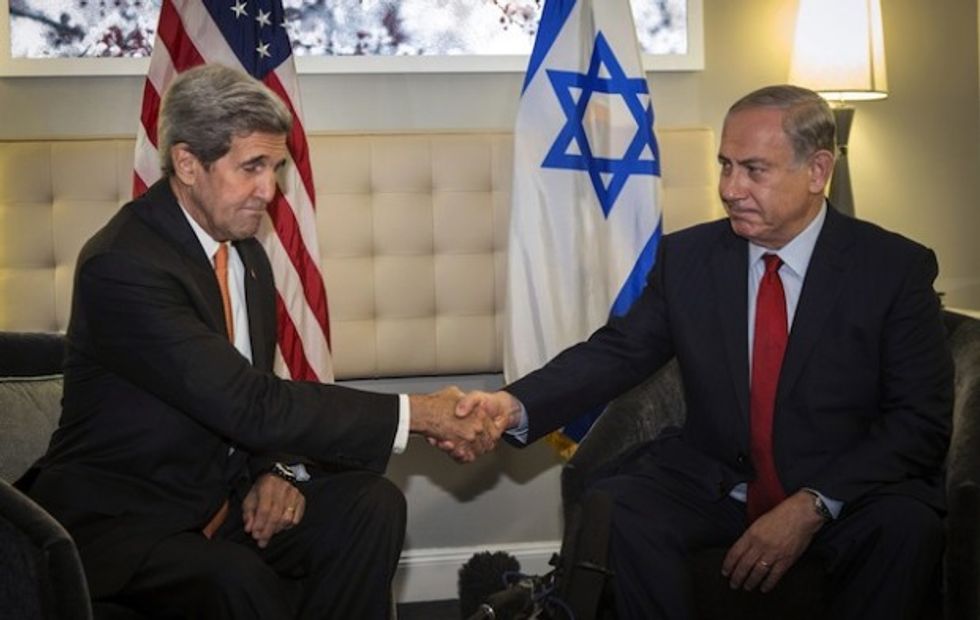 Secretary of State John Kerry meets with Israeli Prime Minister Benjamin Netanyahu in New York, Friday, Oct. 2, 2015. (Kena Betancur/Pool Photo via AP)
Joint List Member of Knesset Hanin Zoabi — who sailed with anti-Israel activists on the 2010 Gaza Flotilla — told an Israeli newspaper Friday that there is no Jewish connection to the Temple Mount and that "there is no place for Jews" there.
"The name is Al-Aqsa, not the Temple Mount, and there is nothing there for Jews," Zoabi told Makor Rishon. "It's a place of prayer for Muslims only. Additionally, the existence of the Temple is not verified scientifically."
Three days before her call for a Jew-free Temple Mount, another Joint List member of Knesset, Jamal Zahalka made a theatrical visit to the Temple Mount and later posting video on social media showing how he berated Jewish visitors to the revered site.
"Crazy criminals, you're all Kahanists, fascists, racists, get out of here, you hurt Muslims," he shouted at Israeli Jews in Hebrew, referring to slain Rabbi Meir Kahane who supported evicting Arab citizens from Israel.
"This is not yours, get out of here, go home, you're not wanted," Zahalka said. "You need to get out of my house. You put crazies in here. You have no god."
Another controversial statement was made Tuesday by Member of Knesset Ayman Odeh, the head of the Joint List, when he refused to directly answer a Channel 1 interviewer who repeatedly asked him to condemn deadly Palestinian attacks against Israeli Jews over the past month.
"I can't sit in my house in the Carmel [in Haifa] … and tell Palestinians how to fight," Odeh said. "The Palestinian people chooses its method of fighting."
Asked why he wouldn't condemn violence, Odeh — who is usually described in the media as a moderate and secular — said the "occupation" is to blame.
"There's a natural law. When there's an occupation, there is opposition to the occupation," Odeh said. "It happened in history, and it happens today."
These recent statements Arab members of Knesset appear to shed new light on Netanyahu's statement on Election Day that left-wing groups were busing to the polls "in droves" Arab voters who almost universally vote for the left. Netanyahu later clarified his statement to emphasize he supported the right of all citizens to vote.
"There is nothing illegitimate with citizens voting, Jewish or Arab, as they see fit," Netanyahu said.
His Election Day remark won particular derision from President Barack Obama who in his first interview after the March elections skewered Netanyahu, telling the Huffington Post that he believed Netanyahu's "rhetoric was contrary to what is the best of Israel's traditions."
"[A]lthough Israel was founded based on the historic Jewish homeland and the need to have a Jewish homeland, Israeli democracy has been premised on everybody in the country being treated equally and fairly," Obama said.
As the Washington Free Beacon reported in March, at least three Israeli non-profit groups involved in the Arab voter recruitment have been recipients of State Department funding, including OneVoice, Givat Haviva and the Abraham Fund Initiatives.
A Senate committee later launched a probe to investigate if the U.S. government had meddled in Israeli elections.
Republican strategist John McLaughlin, who served as a pollster for Netanyahu, confirmed the U.S. efforts in the Israeli-Arab community, including the successful merging of four small Arab parties into a single political bloc representing communists and Islamists.
"In December, there was a memo going around where they were trying to organize the Arabs into one party, and teach them about voter turnout, et cetera," McLaughlin told John Catsimatidis' "The Cats Roundtable" radio show.
"The State Department people in the end of January, early February, expedited visas for [Israeli] Arab leaders to come to the United States to learn how to vote," McLaughlin said. "There were people in the United States that were organizing them to vote in one party so they would help the left-of-center candidate, [Zionist Union's Isaac] Herzog, that the Obama administration favored."
Due to the fractured nature of the Israeli political system, the largest party needs the backing of smaller parties to form a majority government. This is why a larger left-wing bloc of Arab parties which won a record 13 seats in March, could have benefited Herzog's party had he edged out Netanyahu.
Besides State Department funding for the groups engaged in voter recruitment, former Obama campaign strategist Jeremy Bird served as a consultant to the V15 – or Victory 2015 – campaign, which sent volunteers door-to-door to encourage voters in liberal-leaning Israeli neighborhoods to get to the polls.