Frio County Sheriff's Deputy Aaron Ramirez called the sight "very heartbreaking."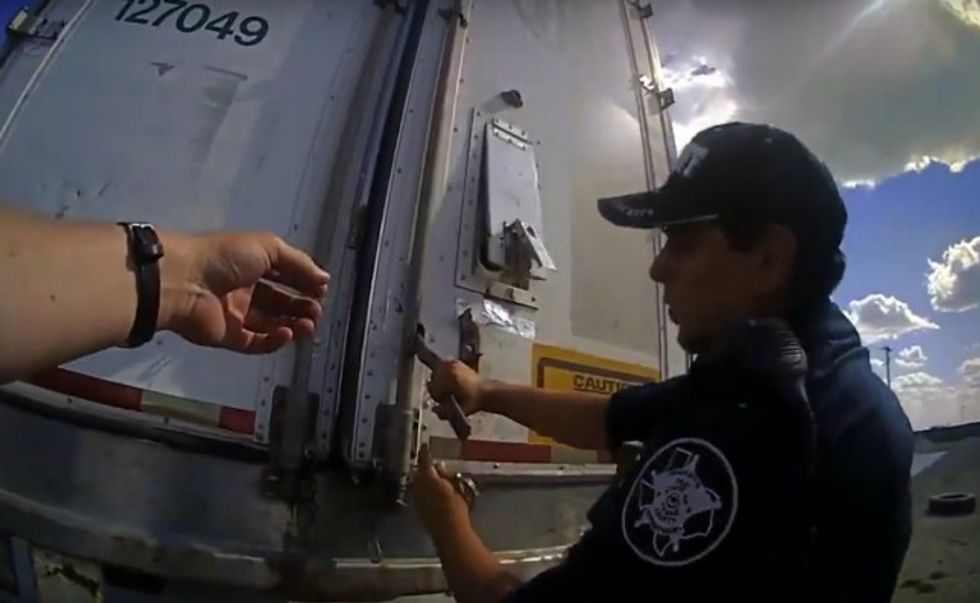 Image source: YouTube
"The youngest that was in there was a 13-year-old little boy," Ramirez told KXAS-TV. "As soon as he jumped out of the trailer he said, 'Thank you so much. Thank you for saving us.'"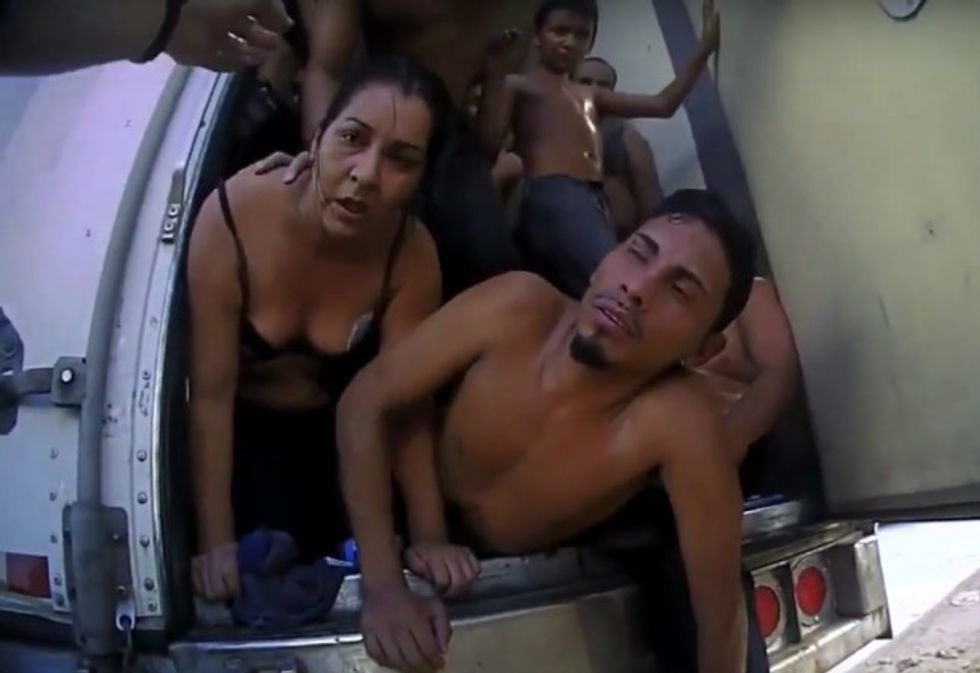 Image source: YouTube
The deputy was referring to 39 illegal immigrants he watched crawl from the back of a sweltering 18-wheeler southwest of San Antonio near the Texas-Mexico border last month — an incident caught on a just-released police bodycam video.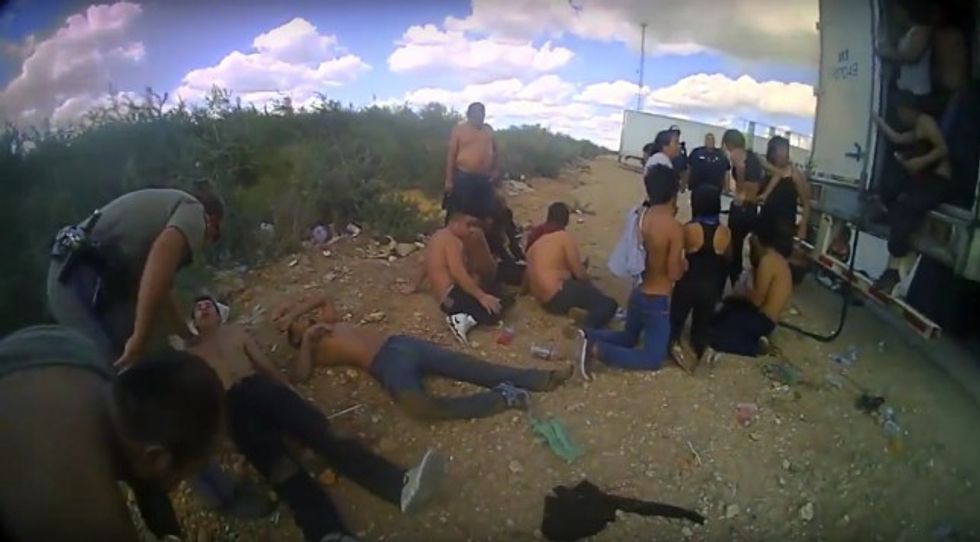 Image source: YouTube
Frio County Sheriff's Sgt. Jerry Reyna told the station he decided to release the video "to show the people that this is happening here in the United States, to where everybody's aware that people are coming across to get a better life."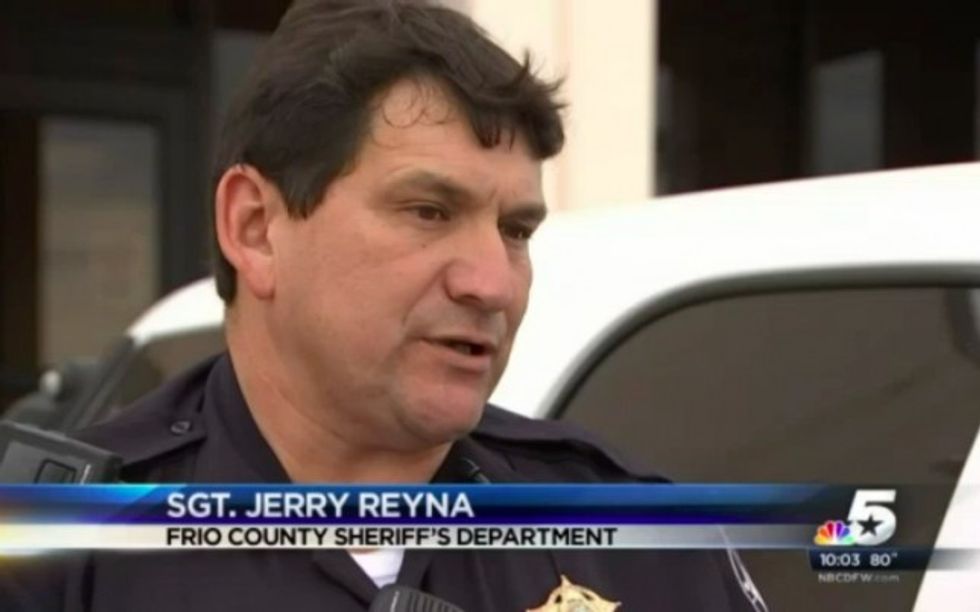 Image source: KXAS-TV
The officers told KXAS the trailer containing the 28 men, seven women and four children was a refrigerated unit that wasn't working — which pushed inside temperatures well north of 100 degrees.
"There was a little siding in that trailer, where you could tell they were trying to make a hole to get some air," Ramirez said, adding that officials saw "hands sticking out of a little rear door on the trailer."
Here's the raw bodycam video:
Sheriff's deputies and U.S. Border Patrol agents responded to a 911 call on Sept. 18 about several people seen exiting a tractor-trailer parked at a convenience store. When they arrived Reyna told KTVT-TV that the "driver was just standing there, just like, not a care in the world."
Drew Christopher Potter, the 33-year-old driver from Watauga, Texas, claimed he wasn't aware of the people inside the truck and was just paid to drive it.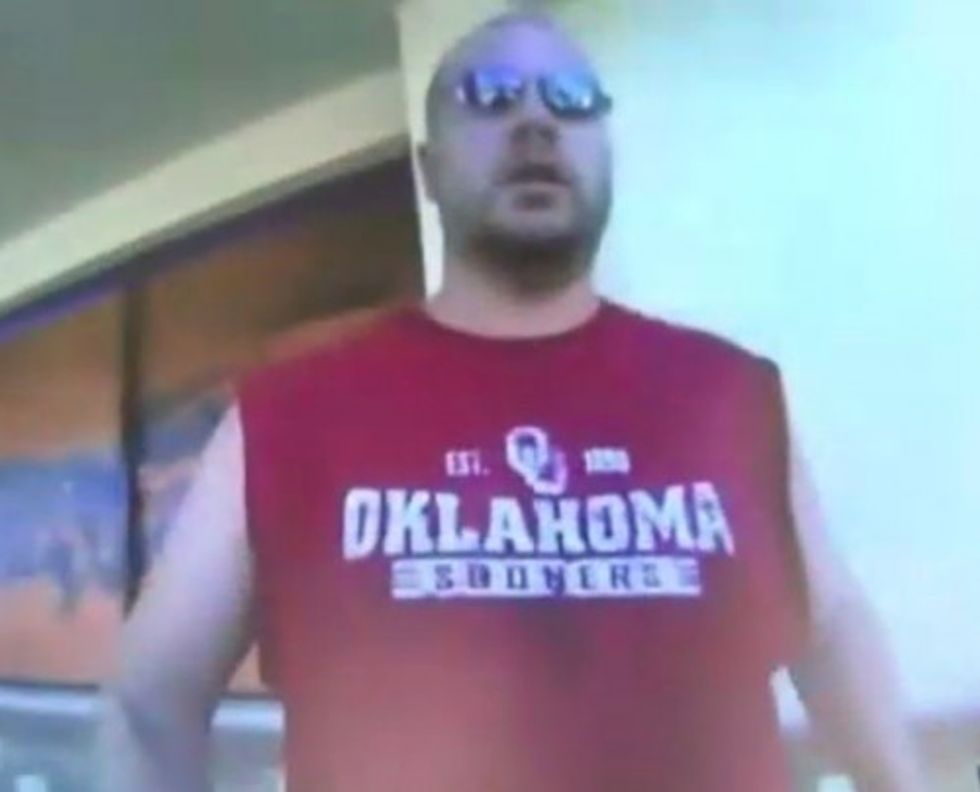 Image source: KXAS-TV
But Potter has been indicted by a federal grand jury on one count of conspiracy to commit alien smuggling for financial gain and three substantive counts of transportation of undocumented immigrants, KXAS said.
Potter is in federal custody, and officials told the station he faces up to 10 years in federal prison and a maximum $250,000 fine for each count if convicted.
The illegal immigrants — who were inside the truck for 5 hours — will likely serve as witnesses at Potter's trial, KTVT reported.
KXAS said it's unknown where the 39 are now but that they're from Guatemala, El Salvador and Mexico.
—
Follow Dave Urbanski (@DaveVUrbanski) on Twitter