A realistic Halloween display near an elementary school in Parma, Ohio has reportedly frightened nearby children so badly that some residents have asked the city to intervene and take it down.
The house's display includes gargoyles, an impaled person and a body hanging from a tree. A nine-year-old girl who attends the elementary school nearby told WOIO-TV that she would have suggested the family decorate their yard with giant inflatable pumpkins and fake plastic skulls.
"I felt scared because I thought they were real people," the unidentified girl told WOIO.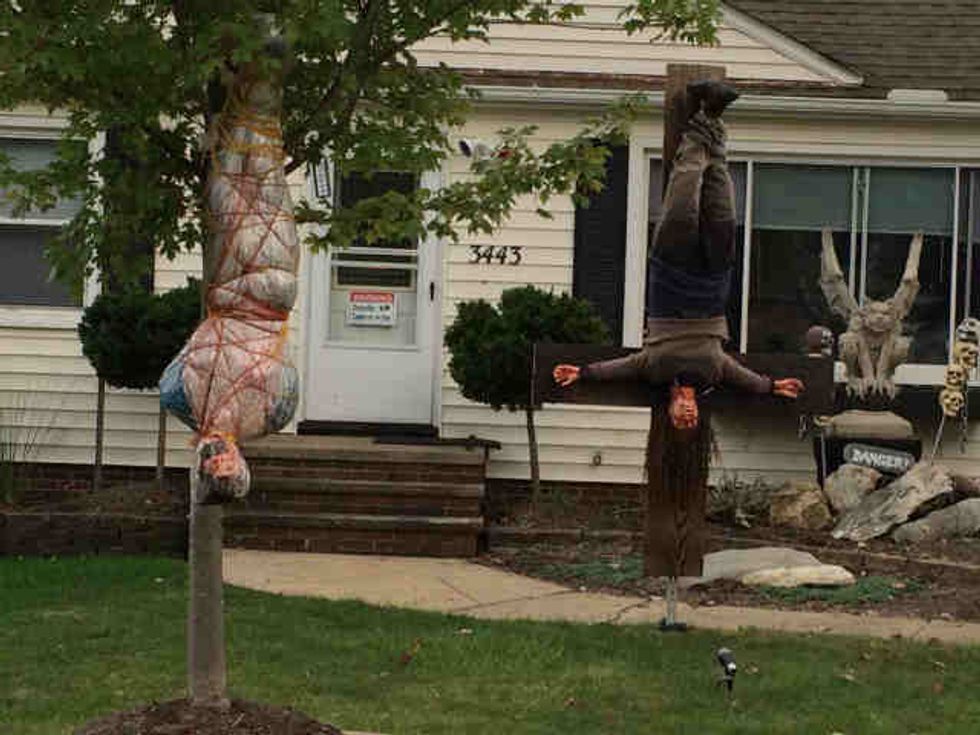 Image source: WOIO-TV
Her mother, Jackie Anselmo, told the station that she was so horrified by the display that she took photos of the yard to send to city officials in an attempt to enlist their help to have it removed. WOIO reported that Parma city officials said they will not intervene as the display is considered freedom of expression. 
"Shock. You take a double take because it is a very realistic display," Anselmo said. "Almost horrified that somebody would think that it's okay to put it that close to an elementary school."
However, the yard's owners told WOIO that they didn't not see an issue with their display and had not personally received any complaints about their decorations. 
"We don't want to scare kids," Vicki Barrett, the parent of a two-year-old and special needs teenager, said. "We just want to do the Halloween fun of it but definitely no ill intent."
Barrett said if they knew the display was extremely frightening for children, they would have "toned it down" more.
WOIO's news broadcast of the controversial yard display began with a brief warning that viewers could find the scene "disturbing" and have asked members of the community to weigh in on their Facebook page. Their story's post has amassed more than 2,000 comments with several people defending the display and others comparing it to a scene from an Islamic State camp.