Ex-pro wrestler and former Minnesota Gov. Jesse Ventura made a surprise appearance Tuesday morning on Sirius XM radio's "Opie and Jimmy Show" to call Chris Kyle a "liar" and revel in the $1.8 million judgment he was awarded after winning his lawsuit against the late Navy SEAL sniper's estate in federal court.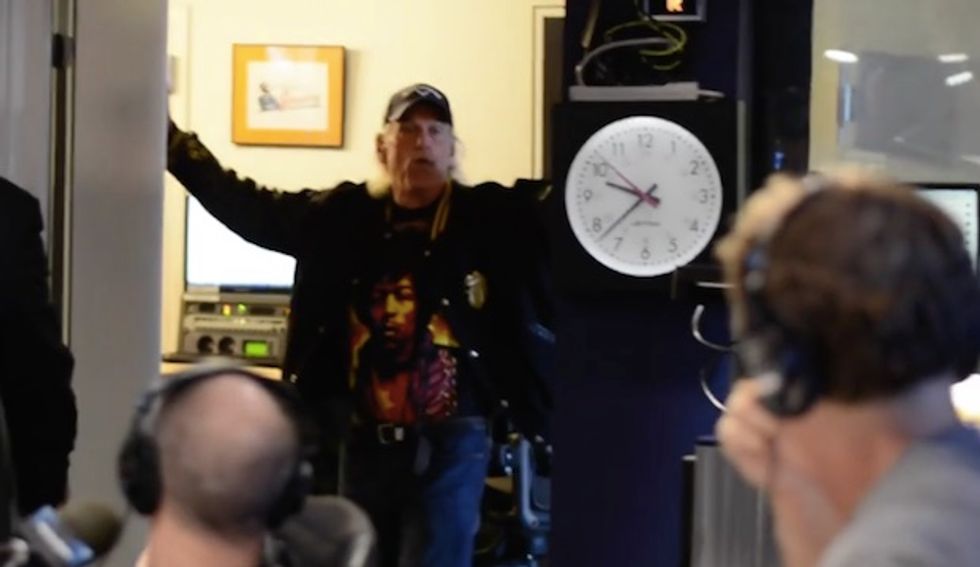 Image source: YouTube 
Ventura, who has a history of animus with the satellite radio show, was in the Sirius XM studio complex in New York City and took the opportunity to stick his head inside the studio as Gregg "Opie" Hughes and comedian Jim Norton were interviewing UFC fighter Urijah Faber.
Without asking if the show was on the air, Ventura raised his arms and announced, "I won."
Opie laughed and told his caller to "hold on."
Ventura continued from the door, "Chris Kyle was a liar, I won in federal court."
As both hosts attempted to get him to come into the studio and further explain himself, Ventura turned and walked away.
Watch the encounter:
The 2012 Chris Kyle interview on the original "Opie and Anthony" radio show where Kyle claimed to have had an altercation with Ventura at a bar in San Diego can be seen here (content warning for strong language):
Follow the author of this story on Twitter and Facebook: