A Wisconsin graduate student and Iraq war veteran is surprised that he is under disciplinary review, barred from campus outside of attending classes, after a confrontation in which he accused a classmate of stolen valor.
Ryan Lonergan, a 28-year-old who served in the Wisconsin National Guard for eight years, said that last week he publicly accused a man of pretending to be a U.S. Marine. After someone complained about the verbal confrontation on George Williams College campus, administrators launched an investigation and, as part of its standard practice, asked that he only come to campus for class. Lonergan, who is studying social work, though said this bars him from completing field study hours outside of class that are needed for his major.
"I'm not a stolen valor vigilante by any means," Lonergan told TheBlaze in a phone interview Wednesday. "I'm just focusing on my school, my part-time job and helping vets."
Ryan Lonergan served in Iraq from 2009 into 2010. He's now studying social work at George Williams College in Wisconsin and said he was surprised to learn a confrontation with another student had him under investigation by the school. (Photo courtesy of Ryan Lonergan)
But last week, he said he was sitting in the dining hall studying when a man at an adjacent booth approached him.
"He came up to me, saw the stickers on my computer, my tattoos," Lonergan said. "He said, 'Hey, were you in the military?'"
Lonergan said he didn't know the man's full name but he claimed to have served in the U.S. Marine Corps and proceeded to sit down at the booth to swap stories. During their conversation though, Lonergan said things didn't add up.
He questioned many things this man mentioned as well, but where Lonergan thinks he caught him was at the mention of BFT inside military humvees. BFT stands for Blue Force Tracking, but when Lonergan was talking about it with this man, he called it the Biometric Force Tracker, and this man, he said, agreed with him.
At this point, Lonergan got up and walked toward the other side of the dining hall.
"That's when I looked at him and said, 'I don't believe anything you're saying. You have one opportunity to tell me the truth.'
"I said, "Were you in the Marine Corps?' No. 'Did you go through boot camp?' No.
"He told me that he knows it's pathetic, and I said 'Yeah, it is. It's a disgrace."
Lonergan said he walked back to his table and with a few four-letter words told this man to collect his food and sit elsewhere. Lonergan said his voice was raised but that he didn't threaten this man, nor did he touch him.
When this man left, Lonergan said he apologized to the 20 or so other students in the dining hall for disrupting them and then left himself.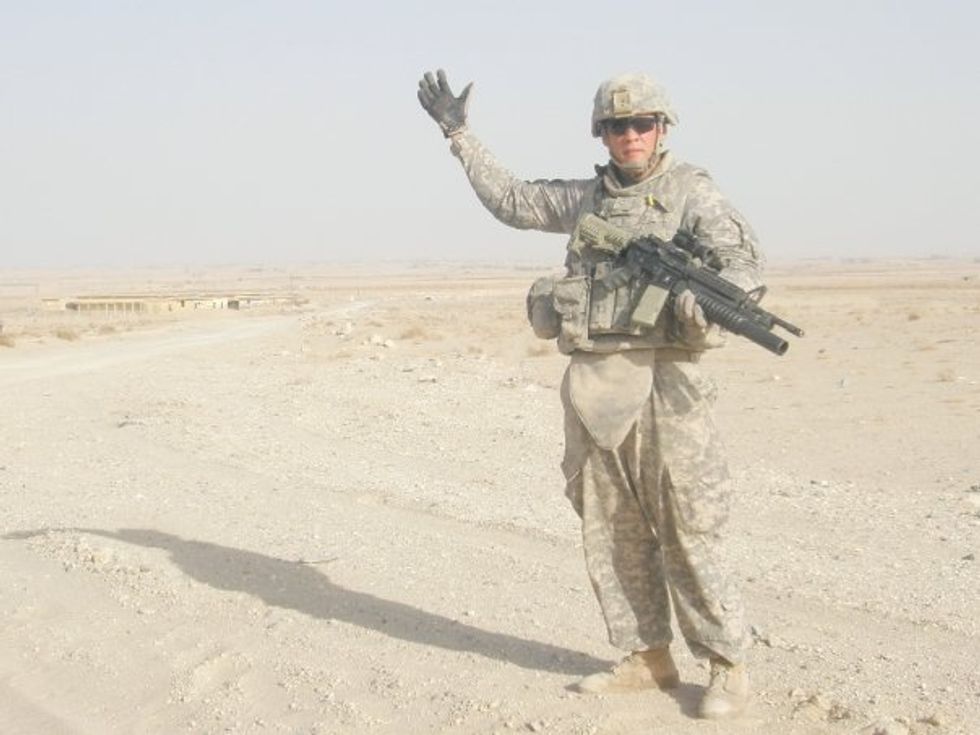 Lonergan served in the Wisconsin National Guard for eight years and said he hopes to found a nonprofit to help veterans someday. (Photo courtesy of Ryan Lonergan)
After a few hours when he returned to the school, he said the college's residence hall director and a campus safety officer were waiting for him. After relaying the story of what transpired to them and to the dean, Lonergan said he was barred from campus outside of classes during the investigation into the incident.
A judicial hearing for alleged "disorderly conduct" was set for Tuesday, Oct. 13 and then rescheduled for Wednesday, but did not take place. Lonergan, who sought legal counsel, said he has since requested the hearing for this Friday and is waiting for schedule confirmation.
According to a letter sent to Lonergan published by the Wisconsin Daily Independent, students are banned from "engaging in disorderly conduct or fighting, including but not limited to, acts that breach the peace, are unruly and/or destructive, or are lewd, indecent, or obscene."
The letter reiterated that Lonergan was "only allowed on campus if attending class" and if found in violation of that order, it could "result in additional charges."
Lonergan said that he expressed to administration staff the gravity of a situation involving stolen valor, but feels it fell on deaf ears. Wisconsin's stolen valor law imposes a "penalty for falsely claiming military service or honors in order to receive benefits." The federal Stolen Valor Act of 2013 makes it unlawful to intentionally "obtain money, property, or other tangible benefit" or to claim to hold certain military honors and awards. To Lonergan "other tangible benefit" could mean anything.
"As far as stolen valor and being a veteran, it's a pandemic really," Lonergan said. "It's disheartening because people are just taking away the pride, title and integrity from people who have served."
It is unclear if the student Lonergan accuses of stolen valor was in fact lying about Marine Corps service. This other student too is facing the same investigative process as Lonergan, a school spokesperson said.
In a statement, George Williams college said that "no disciplinary decisions have been made at this time."
"Based on a concern that was brought to the university's attention, we are currently gathering all sides of the story in accordance with our student Code of Conduct. We hope to resolve this matter in the near future," it said.
Watch WITI-TV's report: