Palestinians are claiming that two teens who authorities say stabbed an Israeli man and a 13-year-old boy riding his bicycle in Jerusalem Monday were themselves the victims of an unprovoked Israeli attack.
Israel says that storyline is encouraging even more Palestinians to launch attacks amid the increased wave of Palestinian violence this week.
Israeli police say 13-year-old Ahmed Manasra and his cousin, 15-year-old Hassan, traveled from their homes in east Jerusalem to the Jewish neighborhood of Pisgat Zeev, where they began their stabbing assault. Police released this security camera video Wednesday as evidence of what happened (Content warning​ — graphic)
Palestinian media and the teens' families, however, claim they were innocent victims.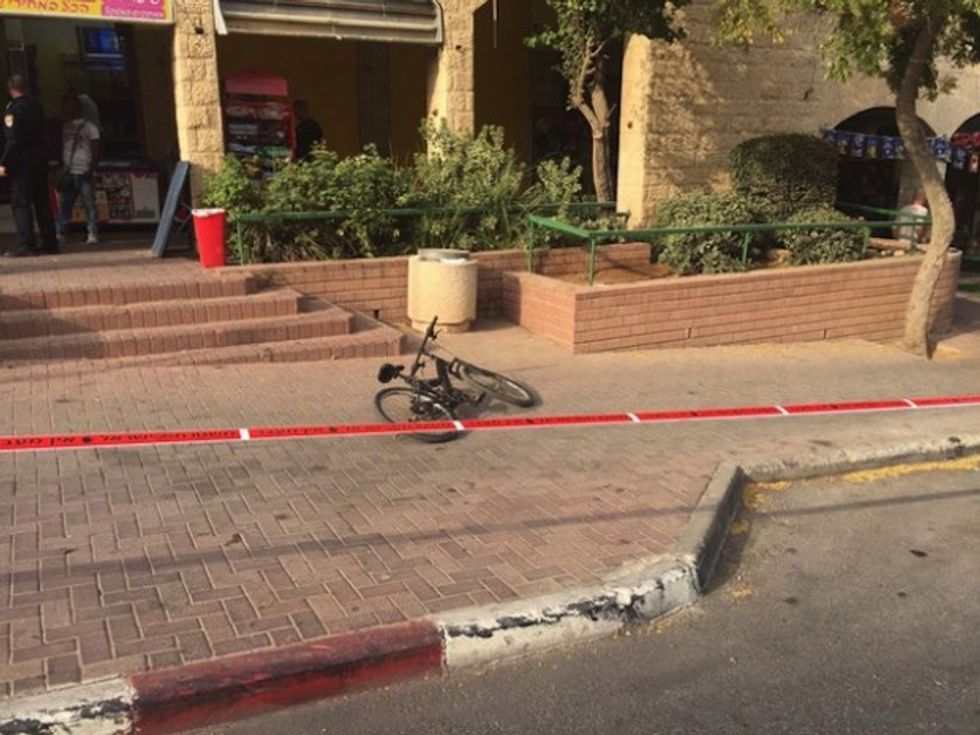 The bicycle that the 13-year-old Israeli victim was riding when he was attacked by two Palestinian teens. (Image source: Israeli police)
Hassan was shot dead by police responding to the attack, while Ahmed was wounded when a car struck him.
Some Palestinian media outlets erroneously reported Ahmed was also killed. He was not.
Ofir Gendelman, Israeli Prime Minister Benjamin Netanyahu's spokesman for the Arabic media, protested the statements.
The reason the PA is lying about this is because it wants a symbol that will be used to escalate the terrorist attacks against Israel.

— Ofir Gendelman (@ofirgendelman) October 13, 2015
A clip widely spread in Palestinian circles showed Israeli men, moments after the attack, shouting expletives at the injured Ahmed, including "Die, son of a whore."
However, the same clip also showed Ahmed getting up on his own — alive, not dead, as some media erroneously claimed.
The boys' family denied they were engaged in violence.
"We saw only the pictures of our children butchered in the street," the boys' uncle told Israel's Channel 2, as he demanded proof that Israelis were injured.
The Israeli victims are both recovering from their wounds at a Jerusalem hospital. Hospital officials told Israeli media Monday that it was a miracle the 13-year-old survived after a major artery was severed.
The father of Ahmed, the 13-year-old suspect, told Israel's Channel 2 on Tuesday that his son "went to buy something at the store across from where they were injured. A car came and struck him. And then the settlers came and continued, beating him."
When the reporter pointed out that there were two wounded Jews, including a 13-year-old like his son, the father said, "My son doesn't know how to hold a knife in order to stab. He's 13; he's still a boy. He didn't stab and doesn't know how to stab."
Channel 2 reported that some Palestinians believe one of the motivating factors for simultaneous Palestinian terrorist attacks on Tuesday that left three Israelis dead was the video of Ahmed on the ground being shouted at by Israelis.
Besides the video clip circulating on social media, Palestinian cartoons portrayed Israelis at the scene of Monday's attack as apes and pigs.
Heinous, racist Palestinian incitement on PA TV's FB page: Jews are depicted as pigs and apes who murder children. pic.twitter.com/7l3pDzLyv8

— Ofir Gendelman (@ofirgendelman) October 13, 2015
Netanyahu pointed to the images of Ahmed as evidence of Palestinian incitement fueling the violence.
"An Arab boy fatally wounds a Jewish child. After the security forces stop him and prevent him from continuing on a stabbing spree, he becomes a martyr supposedly executed unjustly," Netanyahu said Tuesday.
"So first of all, he is not dead, he is alive. Secondly, he was not executed; he was attempting to execute others," he said.
PM Netanyahu: So first of all, he is not dead, he is alive. Secondly, he was not executed; he was attempting to execute others.

— PM of Israel (@IsraeliPM) October 13, 2015
"The boy tried to kill and murder, but the exact opposite is presented in a distorted and outrageous manner by your speaker. I say to the chairman of the Palestinian Authority: Do not turn murderers into heroes," Netanyahu said.
Netanyahu was referring to a statement from Palestinian Authority President Mahmoud Abbas' office accusing Israel of carrying out a "cold-blooded execution."
Abbas spokesman Nabil Abu Rudeineh said, "Israel executed Hassan Manasra," referring to the 15-year-old Palestinian.
Abu Rudeineh called it a "cold-blooded execution" and called on Israel to arrest those who shot him.