Hillary Clinton is getting called out for making two misleading assertions about a 2005 law shielding gun companies from some liability.
"Probably one of the most egregious, wrong pieces of legislation that ever passed the Congress when it comes to this issue is to protect gun-sellers and gun-makers from liability," the former secretary of state and leading Democratic presidential candidate said in Iowa on Oct. 7. "They are the only business in America that is wholly protected from any kind of liability. They can sell a gun to someone they know they shouldn't, and they won't be sued. There will be no consequences."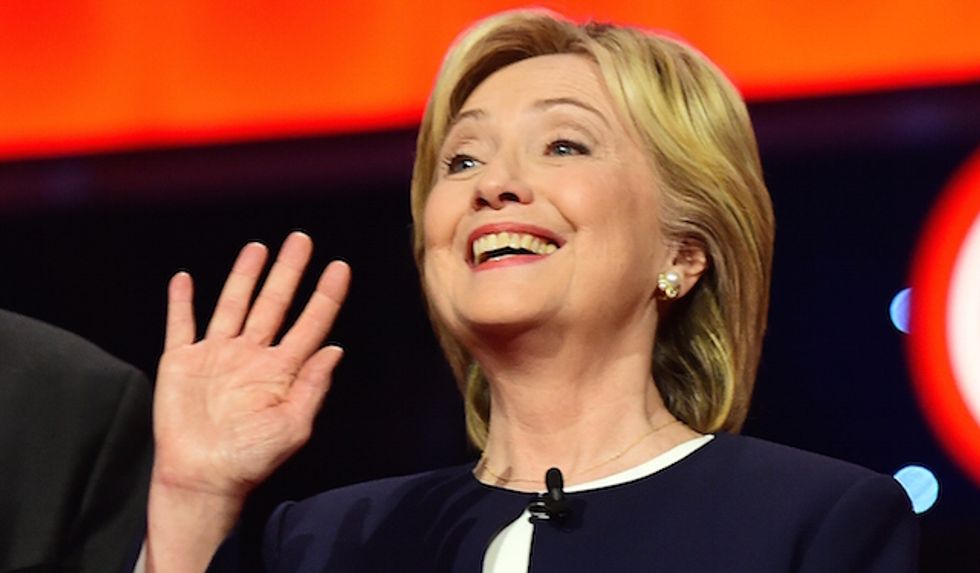 AFP/Frederic J. Brown
PolitiFact deemed Clinton's two assertions about the law false: the law does not shield the gun industry from "any kind of liability," and the gun industry is also not the "only" industry to get such liability protection.
During Tuesday's Democratic primary debate, Clinton criticized Sanders for voting for the bill that she voted against.
PolitiFact stated, "The gun industry is susceptible to some lawsuits, and there are federal laws restricting liability for a number of other types of businesses."
The Protection of Lawful Commerce in Arms Act, signed by President George W. Bush, protects gun dealers and manufacturers from lawsuits when their products are misused. Thus, if someone uses a legally purchased gun to commit murder, the gun dealer or manufacturer can't be liable, PolitiFact explained.
From PolitiFact:
Clinton goes too far in saying the gun industry is "wholly protected from any kind of liability."

The law lists several situations that are not protected from liability. It does not protect gun dealers who transfer a gun knowing it would be used for criminal purposes, nor those who knowingly break state or federal law if the violation results in harm. Gun manufacturers can also be sued if the gun, when used properly, causes injury because the product is defective.

"The statement is incorrect insofar as it suggests that gun makers are totally free from liability," said Adam Winkler, a law professor at the University of California Los Angeles who specializes in gun law.
Further, the gun industry is not the "only" industry to get such protection:
The act "is not the first federal law to grant a particular industry immunity from tort liability," said Timothy Lytton, a law professor at Georgia State University, who edited a book on gun industry litigation.

Possibly the most analogous rule -- in that it protects a specific group of potential defendants from a specific liability theory -- is one that offers some immunity to online service providers, said John Goldberg, a law professor at Harvard University and an expert in tort law, in an email to PolitiFact. Section 230 of the Communications Decency Act blocks victims of online defamation from suing service providers (like Comcast) and content providers (like YouTube) for failing to monitor or remove defamatory posts uploaded by customers [...]

Most of the experts we surveyed also mentioned a vaccine manufacturer liability law passed in the 1980s. Under the law, victims of injuries that they say were caused by defective vaccines are not allowed to sue vaccine manufacturers. This differs from the gun legislation, however, because it established the Vaccine Injury Compensation Program, through which alleged victims can make a claim and receive compensation.