Located in the nation's capital is one of the first wastewater utilities in the country that is producing some of its own power from, well, poop, allowing it to reduce its own energy costs by up to $10 million a year.
DC Water's $470 million Blue Plains Advanced Wastewater Treatment Plant, unveiled earlier this month, processes an average of 330 million gallons of raw sewage each day, turning it into 10 megawatts of electricity. This, according to a news release from the facility, translates to one-third of the plant's energy needs.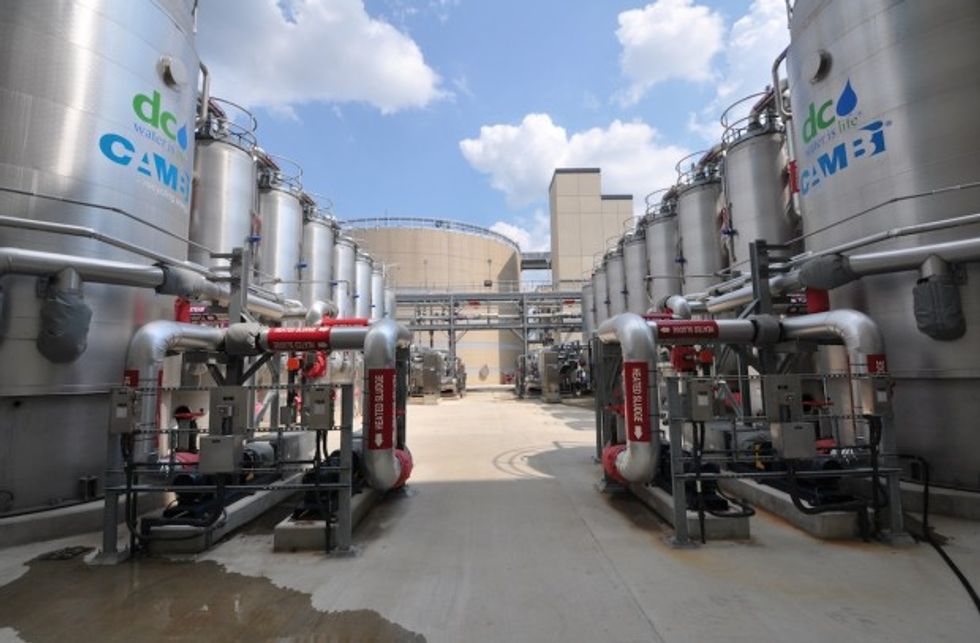 DC Water is the first utility in the nation to perform thermal hydrolysis on its solids from wastewater treatment to produce energy to power its own facility.  (Image source: DC Water)
So what does it take to turn solids into electricity? With technology "never before used in North America," it takes 32 thermal hydrolysis vessels, four anaerobic digesters and three turbines that DC Water described as the size of jet engines.
"This project embodies a shift from treating used water as waste to leveraging it as a resource," DC Water CEO and General Manager George Hawkins said in a statement. "We are proud to be the first to bring this innovation to North America for the benefit of our ratepayers, the industry and the environment."
DC Water's thermal hydrolysis operation is also now the largest of its kind in the world.
The thermal hydrolysis process uses high heat and pressure to "cook" the solids that are left over at the end of normal wastewater treatment. This kills pathogens and bacteria in the solids which are then sent over to organisms that will perform anaerobic digestion, that is the process of breaking down material without oxygen. These organisms, in turn, produce methane, which DC Water is capturing to produce electricity through turbines.
Taking the concept of reuse a step further, DC Water is making use of the Class A biosolids that are left over, spreading them like compost in D.C. gardens and other projects.
"This is yet another example of the District leading the nation in the adoption and implementation of sustainable practices," D.C. Mayor Muriel Bowser said in a statement. "DC Waters Blue Plains facility is converting waste to clean water and a nutrient-rich soil byproduct, producing energy and helping to put the District on the path towards a zero waste future."
In addition to the $10 million in savings from electricity use, the Washington Post reported that the utility expects to save $2 million annually in treatment chemicals and $11 million that would have been used for trucking away Class B biosolids.
Watch this video from the utility about how wastewater is treated:
Energy and biosolid production are not the only things good things to come from enhanced wastewater treatment. Earlier this year, a study from researchers with the U.S. Geological Survey found that precious metals like gold and silver could be harvested from sewage as well.
(H/T: Gizmodo)