Author Ed Klein is claiming there are "five dirty little secrets" about Hillary Clinton that the media aren't reporting.
In a column posted on Townhall Tuesday, Klein argued "liberal reporters" are giving "Hillary a free ride on everything else that she's done that is either unethical or illegal" by focusing only on her private email scandal.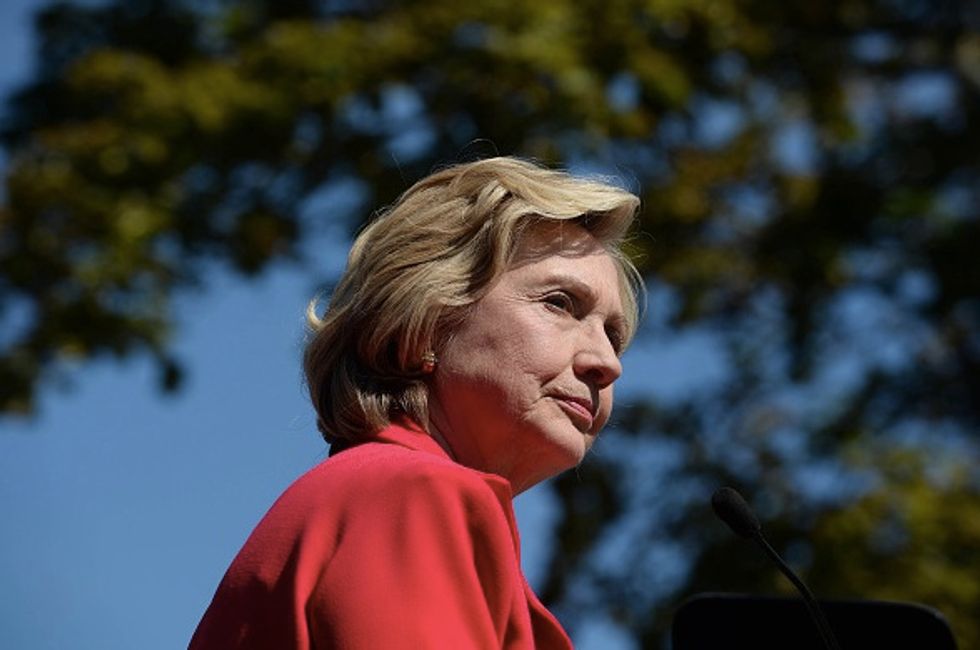 Democratic presidential candidate Hillary Clinton speaks after receiving an endorsement from U.S. Senator Jeanne Shaheen (D-NH) September 5, 2015, in Portsmouth, New Hampshire. (Darren McCollester/Getty Images)
Instead, Klein asserted there are several issues that have gone underreported, including:
The Smoldering Gun: Even the most partisan skeptics on the Left agree that Hillary's chances of becoming president would be radically reduced if a smoking gun could be found regarding her involvement with foreign donations to the Clinton Foundation. I interviewed three people who had firsthand knowledge of Hillary's collusion with the foundation while she was secretary of state.

[…]

Hillary Ignores Obama's Orders: President Obama knew from the beginning of Hillary's tenure as secretary of state that she was a) using an unsecure private e-mail account; b) taking foreign donations for the Clinton Foundation; and c) in frequent touch with the detested Sidney Blumenthal. Through Valerie Jarrett, his senior political adviser, the president ordered Hillary to stop all three things, and she ignored him.

Valerie Jarrett's Six-Pronged Investigation of Hillary: With President Obama's approval, Valerie Jarrett ordered the State Department to launch six separate investigations of Hillary's conduct as secretary of state, including the use of her expense account, her private e-mail system, and her collusion with the Clinton Foundation. The Obamas—Barack and Michelle—were obsessed with Hillary's cascading e-mail scandal. They pressed Jarrett for information. They wanted to know everything—Hillary's poll numbers, how she was coping, what Bill was up to, and how Hillary intended to escape from the e-mail trap of her own making.
Klein also repeated his claim that former President Bill Clinton believes Marco Rubio represents the biggest threat to Hillary in 2016. According to his sources, Clinton said of Rubio, "We've got to destroy him before he gets off the ground."
Another topic of interest for Klein: Hillary Clinton's health.
Read the rest of Klein's so-called "dirty little secrets" here.
---