Los Angeles Mayor Mayor Eric Garcetti was escorted out of a church and taken to his car after Black Lives Matter protesters overtook the town hall meeting.
According to KNBC-TV, Black Lives Matter protesters rushed the podium at the town hall event, which was being held to discuss economic opportunity and community safety. As Garcetti attempted to leave the meeting, protesters surrounded his car and continued to chant.
"If you are interested in having a civil conversation, we are going to ask you to remain here; if not, I am going to ask you to leave," the Rev. Kelvin Sauls of the Holman United Methodist Church told the protesters inside the meeting.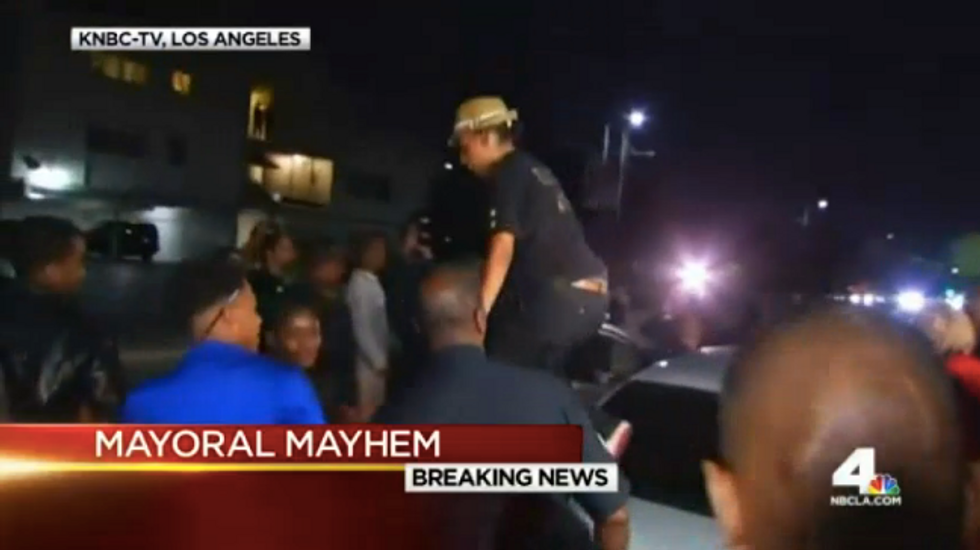 Image source: KNBC-TV
Garcetti required a heavy Los Angeles police presence as he attempted to leave the town hall in his car. As he was leaving, one protester went so far as to climb onto the hood of his car.
"The Black community has something to say to the mayor we want him to hear, as well as us engaging in his responses," Black Lives Matter organizer Malina Abdullah told KNBC.
"Tonight, we had hundreds of South LA residents attend a community meeting  — leaders, business owners, mothers and children, who took time out of their evening to discuss the critical issues that matter most to all of us," Garcetti said in a statement. "I am disappointed that our conversation was cut short when there is so much work for us to do together to make our neighborhoods stronger and safer. I believe in our City and my commitment to our shared concerns continues, stronger than ever."