A Virginia couple had millions of people crying and celebrating with them after their pregnancy announcement video went viral late last month. Now, they're asking for prayers as their baby was born 16 weeks early.
Dana Griffin-Graves filmed the surprised reaction of her husband, Arkell Graves, in September when she revealed to him with a package of buns in the oven (a play on the popular saying that describes a pregnant woman) that they were expecting a child. In her description of that video, Griffin-Graves wrote that she and her husband had already suffered four miscarriages and one stillborn and had "given up on the idea of having babies of our own, especially at our age."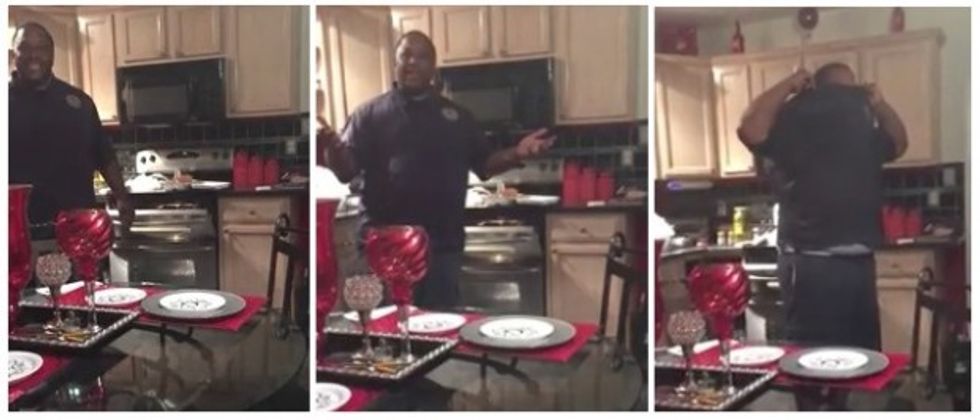 Dana Griffin-Graves filmed her husband's emotional reaction to learning she was five months pregnant. A few weeks later, they announced their son would need to be delivered at just 24 weeks gestation. (Image source: YouTube)
Watch the pregnancy announcement that has more than 9 million views:
Three weeks after posting the video on YouTube, Griffin-Graves gave birth 24 weeks into her pregnancy, 16 weeks earlier than what is considered full term.
The couple announced the early delivery Tuesday on a Facebook page devoted to keeping followers updated on their "baby bun."
"Today, our baby will have to be delivered, at 24 weeks and one day. As Dana is in critical care, her body has endured all it can take," a post read. "We are believing God. It's always been in His Hands, so we hold on to Him. Please keep us in your prayers today and always. We apologize that we are unable to answer every call, text and message, but please know that we appreciate you. Help us thank Him in advance for the miracle that is about to happen. "
A post 10 hours later revealed that their son, Kaleb, had been born.
"Caleb was one of the spies sent by Moses to spy out the land of Canaan. Only Caleb and Joshua advised the Hebrews to proceed immediately to take the land; for his faith Caleb was rewarded with the promise that he and his descendants should possess it," the post read, citing the Bible's book of Numbers. "Well our Kaleb has spied out his place he will call home and will be rewarded with this promise call life!"
According to WRIC-TV and WTVR-TV as of Tuesday afternoon, the current condition of the mother and child were not known.
Melanie Griffin-Hamlin, Kaleb's aunt, asked people on Facebook to not stop praying.
"Now that the miracle has arrived, continue to keep Kaleb, Dana Griffin-Graves and Arkell Graves in your prayers," she wrote.
A study from the Emory University School of Medicine in September found that the survival outcomes for extremely premature infants has improved over the last 20 years. Here's more on that research from the university:
Overall survival increased most significantly in infants born at 23-24 weeks, but survival without major health problems identified prior to hospital discharge increased most in infants 25-28 weeks. The study found an increase in one complication of prematurity, however -- bronchopulmonary dysplasia.

[...]

Overall survival to discharge increased between 2009 and 2012 for infants born at 23 weeks (27 percent to 33 percent) and for infants born at 24 weeks (63 percent to 65 percent), with smaller relative increases in survival for infants born at 25 and 27 weeks, and no change for infants born at 22, 26 and 28 weeks.

Survival to discharge without major health problems increased approximately two percent per year for infants born at 25-28 weeks, with no change for infants born at 22-24 weeks.
According to Buzzfeed, the Virginia couple has been married for 17 years and started trying to have children soon afterward.
After several heartbreaking complications, Griffin-Graves told Buzzfeed they "kind of gave up." She went on to say that she and her husband were not trying to have children and when she was having trouble losing weight recently, she went to the doctor and learned she was already five months along in pregnancy.
(H/T: Daily Mail)