Republican presidential candidate former Virginia Gov. Jim Gilmore isn't pulling any punches when it comes to taking on the "establishment" media's apparent fondness for "certain candidates" — namely, Donald Trump.
In an exclusive interview with TheBlaze, Gilmore took aim at MSNBC's "Morning Joe," suggesting the network should be honest and rename the morning news program.
"'Morning Joe' is really not 'Morning Joe.' It's 'Morning Trump,'" Gilmore said.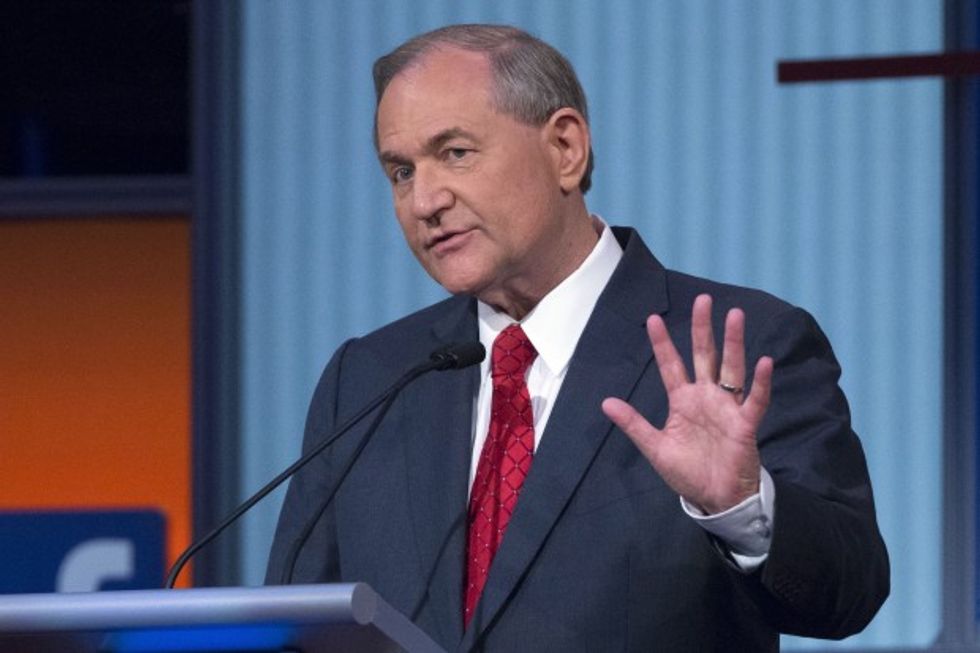 Republican presidential candidate former Virginia Gov. Jim Gilmore speaks during a pre-debate forum at the Quicken Loans Arena Aug. 6, 2015, in Cleveland. (AP Photo/John Minchillo)
Gilmore was also asked about former Virginia Sen. Jim Webb's decision to drop out of the Democratic primary. Webb blasted both both major political parties Tuesday when he announced that he would not seek his party's nomination — but he did leave open the possibility of running as an independent.
Gilmore, who is near the bottom of the polls in the Republican primary, vowed not to run as an independent but added that he understands why Webb is frustrated.
"This particular year, the ability to be nominated is dependent upon the ability to get on television," Gilmore told TheBlaze. "The establishment news media have been promoting certain candidates."
Gilmore added that being on TV gives candidates an enormous amount of free publicity that boosts their place in the polls, which in turn helps them get into televised debates.
Image source: MSNBC
Gilmore was referring to the first two Republican primary debates in which only the top 10 candidates, including Donald Trump, were allowed in the primetime debates. Gilmore and the rest of the bottom-tier candidates appeared in separate, so-called "happy hour" debates.
"So Jim Webb understands this, and he understands that the system is rigged," Gilmore said.
Webb, however, was allowed to participate in the first Democratic primary debate along with the party's frontrunner, Hillary Clinton, because there are fewer  candidates.
–
Follow Jon Street (@JonStreet) on Twitter