Fox News host Bill O'Reilly called out Senate Majority Leader Mitch McConnell on Wednesday, claiming the Kentucky Republican refused to take his call to answer a "very simple question" on "Kate's Law."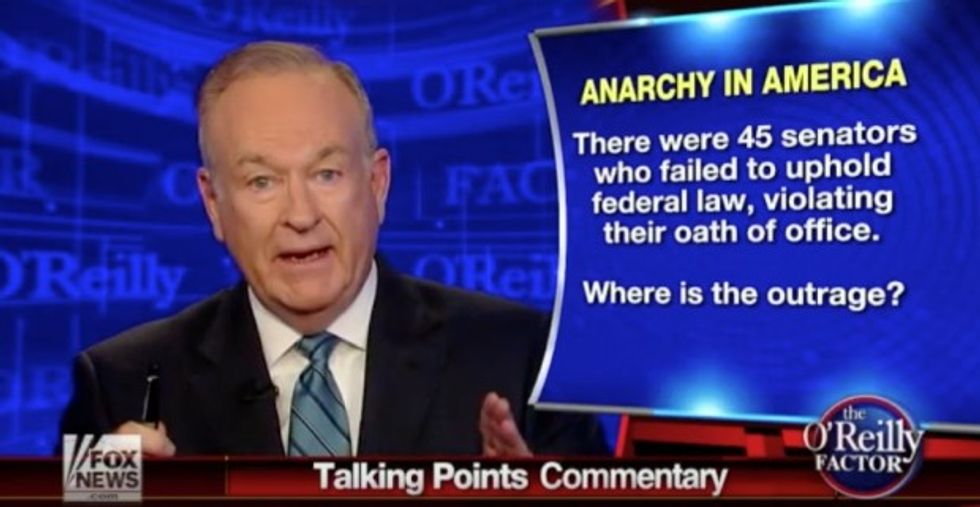 Image source: Fox News
O'Reilly made the reveal during a conversation with Sen. Ted Cruz (R-Texas) about the proposed legislation that would crack down on illegal immigrants who reenter the U.S. after deportation.
"I tried to call Mitch McConnell and he would not take my call," O'Reilly explained. "Which I thought was kind of disrespectful. Because all I wanted was information."
He continued, "And I have a very simple question: why did you decide to put sanctuary cities with 'Kate's Law' when you knew that the Democrats would filibuster and no vote would take place?"
The vote on sanctuary cities Tuesday was tied to "Kate's Law" which mandates a five-year penalty for aggravated felons who re-enter the United Stages illegally after being deported. Cruz said it was clear to everyone that the package would fail in the Senate, as it did.
"Kate's Law" was drafted after Kate Steinle was killed by an illegal immigrant who had reentered the U.S. multiple times. Federal authorities had requested San Francisco hold him in jail, but because of the liberal city's sanctuary status, he was released.
On Tuesday, the San Fransisco Board of Supervisors voted to keep the city's sanctuary status.
—
Follow the author of this story on Twitter and Facebook: