Hillary Clinton's campaign released an extensive list of people who are supposedly endorsing the Democratic presidential candidate, but there's just one problem — some of the people included on the list have not officially endorsed her.
According to Bloomberg Politics, Clinton announced that she had the backing of 50 current and former black mayors.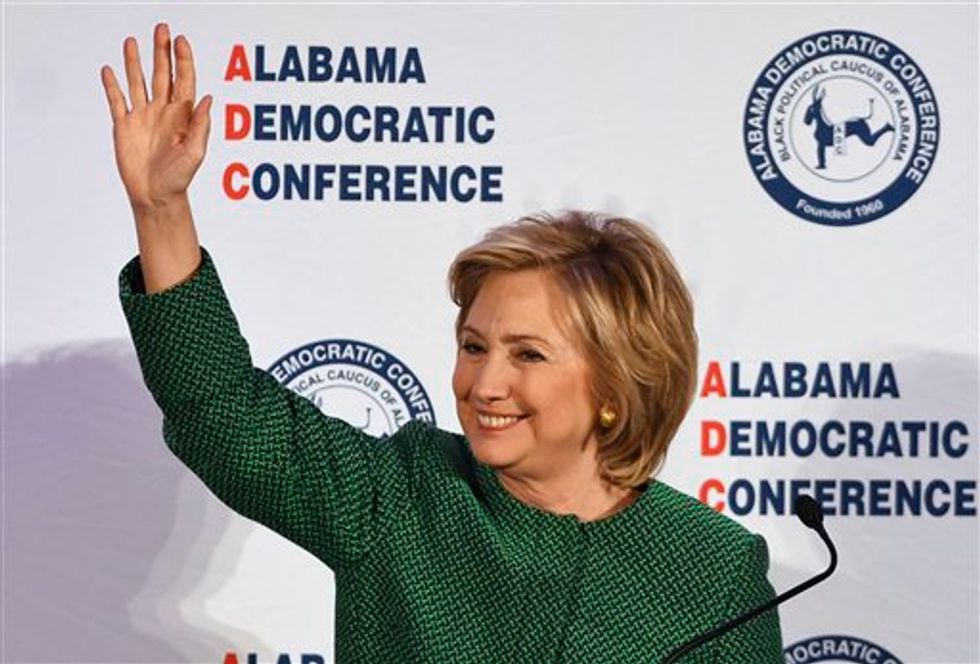 Democratic presidential candidate Hillary Rodham Clinton waves as she speaks during a meeting of the Alabama Democratic Conference in Hoover, Ala., Saturday, Oct. 17, 2015. (AP Photo/ Mark Almond)
"I'll solicit their ideas and expertise at every step," Clinton said in the email.
Included among the black mayors is Wilmington Mayor Dennis Williams. But Williams' leads Vice President Joe Biden's hometown, and he made it very clear that should Biden officially enter the race, he's throwing his support behind him.
Incorrect info about an endorsement, I've known @VP Biden since I was 12 yrs old, if he chooses to run, He will receive my support!

— Dennis P. Williams (@DennisPWilliams) October 20, 2015
@VP Biden served DE for years. Our respect & admiration for Biden's is earned! I respect @HillaryClinton but will support Joe if he runs.

— Anthony S. Goode (@AnthonySGoode) October 21, 2015
According to the Texas Tribune, Clinton's list also included San Antonio Mayor Ivy R. Taylor. Taylor, a nonpartisan officeholder, is the first African-American and second female to hold her office.
Clinton met with Taylor last week prior to a campaign rally in San Antonio. A person briefed on the meeting told the New York Times that Taylor said then that she would help the campaign however she could.
However, after the list was released, Taylor's office announced that she had also met with female Republican presidential candidate Carly Fiorina.
"As mayor, Ms. Taylor has had the opportunity to meet recently with Secretary Hillary Clinton as well as Carly Fiorina," Leslie Ann Garza, Taylor's spokeswoman, said in a statement. "The mayor appreciates the service of Secretary Clinton, Ms. Fiorina and all the candidates for President. However, the mayor of San Antonio is a non-partisan elected office, and Mayor Taylor is committed to remaining non-partisan in the upcoming presidential election."
I've met with and appreciate both @HillaryClinton and @CarlyFiorina. However, as a non-partisan official, I will not be endorsing anyone.

— Mayor Ivy R Taylor (@IvyRTaylor) October 19, 2015
The Tribune reported that Bexar County Commissioner Tommy Calvert, a Democrat, was also erroneously included on the list. 
Calvert told the Tribune that he had recently spoke at a debate watch party that was sponsored by Clinton supporters but told three staff members that he was not endorsing her.
"I don't know how there could be any confusion," he said.