Newly released dashcam footage shows the moment a police officer fatally shoots a driver after a traffic stop quickly escalates.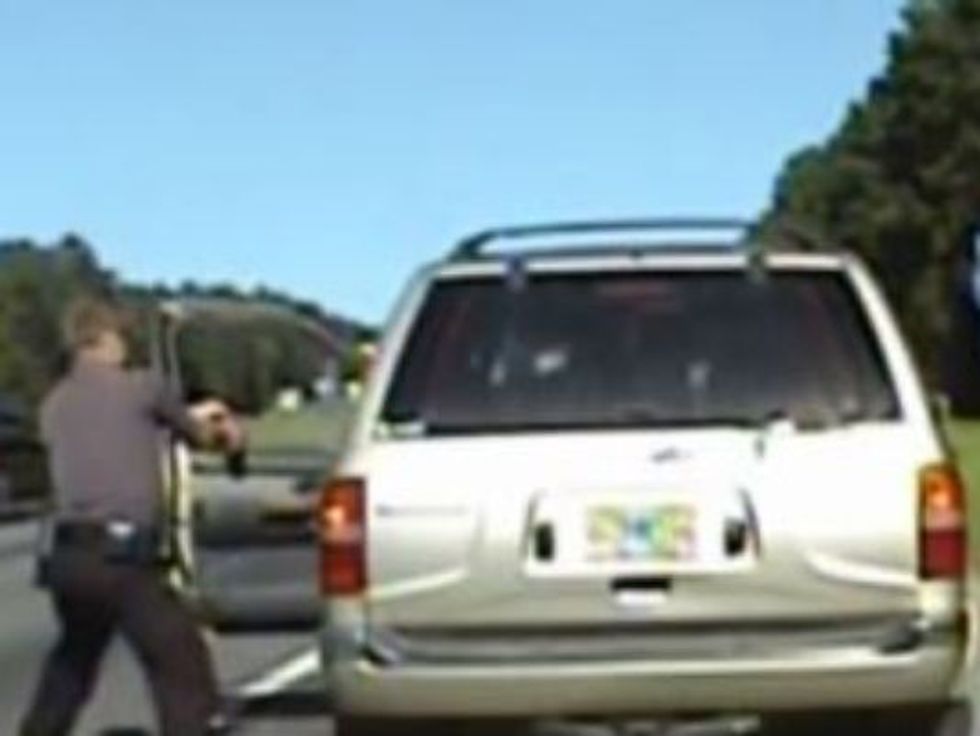 Image source: WSB-TV
Emerson, Georgia, Police Officer Robert Smith is seen making the stop on Oct. 14 to check on the driver's expired tag. The video shows Smith getting out of his patrol vehicle and approaching the driver, Brent Andrew Brannon, at the driver's side window, along an interstate highway.
Smith obtains Brannon's license and discovers that Brannon is wanted on felony drugs and weapons charges, WXIA-TV reported. The officer then asks Brannon to get out of his vehicle, but Brannon refuses.
Moments later, the officer is seen opening the driver's side door while aiming his Taser. The officer then reaches for his firearm, warns the driver to "drop your gun" and shoots about a dozen rounds.
"Shots fired. Shots fired," Smith radios to other officers.
Smith calls for medical help as another officer arrives on the scene, but Brannon later dies from his wounds.
"He pulled a gun on me," Smith tells the other officer.
Smith then goes over to the passenger side of the stopped vehicle and breaks a window to retrieve a weapon, which he then puts down on the pavement, as two state law enforcement officials also arrive on the scene.
The Georgia Bureau of Investigation is investigating the incident to determine whether the shooting was justified.
Smith is now on paid leave from the Emerson Police Department.
(Content warning: Dashcam footage below may be disturbing.)
(H/T: WXIA-TV)
–
Follow Jon Street (@JonStreet) on Twitter