Fox News host Bill O'Reilly skewered the left for actively opposing "Kate's Law," which would impose a mandatory minimum sentence of five years for illegal immigrant felons who return to the U.S. after being deported. Senate Democrats blocked the bill, which also included a provision punishing "sanctuary cities" for not cooperating with federal law enforcement, from advancing on Tuesday.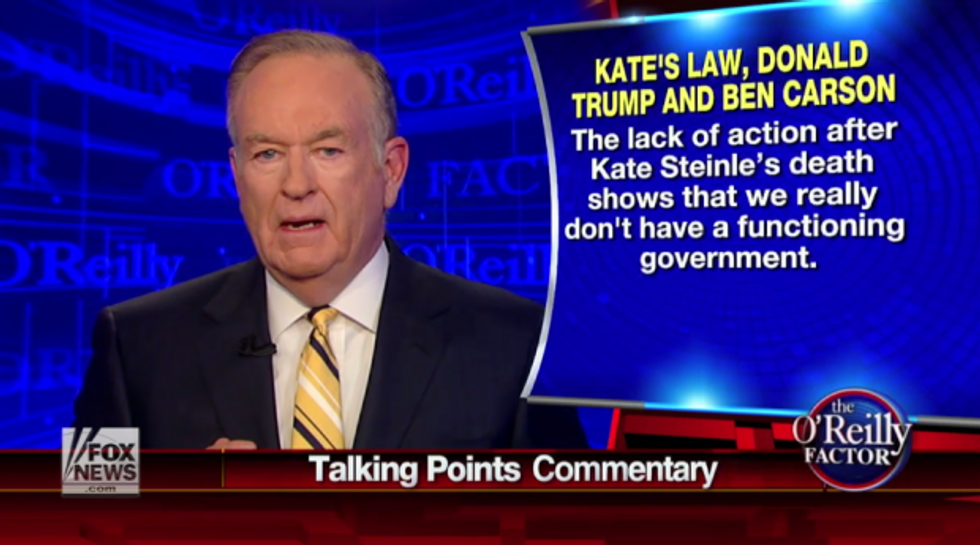 Fox News
"There comes a point where the American people are going to have to take back their government," O'Reilly said. "When a 32-year-old woman can be gunned down by and illegal felon who had been deported five times, and you can't get a strict law punishing illegal alien felons passed. When that happens, you don't have a functioning government."
O'Reilly went on to call the left's reaction to the proposed legislation "unbelievable" — but quickly clarified that "unbelievable is too gentle a word."
"Here's the truth: Juan Lopez Sanchez was convicted of seven felonies in the U.S.A., including selling hard drugs," O'Reilly said. "He was deported five times; he came back six times; he broke into a car in San Francisco; he stole a gun; he recklessly fired that gun in a public place. And Kate Steinle died."
O'Reilly said he will not "give up" his efforts to get "Kate's Law" passed.
---
This story has been updated.