Wikileaks is publishing documents it claims to have obtained from the CIA director's personal email account, revealing that he used it for "several intelligence related projects."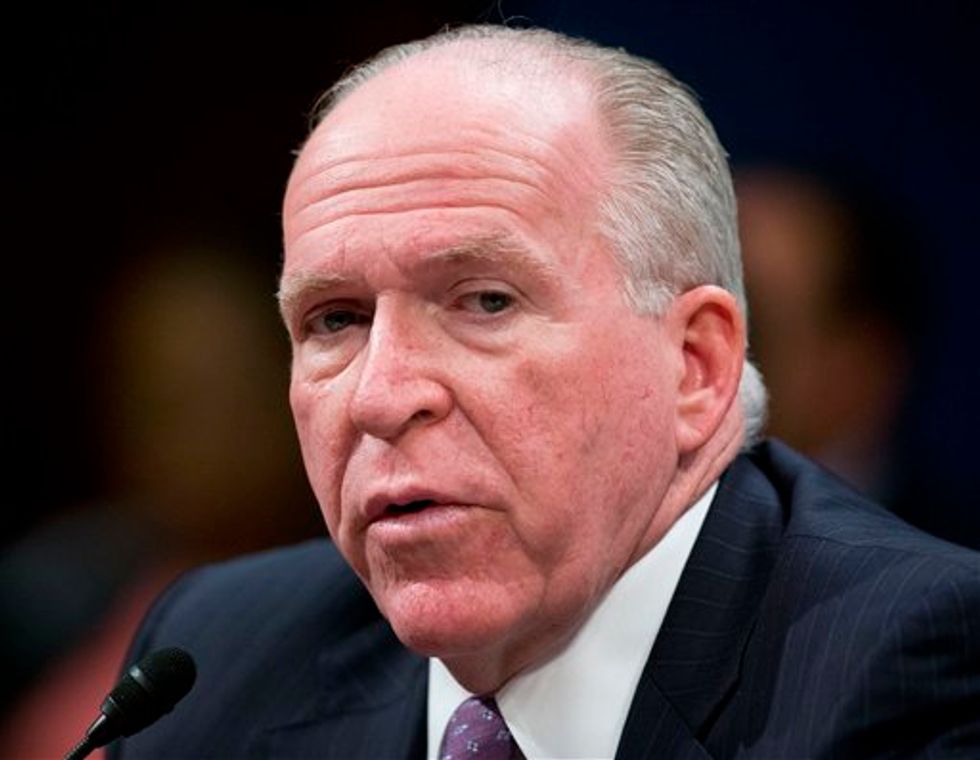 CIA Director John Brennan testifies on Capitol Hill in Washington, Thursday, Sept. 10, 2015, before the House Intelligence Committee hearing on on cyber attacks. (AP/Pablo Martinez Monsivais)
Earlier this week, the New York Post revealed that a teenage hacker, described by the newspaper as a "stoner high school student," infiltrated John Brennan's non-government, AOL email account and posted documents online, including a list of email addresses purportedly from the CIA chief's contact file.
The CIA said it referred the matter to the proper authorities, but would not comment further to the Associated Press.
Wikileaks stated Wednesday that it would be releasing "over the coming days" documents from Brennan's account.
"According to the CIA Brennan previously worked for the agency for a 25 year stretch, from 1980 to 2005," Wikileaks stated in its introduction of these documents. "Brennan went private in 2005-2008, founding an intelligence and analysis firm The Analysis Corp (TAC). In 2008 Brennan became a donor to Obama. The same year TAC, led by Brennan, became a security advisor to the Obama campaign and later that year to the Obama-Biden Transition Project. It is during this period many of the Obama administration's key strategic policies to China, Iran and "Af-Pak" were formulated. When Obama and Biden entered into power, Brennan was lifted up on high, resulting in his subsequent high-level national security appointments."
So far, this release of six documents included a draft of Brennan's SF86 questionnaire for national security positions from 2008. News of this questionnaire, which includes personal information, was reported along with the original hack on Sunday by the Post.
Other documents, all from between 2007 and 2008, include:
A fax from the CIA's Office of General Counsel to the Government Accountability Office regarding "gross inconsistencies" in The Analysis Corp's proposal and protest at losing an award to a competitor;
A draft intelligence paper about the challenge of national security, emphasizing that the "Intelligence Community must never be subject to political manipulation and interference";
A paper about the "Conundrum of Iran, making recommendations to "whoever takes up residence at 1600 Pennsylvania Avenue in January 2009," emphasizing the need for them to "'hit the ground running' on Iran;
A 2007 letter from Vice Chairman Christopher Bond of the Senate Select Committee on Intelligence to others on the committee, regarding the interrogation techniques used by intelligence agencies. "Rather than authorizing intelligence agencies to use only those techniques that are allowed under the [Army Field Manual], I believe the more prudent approach is to preclude the use of the specific techniques that are prohibited under the AFM," Bond wrote. "In this way, the Congress can state clearly that certain harsh interrogation techniques will not be permissible"; and
A bill introduced by Bond, then the a Republican senator for Missouri, to "prohibit the use of certain interrogation techniques and for other purposes."
As for the teen hacker, who accessed Brennan's email, earlier this week, he also claimed to have breached a Comcast account belonging to Homeland Security Secretary Jeh Johnson, and released what appeared to be personal information.
The Post, which said the teen didn't reveal his name or where he lived, revealed Monday that he said he would be targeting Deputy Defense Secretary Robert Work next.
In his tweets, he says that he is just 13 years old and indicates that his actions are motivated by support for Palestinians.
"When I'm gone, just know I wanted peace,freedom [sic] and fairness for other people. #FreePalestine #FreeGaza" @phphax tweeted Tuesday.
—
The Associated Press contributed this report.