Pro-Palestinian blogs callher a "nonviolent" activist. Indeed, that's how Manal Tamimi describes herself as well.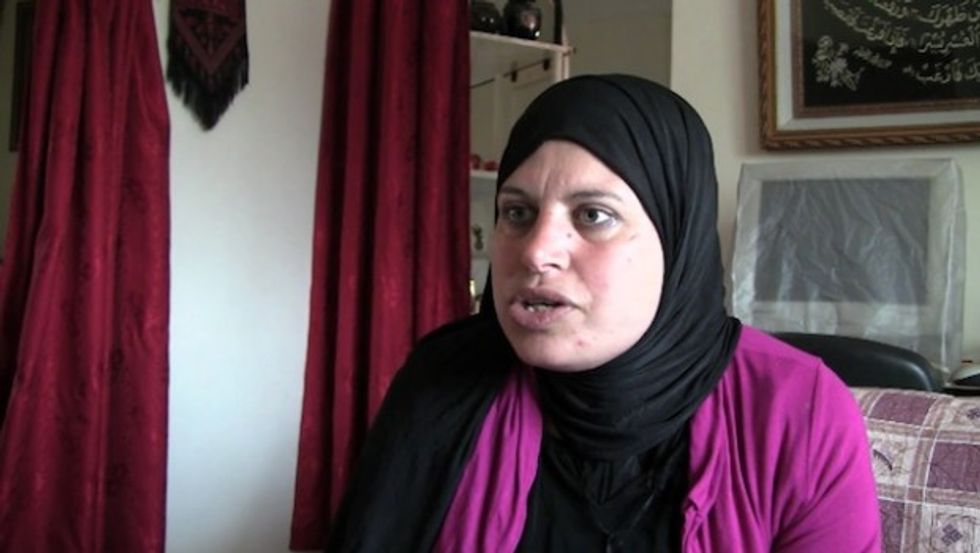 Manal Tamimi (Image source: YouTube)

But her social media postings paint a contrasting picture, including a photo she posted Wednesday that appeared to lend support to the recent spate of Palestinian stabbing attacks against Israelis.
Who would like a pair of earing like this For me of course i want pic.twitter.com/pd4lvNnxku

— manal tamimi (@screamingtamimi) October 21, 2015
Tamimi was recently called out by prominent Israeli peace proponent and Jerusalem Post columnist Gershon Baskin, who is supportive of the Palestinian cause and has in the past held behind-the-scenes negotiations with top Hamas officials.
Baskin censured Tamimi earlier this month after she tweeted a message supporting a Palestinian who stabbed two Israelis to death in Jerusalem, one in front of his wife and his young daughter. The assailant was shot and killed by police who responded to the attack.
Muhanad Shafeq Halabi aged 19 who killed 2 settlers & injured 2 in #Jerusalem then zionist killed him RIP habibi pic.twitter.com/zwrfuSKS2C

— manal tamimi (@screamingtamimi) October 3, 2015
Tamimi concluded her message, "RIP habibi," referring to the assailant in an Arabic term akin to "my darling."
Here is part of their intense exchange over the RIP tweet:
@gershonbaskin shame on me ???? Shame on me ???? And why is that Mr Gershon

— manal tamimi (@screamingtamimi) October 3, 2015
@screamingtamimi for praising the murderer of innocent people

— Gershon Baskin (@gershonbaskin) October 3, 2015
Tamimi lambasted the Israeli peace activist for his critique of her tweet, noting that she had welcomed him into her home "despite u r jew."
@screamingtamimi@MargieInTelAviv do you teach her to murder?

— Gershon Baskin (@gershonbaskin) October 3, 2015
.@screamingtamimi@gershonbaskin wow, you welcome people even though they're Jewish? You should be awarded Righteous Among the Nations!

— Ido Daniel (@IdoDaniel) October 3, 2015
Gidon Shaviv, a senior researcher at the pro-Israel media watchdog CAMERA and its partner Hebrew site Presspectiva, said that media reports suggesting she supports a nonviolent struggle are "dishonest."
"This is an example of not only supporting violence, but doing so gleefully. Anyone portraying her as anything other than a dedicated proponent of violence is being dangerously dishonest," Shaviv told TheBlaze.
"Sadly, it's not surprising to see such a tweet," Yona Schiffmiller, a researcher at NGO Monitor, a Jerusalem-based research institute, told TheBlaze in response to a request for comment on the dagger earrings. "This is just the latest in a long line of tweets from Manal Tamimi's that spew hate and incite to violence."
"She regularly calls for attacks against Israelis while refering to them as Zio-Nazis, comparing them to ISIS and libelously claiming that they drink the blood of Palestinian children," Schiffmiller said via email, including the links to the provocative tweets.
The Palestinian news agency Ma'an reported in 2013 that an Israeli soldier shot Tamimi in the leg with a rubber bullet following clashes in the West Bank village of Nabi Saleh.
A pro-Palestinian website posted video purporting to show that she was shot again earlier this year during a confrontation between Palestinians and Israeli soldiers. Video showed masked Palestinian men — some wearing green headbands associated with Hamas — using slingshots to hurl rocks at the soldiers before the soldiers responded.
Her relative Bassem Tamimi recently was the subject of controversy during a U.S. tour after he was invited to speak to a third-grade class at the Beverly J. Martin Elementary School in Ithaca, New York.
The Ithaca city superintendent of schools later told the conservative blog Legal Insurrection that statements made during the visit were "politically skewed," "inflammatory" and "not developmentally appropriate for third graders."
Israel has faced a wave of daily Palestinian stabbing, shooting and car-ramming attacks, while Palestinian social media has been filled with calls for more violence, including instructional videos on how to increase the lethality of stabbing attacks, as well as Facebook photos and newspaper cartoons glorifying the use of the knife.