On Thursday morning, new polling data showed Dr. Ben Carson opening up "a significant lead" over all GOP presidential contenders in Iowa, including Donald Trump.
Shortly before noon, Donald Trump's Twitter account retweeted the following message inferring the people of Iowa had "issues in the brain," possibly connected to genetically modified foods often associated with the Monsanto agricultural biotech company.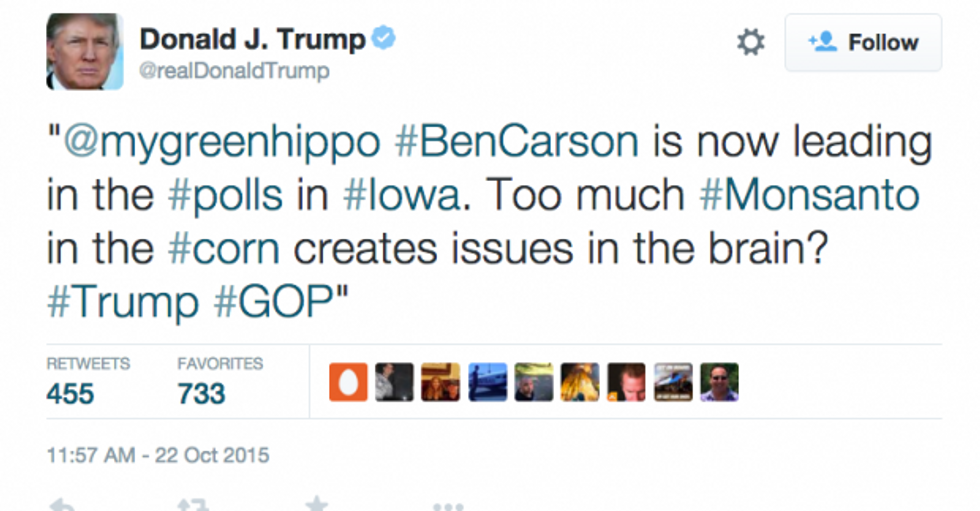 Image source: Twitter
Minutes later, conservative columnist John Podhoretz made the following prediction.
Trump will apologize for that tweet. You'll see.

— John Podhoretz (@jpodhoretz) October 22, 2015
The Internet did react to Trump's tweet, many calling it insulting and worse.
Donald Trump is losing ground in Iowa. So he decided to insult some Iowans. https://t.co/cSvsZD2kqJpic.twitter.com/kOIhl12pTM

— Vox (@voxdotcom) October 22, 2015
The original Tweet disappeared and was replaced with an apology.
The young intern who accidentally did a Retweet apologizes.

— Donald J. Trump (@realDonaldTrump) October 22, 2015
Not everyone was buying the intern excuse.
.@realDonaldTrump real leaders always blame it on an intern

— Jacob Perry (@jacobperry) October 22, 2015
Some questioned Trump's previous claims about running his own Twitter account.
@realDonaldTrump wait. you dont do your own twitter? or you dont own up to your mistakes? which is it?

— James Akers, Jr.  (@JamesAkersJr) October 22, 2015
@realDonaldTrump Don't blame a fake "intern" you doofus. pic.twitter.com/cCYVX0DonQ

— Jeni Decker (@Jeni_Decker) October 22, 2015
Not everyone had a problem with the Trump retweet.
@realDonaldTrump The Retweet was not an insult, it was a tongue in cheek comment from someone else. Media is all over it. Not a big deal!

— Scott Kennedy (@SKennedy1979) October 22, 2015
__
Follow the author of this story on Twitter and Facebook: