At 17-years-old, Malia Obama has already toured multiple colleges in the quest to find where she'll receive her higher education, but one college newspaper decided to apologize to the President's daughter when photos of her attending a party and seemingly participating in drinking games circulated online.
In a Snapchat photo shared with the conservative news site the Daily Caller, the teenager is seen standing next to a beer pong table while attending a Brown University party. Although in the photo it is unclear if Obama is participating in the game, a tweet obtained by Buzzfeed said she was playing beer pong and taking shots.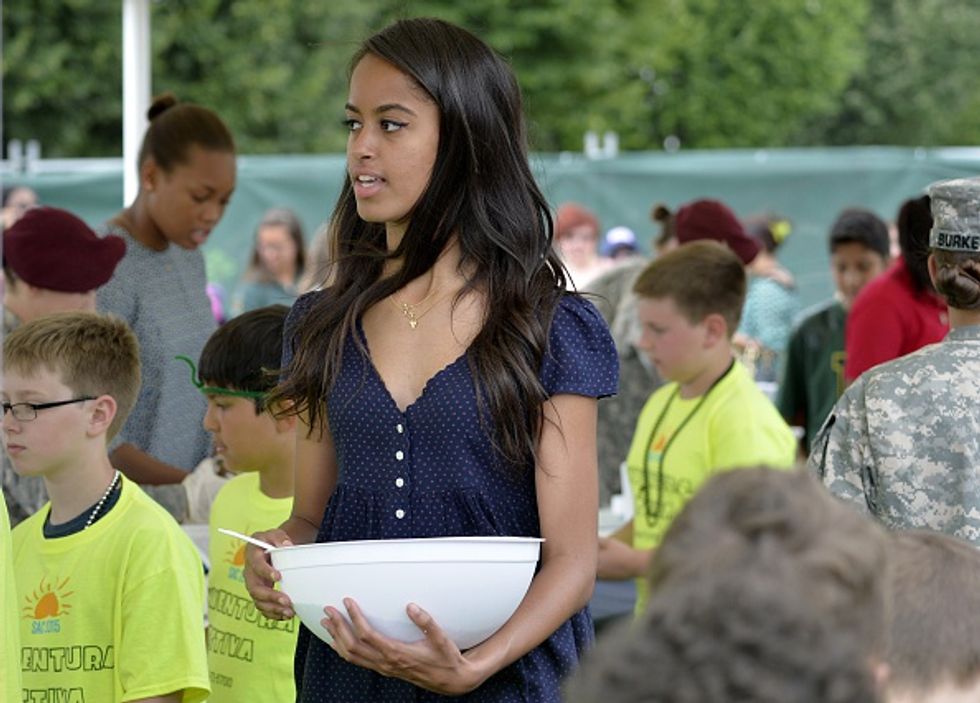 Malia Obama, daughter of US President serves food during a lunch at the United States and Nato military base in Vicenza on June 19, 2015 . (ANDREAS SOLARO/AFP/Getty Images)
"The college application and selection process is stressful for most students who go through it, but one can only imagine how much the stress multiplies when the whole nation is watching," the editorial board of Brown's Daily Herald wrote. "That is what Malia Obama is experiencing right now. News outlets as prominent as the New York Times are covering her touring process, and students at elite colleges across the country cross their fingers and chat over dining hall food about how cool it would be to go to the same school as President Obama's daughter."
The editorial said the motivation behind students taking photos of Obama at the party and posting them online stemmed simply from excitement from being at a party with her — and her inevitable Secret Service protection. Yet still the college newspaper issued an apology as she "did not choose to grow up in the White House" and face "such harsh scrutiny."  
"While the chances of her selecting Brown have probably decreased since the publication of those articles, if she does ever come back to Brown, hopefully next time we will 'have more chill,'" the editorial said.
The high school student has already toured some of the country's most prominent colleges, including Barnard; Columbia; Harvard; New York University; Princeton; Stanford; Tufts; the University of California, Berkeley; the University of Pennsylvania; Wesleyan; and Yale.
The Daily Herald's editorial board is comprised of two editors and three staff members.
Many on social media have come to Obama's defense.
Why is it news that Malia Obama was allegedly caught taking shots & playing beer pong? We were all 17 once... We all did it.

— Myrna ✨ (@just__myrna) October 16, 2015
hahaha malia obama went to a party and might've or might of not been playing beer pong and taking shots she was at college having fun wtf

— maya (@fairystiless) October 17, 2015
Every1 was worried abt malia obama standing next 2 a beer pong table, did anyone notice she was visiting ivy league colleges? Congrats girl!

— diosadelamor (@queen_mona_ee) October 21, 2015