PUERTO VALLARTA, Mexico (AP) — Hurricane Patricia pushed rapidly inland over mountainous western Mexico early Saturday, weakening from its record-breaking strength but still powerful as it dumped torrential rains that authorities warned could cause deadly floods and mudslides.
Patricia, which peaked as the strongest hurricane on record in the Western Hemisphere, made landfall Friday on a sparsely populated stretch of Mexico's Pacific coast as a Category 5 storm, avoiding direct hits on the resort city of Puerto Vallarta and major port city of Manzanillo.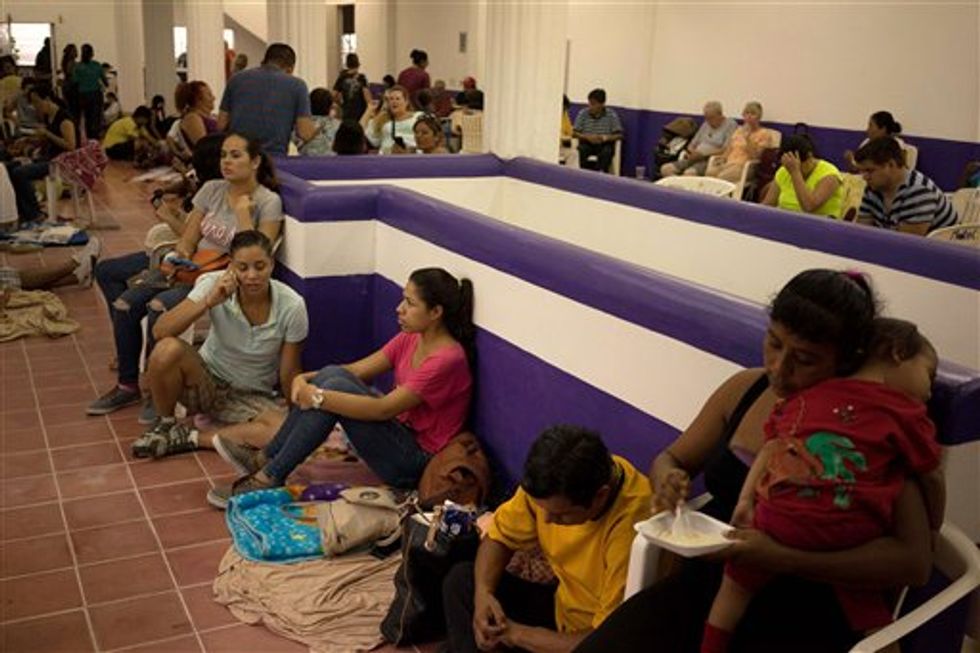 People wait for the arrival of Hurricane Patricia at a shelter in the Pacific resort city of Puerto Vallarta, Mexico, Friday, Oct. 23, 2015. Hurricane Patricia barreled toward southwestern Mexico Friday as a monster Category 5 storm, the strongest ever in the Western Hemisphere. Residents and tourists hunkered down or tried to make last-minute escapes ahead of what forecasters called a "potentially catastrophic landfall." (AP Photo/Cesar Rodriguez)
There were early reports of some flooding and landslides, but no word of fatalities or major damage as the storm pushed across inland mountains and bypassing the metropolis of Guadalajara overnight. Milenio TV carried footage of cars and buses being swept by floodwaters in the state of Jalisco.
"The first reports confirm that the damage has been less than those expected from a hurricane of this magnitude," President Enrique Pena Nieto said in a taped address late Friday. He added, however, that "we cannot yet let our guard down."
Patricia weakened to a Category 1 hurricane Saturday morning with maximum sustained winds of 75 mph (120 kph) and was expected to dissipate over Mexico's inland mountains, becoming a tropical storm later in the day. Its center was about 50 miles (80 kilometers) southwest of Zacatecas.
Tourist Brandie Galle of Grants Pass, Oregon, said she had been sheltered with other guests in a ballroom with boarded-up windows at the Hard Rock Hotel in Puerto Vallarta. When the city was not feeling any major effects from the storm two hours after landfall, workers let them out to eat at a hotel restaurant.
"They said it looked like the storm had hit below us," she said. "Everyone is starting to perk up a little bit but still kind of on edge waiting to see what's going to happen with the storm."
Galle said some guests desperate to leave had earlier paid $400 for taxis to drive them the 120 miles (200 kilometers) to the inland city of Guadalajara.
The airports in Puerto Vallarta, Manzanillo and Tepic were closed Friday, but officials announced an air bridge Saturday to ferry stranded travelers out of areas hit by the storm.
Así fue el impacto del Huracán Patricia en las costas mexicanas https://t.co/9ruTzQbRV0 pic.twitter.com/7sSa4twzLb

— Harold V (@haroldv2) October 24, 2015
Residents and tourists had hunkered down in shelters and homes along a coastal stretch dotted with sleepy fishing villages and gleaming resorts. In Puerto Vallarta, residents had reinforced homes with sandbags and shop windows with boards and tape, and hotels rolled up beachfront restaurants.
The Sokols, a family of five from suburban Detroit, were supposed to fly out of Puerto Vallarta on Friday but ended up for hours in a shelter at a university after their flight was canceled. By night they were back where they began: at their hotel, and no worse for wear.
"It's amazing it went from the worst in history to just some heavy rain," Susanna Sokol said, noting that at least the hurricane gave her daughter a birthday to remember.
"It was pretty stressful for a while," Tom Sokol said. "I felt guilty for taking my kids here."
Patricia formed suddenly Tuesday as a tropical storm and quickly strengthened to a hurricane. Within 30 hours it had zoomed to a Category 5 storm, catching many off guard with its rapid growth.
By Friday it was the most powerful recorded hurricane to hit the hemisphere, with a central pressure of 880 millibars and maximum sustained winds of 200 mph (325 kph), according to the National Hurricane Center.
Patricia's power while still out at sea was comparable to that of Typhoon Haiyan, which left more than 7,300 dead or missing in the Philippines two years ago, according to the U.N.'s World Meteorological Organization. More than 4 million people were displaced by Haiyan and over 1 million houses were destroyed or damaged in 44 provinces in the central Visayas region, a large cluster of islands.
Mexican officials declared a state of emergency in dozens of municipalities in Colima, Nayarit and Jalisco states, and schools were closed. Authorities opened hundreds of shelters and announced plans to shut off electricity as a safety precaution.
One of the worst Pacific hurricanes to ever hit Mexico slammed into the same region, in Colima state, in October 1959, killing at least 1,500 people, according to Mexico's National Center for Disaster Prevention.
U.S. State Department spokesman Mark Toner said tens of thousands of American citizens were believed to be vacationing or living in areas likely to be affected by the storm.
Patricia also threatens Texas with forecasters saying that even after the storm breaks up, its tropical moisture will likely feed heavy rains already soaking the state.
The U.S. National Weather Service said a flash flood watch would be in effect through Sunday morning for Dallas-Fort Worth, Austin and San Antonio.
A coastal flood warning was in effect through Friday night in Corpus Christi. Galveston was under a coastal flood advisory until Saturday night.
Breathtaking some media calling #Patricia coverage overblown. Irresponsible reporting. Storm strength warranted it. Blessing damage is less

— Marshall Shepherd (@DrShepherd2013) October 24, 2015
headline disappointing...Meteorologists warned properly on #Patricia. Does media hope for tragedy to verify? @spann? https://t.co/TI1ZsoLPzK

— Marshall Shepherd (@DrShepherd2013) October 24, 2015