Concerns from American military and intelligence officials are mounting as Russian submarines and spy ships operate dangerously close to important underwater data cables that carry global Internet communications.
According to a report in the New York Times, the ships and submarines are aggressively operating around these cables — a move that has some worried that the Russians plan to attack those lines. While American intelligence officials have long known how to tap into cables, officials are concerned the Russians would sever the cables at hard-to-reach locations, which would halt the instant communication that citizens, economies and governments have come to rely on.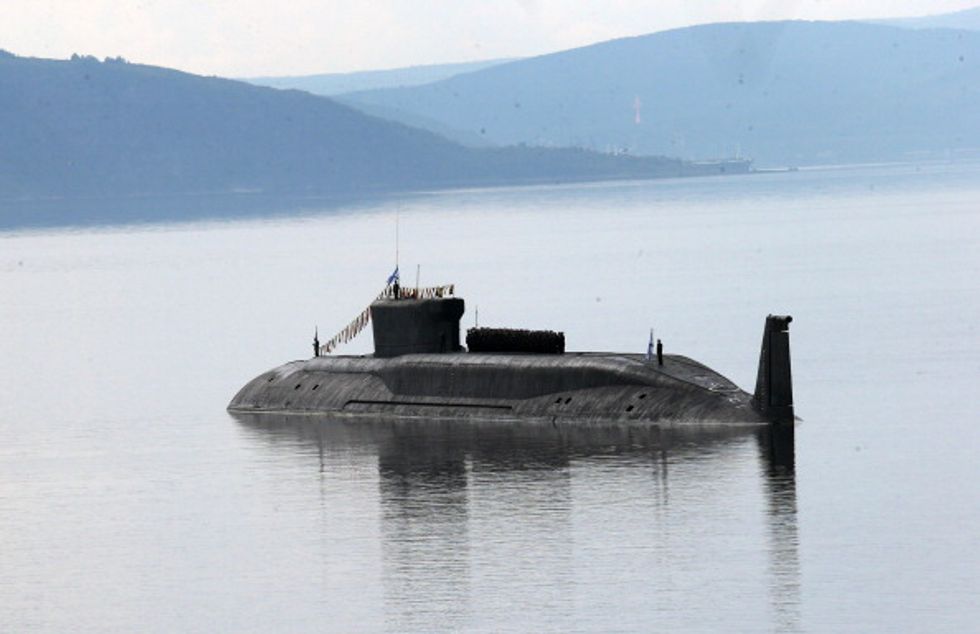 A Russian nuclear submarine is seen during the Navy Day Military parade July, 27, 2014, in Severomorsk. (Sasha Mordovets/Getty Images)
The Times reported that there has not been any sign or evidence that cables that yet been cut, but intelligence officials' concerns are a sign of growing American distrust of Russia — a sentiment the Times likened back to that felt during the Cold War.
"I'm worried every day about what the Russians may be doing," Rear Adm. Frederick J. Roegge, commander of the Navy's submarine fleet in the Pacific, told the Times.
Roegge would not answer specific questions about whether the Russians plan to cut the underwater communications cables.
"It would be a concern to hear any country was tampering with communication cables; however, due to the classified nature of submarine operations, we do not discuss specifics," Cmdr. William Marks, a Navy spokesman, said.
Last month, a Russian spy ship slowly cruised off the East Coast of the United States on its way to Cuba where one major undersea cable lies. The ship, which was closely monitored by American spy satellites, was equipped with two self-propelled deep-sea submersible crafts, and Navy officials said the ship's equipment gave it the ability to cut through cables located several miles down in the sea.
"The level of activity is comparable to what we saw in the Cold War," a European diplomat told the Times.
"The risk here is that any country could cause damage to the system and do it in a way that is completely covert, without having a warship with a cable-cutting equipment right in the area," Michael Sechrist, a former project manager for a Harvard-M.I.T. research project funded in part by the Defense Department, said. "Cables get cut all the time — by anchors that are dragged, by natural disasters."
Sechrist said that most of those cuts occur only a few miles from shore and can be repaired in just a few days.
 Read more about concerns of Russian ships operating dangerously close to data cables at the New York Times.