They are Christian supporters of Israel who left their homes for a few months to volunteer as grape harvesters in Judea and Samaria, the site of key events in the Bible, including the birth of Jesus and the burial of the biblical patriarchs Abraham, Isaac and Jacob.
On a quest to experience the "prophetic restoration of the land of Israel" they say is underway today, the American, European and other volunteers with HaYovel believe it was God's hand that guided some half-dozen accomplished musicians to join the trip this fall.
They've now released the fruit of their labor, a new song titled "Restoration," which offers praise for the redemption "forming over the valleys and the hills" bringing "new life" — even as Israelis face a wave of violent Palestinian attacks.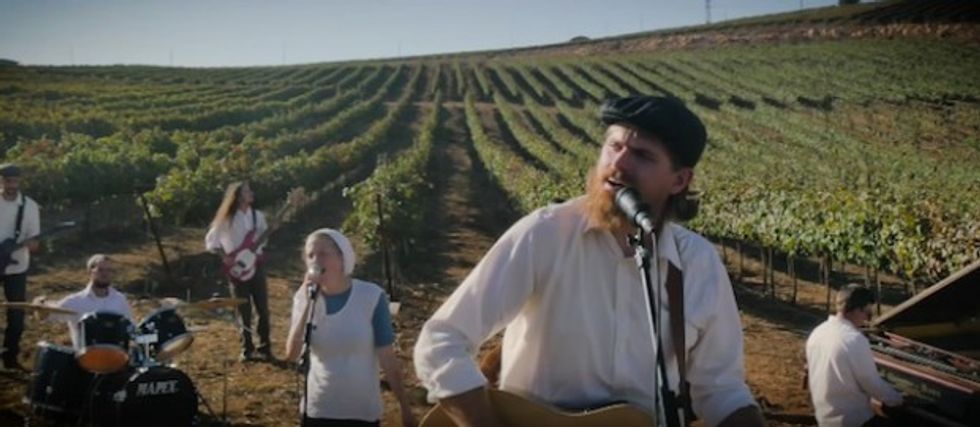 Musician and pro-Israel Christian Zac Waller leads the volunteers during the grape harvest and in song in "Restoration." (Image source: YouTube)
Tennessee native Zac Waller — director of the HaYovel volunteer group — on guitar and vocals led the group of fiddlers, a cellist, guitarists, a pianist, bass player, drummer and vocalists he described as "a unique blend of family, friends and volunteers who came to serve during the grape harvest."
"It is incredible how God brought all these people together, without having ever played together, to produce such an incredibly rich instrumentation," Waller told TheBlaze via email. "God's hand of blessing has been very evident from the writing of the song to bringing together the musicians to recording and the filming."
Most of the music video was filmed in Jerusalem and Judea and Samaria, the biblical names for the area commonly known as the West Bank.
When they're not making music, the volunteers work with Jewish farmers in Judea and Samaria who face the challenge of finding seasonal workers during grape harvest time.
"Their contribution is huge as far as the physical assistance they provide to farmers in Judea and Samaria," David HaIvri, a local Jewish leader in Samaria, told TheBlaze, but pointed out that their field work is only part of the story.
"They do what no other group is capable of and that's going home and sharing their experience in Judea and Samaria," HaIvri said, "and that's really amazing."
"Their ability to spread a positive message from Judea and Samaria is really incredible," he added.
Waller hopes the video will encourage others to connect with the Bible and Israel in a positive way.
"When you believe in something spiritual and it is being displayed physically right before your eyes, it is a powerful, very connecting faith builder. My faith has been strengthened by seeing the miraculous restoration happening in the heartland of Israel, and I want others to have that same experience," he said.
Over the past 10 years, HaYovel — which means "jubilee" in Hebrew — has brought 1,700 volunteers to Israel with the aim of providing not only a unique life experience but also to train "educated, effective, positive ambassador[s] for Judea and Samaria."
Besides experiencing the land of the Bible firsthand, volunteers say their work repairs Christian-Jewish relations.
"This simple, hands-on service for the farmers shows support for the Jewish families living in the region, brings reparation to two thousand years of horrendous relationship between Christians and Jews and gives Christians the opportunity to connect to the God, land, people and prophesies of the Bible," Waller explained.
The volunteer group leader encourages pro-Israel Christians to begin dedicating time to pray for Israel, to get a passport "so that you are prepared for when God invites you to the Land" and to connect with and donate to a pro-Israel organization.