Hillary Clinton applauded the University of Mississippi for quietly removing the state flag from campus, calling the Confederate flag contained in one corner is a "symbol of hate."
Well done, Ole Miss. Symbols of hate have no business flying over a place of learning. -H https://t.co/t3WL4pJcjV

— Hillary Clinton (@Hillary Clinton)1445903390.0
"Well done, Ole Miss. Symbols of hate have no business flying over a place of learning. -H," Clinton tweeted out Monday.
The Democratic presidential candidate's tweet faced a wave of online backlash from users defending the South's "heritage."
"Heritage not hate!" one user replied to Clinton's tweet.
Other users pointed to the fact that Clinton's husband, former President and Arkansas Gov. Bill Clinton, signed a bill into law while he was governor "to commemorate the Confederate States of America" with the blue star that appears on that state's flag.
@HillaryClinton But your husband designed the Arkansas flag after the Confederate flag...

— Tony Hrvatska 🕊🌲 (@Tony Hrvatska 🕊🌲)1445904269.0
Seriously though, has Hillary been asked about the Arkansas flag? http://t.co/8yJ5ExLDzA

— Phil Kerpen (@Phil Kerpen)1434840264.0
Ole Miss took down the Mississippi state flag from campus without much fanfare Monday morning before many students were even awake. Three campus officers pulled it down under interim Chancellor Morris Stocks' direction. The banner was being flown next to a statue of a saluting Confederate soldier, the Associated Press reported.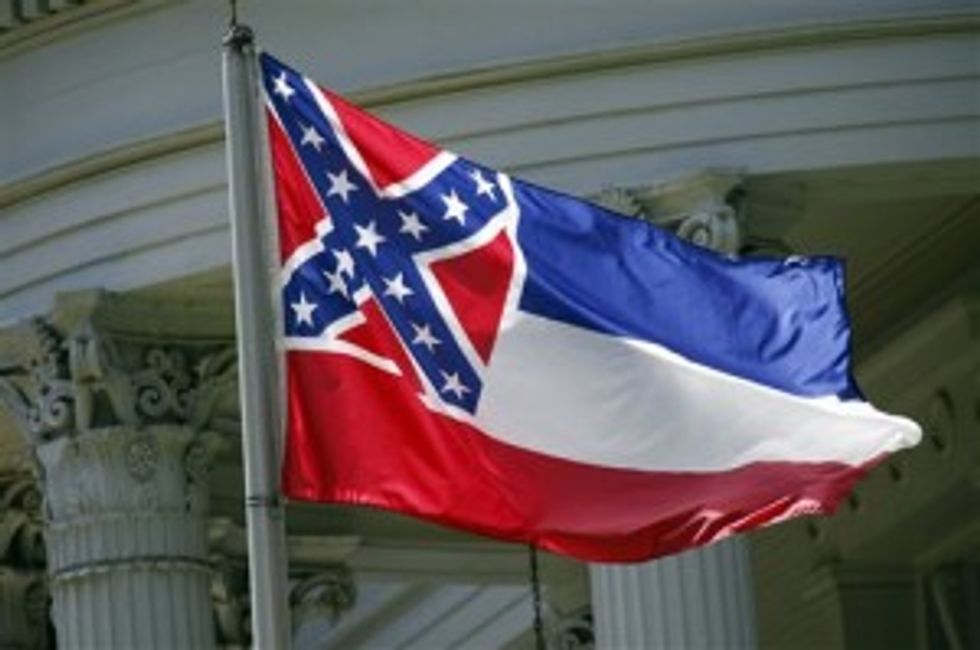 In this photo taken June 23, 2015, the Mississippi state flag is unfurled against the front of the Governor's Mansion in Jackson, Miss. (AP Photo/Rogelio V. Solis)
"Because the flag remains Mississippi's official banner, this was a hard decision," Stocks said. "I understand the flag represents tradition and honor to some. But to others, the flag means that some members of the Ole Miss family are not welcomed or valued."
Mississippi House Speaker Philip Gunn, a Republican, has previously voiced his support for changing the state's flag because it contains the Confederate emblem, but Gov. Phil Bryant, also a Republican, declined to call a legislative session for lawmakers to do so.
Bryant maintained his position after the flag was taken down from the University of Mississippi campus, saying that "college students react a lot emotionally." Bryant was referring to the student senate, which voted for the flag's removal.
"Mississippians overwhelmingly voted in 2001 to adopt the current Mississippi state flag. I believe publicly funded institutions should respect the law as it is written today. It clearly states 'The state flag shall receive all the respect and ceremonious etiquette given the American flag,'" Bryant said.
(H/T: Twitchy)
–
Follow Jon Street (@JonStreet) on Twitter