Meet Kevin Sutton.
Last year he camped outside of a Best Buy in Orlando, Florida, for 15 days ahead of Black Friday. This year, his mission to be first in line to snag a good deal on a TV started on Sunday, 33 days ahead of the shopping holiday that follows Thanksgiving.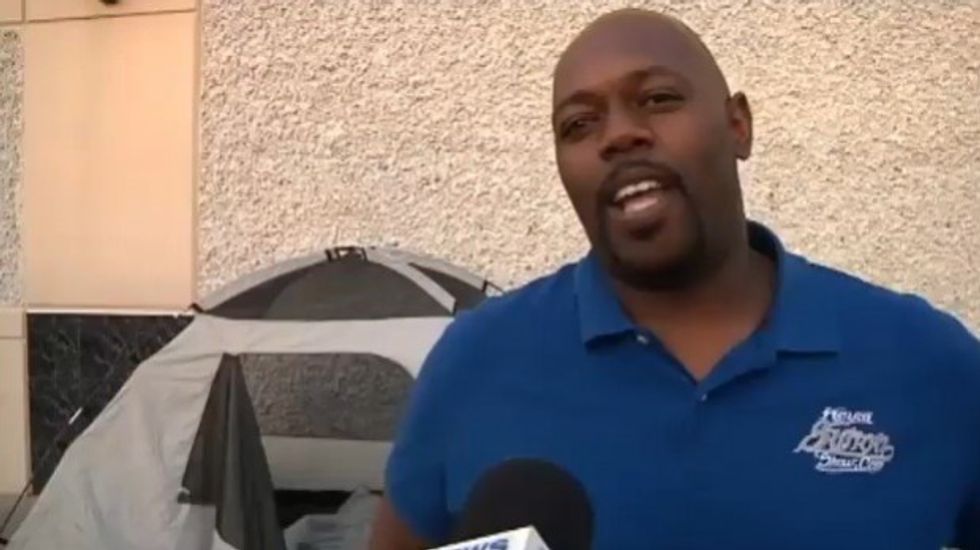 Kevin Sutton might be getting in line early to get a new TV, but he's also doing it to raise items for needy kids in the central Florida region. (Image source: WKMG-TV)
But Sutton isn't only wanting to make sure he's the first to head into the electronics store on what's historically the biggest shopping day of the year. He told WKMG-TV he is raising awareness about homelessness as well. The news station reported that Sutton, a radio host in the area, is collecting toys and other items that will be donated to needy children for the holidays.
"If people cared about me being silly, if all the joking made a positive impact, if I did 12 days more, if I did 20 more days, so I'm like, how about I do 30? And then I'm like, how about I do 33," Sutton told the news station, explaining that during his 15-day camp out last year people donated three tons of food. "If we can get the word out ... if we can do the same where we've got to get a U-Haul, it's all going to these kids, right here in central Florida."
Watch Sutton speak about his goal with his 33-day stint outside:
While he's on his mission, Sutton will be relying on food and drink donated to him. And the question everyone wants to know: What about the bathroom? WKMG reported that during store hours, Sutton uses the restroom in Best Buy.
According to WKMG, Sutton, if successful in his over a month-long camp out, will break a record set by women in California who started a line 22 days out from Black Friday last year.
Some stores are going the complete opposite route of the traditional Black Friday theme. REI, for example, announced this week that its stores would be closed that day, encouraging its employees and others to get outside.