The mother of a Palestinian killed earlier this month after he stabbed an Israeli soldier said she's proud of her son and wishes that her four children would follow in his footsteps and be "martyrs" for Allah.
During an interview with Lebanon's Al-Quds television, the mother of Muhammad Shamasne pulled a knife she had hidden in her dress and began waving it around threatening to launch her own attack.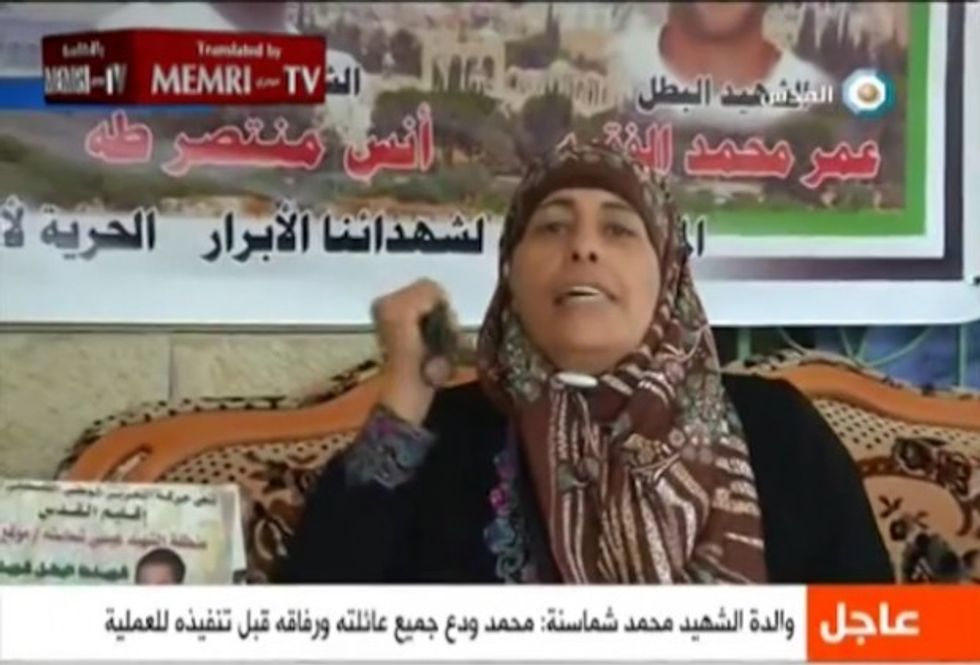 "Watch out, Israel!" warned the mother of a Palestinian assailant as she waved her knife during a television interview. (MEMRI)
"Watch out, Israel! Watch out!" the mother warned as she made stabbing motions with her hand.
"Please put that thing away," the shocked interviewer told the woman, noting that "such spectacles" are inappropriate.
"Allah be praised. Muhammad was martyred for the sake of Al-Aqsa, and for the sake of the young women of Al-Aqsa. Allah-willing, all of my children will in Muhammad's footsteps," the mother said, referring to Jerusalem's Al-Aqsa mosque.
The mother whose name was not provided said she knew her son had been planning a violent attack on Israelis.
"We regret nothing, we are proud of him," she said, adding, "I did not cry, and I'm angry he didn't take me with him."
She then offered candy to the television interviewer to "celebrate Muhammad's martyrdom."
On the evening of Oct. 12, her 22-year-old son, screaming "Allahu akbar," stabbed and lightly wounded an Israeli soldier on a bus in Jerusalem and tried to steal his weapon, Israeli police and witnesses said.
That attack was the subject of special media attention, because Shamasne's son was initially subdued in part by a middle-aged Israeli man using the martial arts nunchuks he was carrying for self-defense.
Yair Ben-Shabbat, the chain stick-carrying man, was hailed in the Israeli media as the "hero of the night":
גיבור הערב:יאיר בן שבת, נכנס לאוטובוס בו דקר המחבל את החייל בכניסה לעיר, היכה אותו עם נונצ'קו עד שחוסל ע"י השוטרים pic.twitter.com/HPRPeAbDkh

— Roi Yanovsky (@Roi_Yanovsky) October 12, 2015
Shamasne was shot and killed by police after he got his hands on a law enforcement officer's pistol, police told the Israeli media.
The Lebanese television interview was translated by the Middle East Media Research Institute.