KANSAS CITY, Mo. (AP) -- Edinson Volquez strode purposefully to the mound for Game 1 of the World Series on Tuesday night, apparently unaware his father had passed away hours earlier in the Dominican Republic.
The right-hander with the easy smile proceeded to hold the New York Mets at bay for six gritty innings, departing with the game still tied. Kansas City went on to a 5-4 victory in 14 innings, matching the longest game in World Series history.
It was only after he left, Royals manager Ned Yost said, that Volquez learned his 63-year-old father, Daniel Volquez died earlier in the day from heart failure.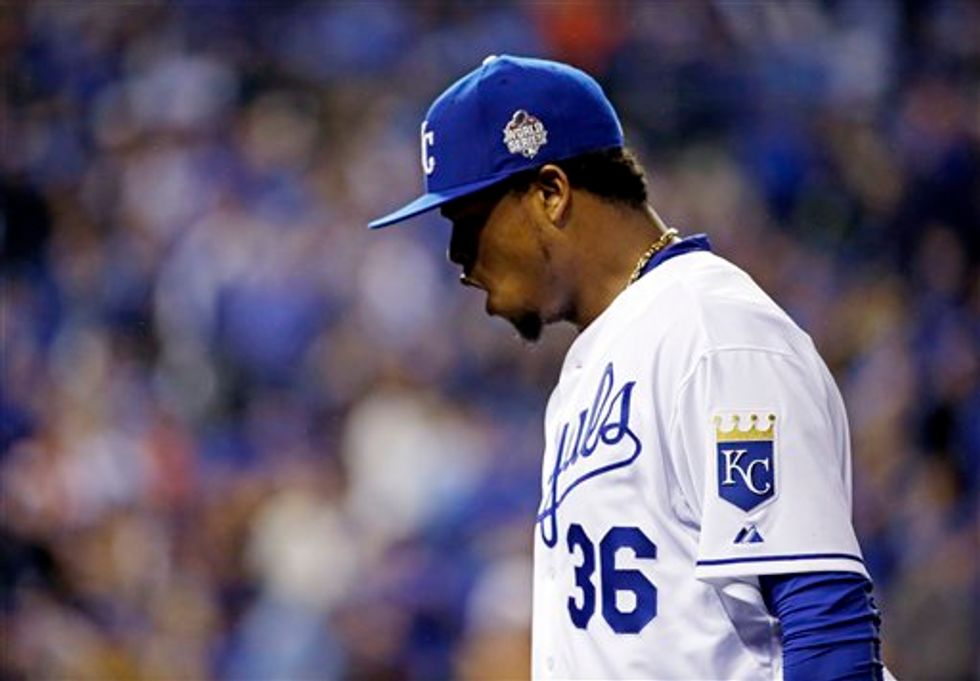 Kansas City Royals pitcher Edinson Volquez reacts during the fifth inning of Game 1 of the Major League Baseball World Series against the New York Mets Tuesday, Oct. 27, 2015, in Kansas City, Mo. New York Mets' Curtis Granderson hit a home run in the inning. (AP Photo/David J. Phillip)
"It was just, you know, it was sad, a sad situation," Yost told a few reporters gathered in the clubhouse. "You find out an hour before the game that your starting pitcher's father passed away, and it was hard. But again, you wanted to honor the family's wishes, and they requested, 'Don't tell Eddie. Let him go out and pitch Game 1 of the World Series.'"
Volquez had left the clubhouse with his family by the time reporters were allowed in after the game, but Royals pitcher Jeremy Guthrie spoke to him briefly.
"I could tell he was devastated," Guthrie said. "I had never seen him like that before. He was very subdued, very quiet. I could tell he was in a lot of emotional pain."
Earlier Tuesday, a person familiar with the situation told The Associated Press that Volquez was given the news of his father's death on the way to the ballpark.
The person spoke on condition of anonymity because he was not authorized to discuss the matter.
"Your heart goes out to Volquez and his whole, entire family," Royals first baseman Eric Hosmer said. "The way he went out there and battled for us, you hate to hear news like that. But it's another angel above watching us, behind us the whole way."
The elder Volquez, a mechanic in the Dominican Republic, introduced his son to the game when he was about 10 years old. Edinson Volquez often returned home to visit his parents, and said not long ago that they were his biggest supporters while trying to make it in the big leagues.
"Most guys didn't know. I found out, I think, in the 14th inning," Royals outfielder Alex Gordon said. "I was standing next to Ned and he told me, he said, 'Let's win this game for Volquez,' and explained what happened. I don't think he knew. I don't think most guys knew."
The 11-year veteran appeared to warm up as if nothing was amiss on a misty evening in Kansas City, then marched to the mound for his World Series debut as the crowd roared.
His first pitch to Mets leadoff hitter Curtis Granderson went for a called strike, and the right-hander went on to retire the side in the first inning. He fanned Daniel Murphy, the hottest hitter this postseason, as the crowd inside Kauffman Stadium chanted, "Eddie! Eddie!"
"It's almost superhuman," Guthrie said, "to do that when someone so important to you and someone you care about so much passes away like that."
In a heartbreaking coincidence, Volquez's father became the third parent of player on the Royals' World Series roster to die in the past three months.
Connie Moustakas, the mother of third baseman Mike Moustakas, passed away on Aug. 9 after a battle with cancer. Moustakas honors her every time he steps into the batter's box by scribbling her initials in the dirt with the end of his bat.
Charles Young, the father of Chris Young, also died of cancer on Sept. 26 - the day before his son made his first start for Kansas City in two months. Young proceeded to throw five no-hit innings, honoring his father with the performance, before leaving to be with his family.
Young was scheduled to start Game 4 of the World Series in New York, but he wound up earning the win in the opener Tuesday night with three shutout innings of relief.
"I don't think I've ever been through a year where you've gone through something like that," Yost said. "I've lost my dad - my mom is still going. But I know how hard it was for Moose and how hard it was for Chris. And you see Eddie out there, just competing his butt off, and you keep thinking, 'What's coming next?' The news is coming next. It's just hard."