The South Florida Sun-Sentinel has called on Florida Sen. Marco Rubio to resign from the U.S. Senate for having missed so many votes while seeking the Republican presidential nomination, asserting, "You are ripping us off, senator."
This comes even though an analysis posted Monday found Rubio missed fewer votes than either former Democratic Sens. Hillary Clinton (N.Y.) or Barack Obama (Ill.) missed in the 2008 election cycle.
"By choosing to stay in the Senate and get the publicity, perks and pay that go with the position — without doing the work — you are taking advantage of us," the Sun-Sentinel editorial board wrote. "Your job is to represent Floridians in the Senate. Either do your job, Sen. Rubio, or resign it."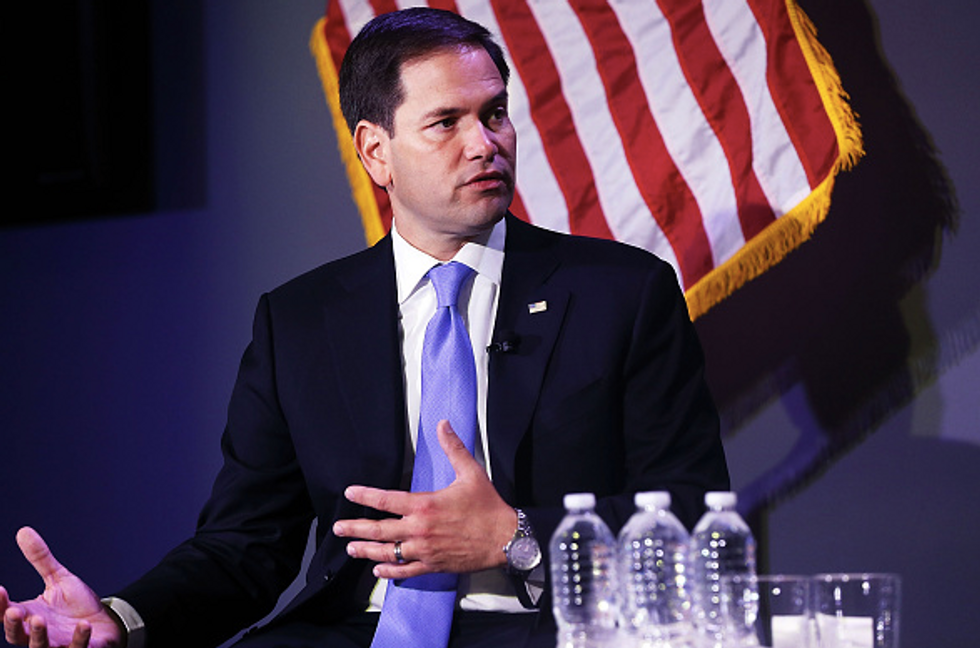 Republican presidential candidate Florida Sen. Marco Rubio speaks at Civic Hall on Oct. 6 in New York City. (Spencer Platt/Getty Images)
The newspaper pointed out that Kentucky Sen. Rand Paul, also seeking the Republican presidential nomination, and Vermont Sen. Bernie Sanders, seeking the Democratic nomination, missed only 10 votes while campaigning. That's compared to Rubio who missed 59 votes, including big votes on the Keystone pipeline and the Export-Import Bank.
"Rubio has missed more votes than any other senator this year. His seat is regularly empty for floor votes, committee meetings and intelligence briefings," the Sun-Sentinel said. "He says he's MIA from his J-O-B because he finds it frustrating and wants to be president, instead."
Though some of his current GOP rivals could make an issue of this in the Wednesday Republican presidential debate, Democratic frontrunner Hillary Clinton will have a difficult time raising the matter.
Rubio missed 44.6 percent of his votes since announcing his presidential campaign and had a 53.8 percent absence rate in the third quarter of 2015, according to a Daily Mail analysis.
That same analysis found that Hillary Clinton missed 83.5 percent of Senate votes in the final quarter of 2007, when she was campaigning for president, according to the analysis.
President Obama, as a candidate, missed 56.3 percent of his votes in the third quarter of 2007 and 89.4 percent of his Senate votes in the final quarter. As the Democratic presidential nominee, Obama missed 64.3 percent of his Senate votes, according to the Daily Mail. Nevertheless, the Sun-Sentinel endorsed Obama for president in 2008, then switched its support to Republican Mitt Romney in 2012.