A former one-stop wedding venue, gallery, restaurant and flower shop in Grimes, Iowa, that recently stood at the center over an intense gay marriage battle has officially closed its doors, with the building slated to reopen as as Christian church on Sunday.
Betty and Dick Odgaard closed the doors of their Görtz Haus Gallery this past summer after a national debate over their refusal to allow a gay couple to marry there. On Sunday, the building that hosted their business for 13 years will reopen with an entirely new purpose.
The Odgaards sold the building to Harvest Bible Church, a house of worship that the husband and wife have been attending for the past nine months, the Des Moines Register reported.
"If it can't be a gallery anymore, this is the next best thing," Betty Odgaard told the outlet. "We're pretty tickled."
Harvest Bible Church pastor Ryan Jorgenson said that the building has been remodeled and that he's hoping that the church — which is currently comprised of more than 170 members — will double in size in the upcoming months.
"We'll kind of outgrow it hopefully in a few years," he told the Des Moines Register. "It's hard to tell. I know it's not our permanent home."
As TheBlaze previously reported, the sale of the building followed furor over the Odgaards' decision to turn away gay couple Lee Stafford and his fiancé Jared Ellars in 2013 — an incident that resulted in a very public battle and a $5,000 settlement payout to the same-sex couple.
The Odgaards have since launched God's Original Design Ministry, a 501(c)(3) organization that will post billboards across the U.S. in an effort to defend traditional marriage as an institution that is comprised of only one man and one woman.
They unveiled their first billboard in Durant, Oklahoma, on July 24 — a 14-foot-by-48-foot placard with a message that reads, "Marriage =" and then an image of a man, a plus sign and a picture of a woman. A quote under those images is attributed to God and says, "Please…I need your help with this."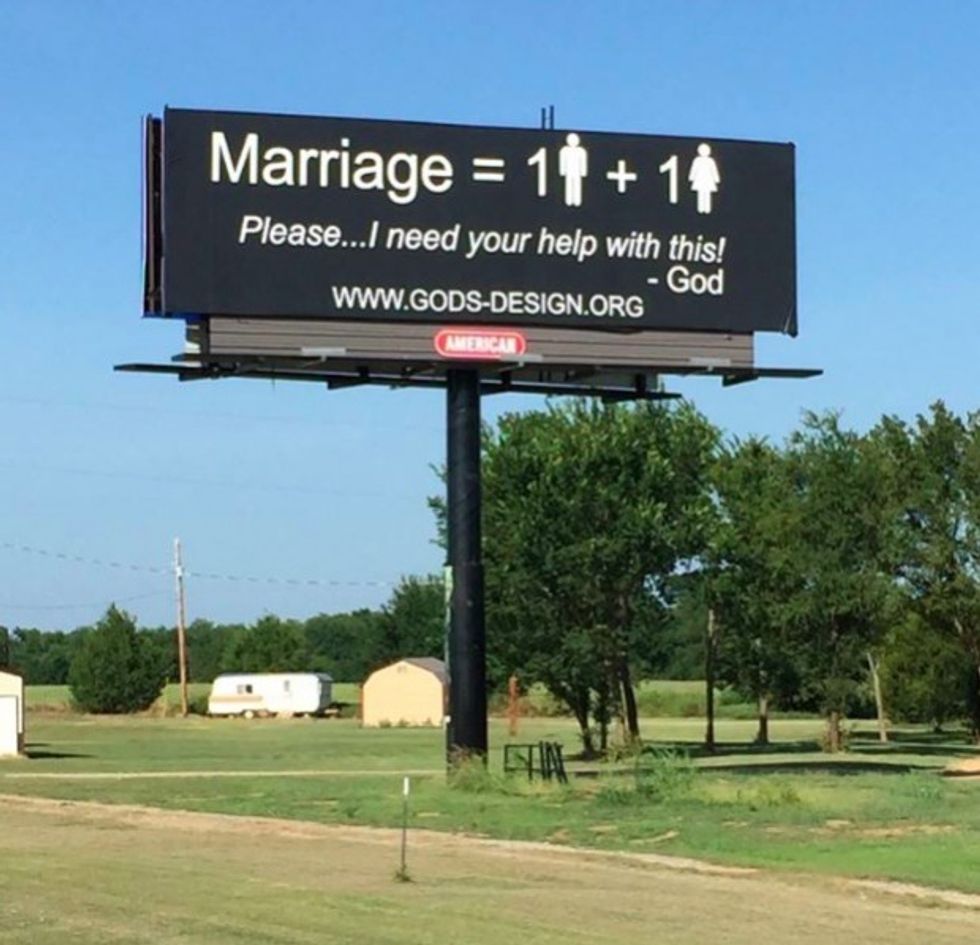 God's Original Design Ministry
Another billboard was erected in Eloy, Arizona, as well, with plans for a third in Charlotte, North Carolina. The Odgaards told TheBlaze over the summer that they hope to raise enough money to be able to place nearly 1,000 additional messages across America.
Betty Odgaard had previously said in June that the couple had hoped their church would be able to rent the space; the building was previously a church before it was purchased to become a gallery and business establishment.
"If all goes as planned it will be a church again — and as it so happens, the church we attend," she said at the time. "Ain't [God] awesome?"
Before announcing their closure, the Odgaards decided to stop hosting all wedding ceremonies rather than abide by a government mandate that they accommodate same-sex ceremonies; the remaining business activity, though, wasn't enough to keep the doors open.
"Our case had everything to do with our closing. Once we could no longer host weddings it was only a matter of time," Odgaard said over the summer. "The lunch business had already decreased substantially due to boycotts and all the slander and black eye now on Görtz Haus."
Listen to Betty and Dick Odgaard discuss their struggles during an April episode of "The Church Boys" (interview starts at the 36:00 mark):
--
Front page image via Shutterstock.com.
Follow the author of this story on Twitter and Facebook: