Just this week, Yasmine Mustafa worked until midnight and walked home from her office in Philadelphia.
She looked over her shoulder once to make sure a man who passed her on the opposite side of the street continued walking.
Several years ago, she started carrying pepper spray after a man followed her on one such late-night walk home. She walked past her apartment, not wanting to reveal to him where she lived, and eventually, she told TheBlaze, he stopped.
Though Mustafa said she never had to use her pepper spray in the years since, or even threaten someone with it, she's heard all too many stories of attacks against women. Some hit as close to home as a woman being beaten and raped in Mustafa's neighborhood and others she learned about as far away as South America, where she spent six months traveling solo a couple of years ago.
The issue Mustafa had with pepper spray as a defensive tool is that she found it kept getting taken away.
"If I ever went to concert or something it was confiscated. I brought pepper spray and they took it in the airport," she said.
All this coupled with the stories Mustafa had heard, and her own desire to be empowered to walk alone at night — or anytime for that matter — lead her and co-founder Anthony Gold to develop Athena, a wearable device that can emit a startling sound to hopefully scare an attacker off. At the same time, it sends text messages to emergency contacts, alerting them of the threat.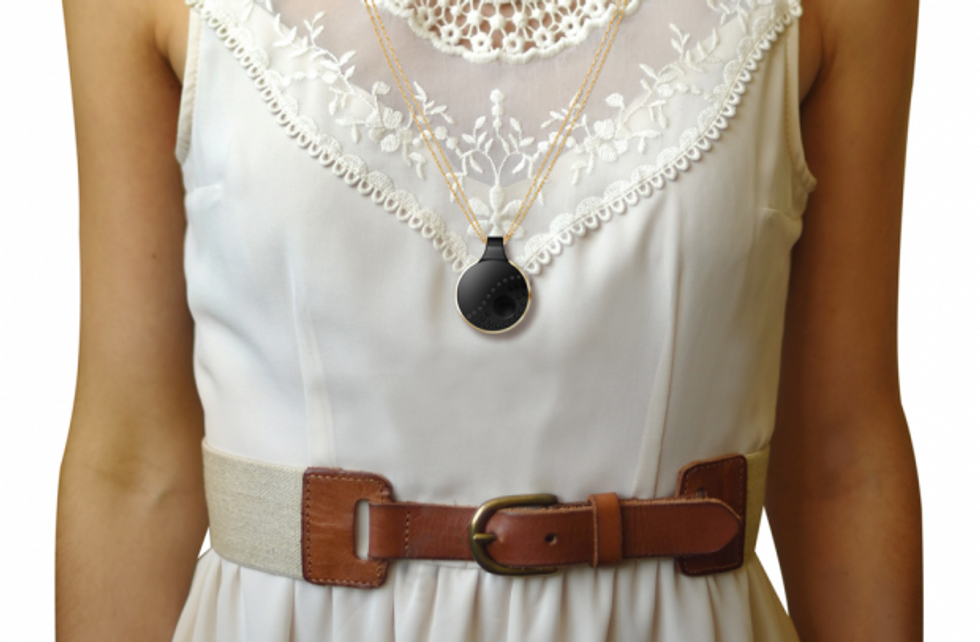 Image credit: Roar for Good
"Athena," as it's called, is still a prototype in testing that issues a loud, pulsating sound like a fire alarm. It already has a successful crowd-funding campaign with plans to ship supporters by May 2016.
"One of our advisers and self-defense instructors in the Philly police department said having that element of surprise buys yourself time and to startle them can be an extremely effective deterrent," she said.
When it came to developing a defensive tool, one of the reasons Mustafa said she didn't want to make a weapon is because she learned through market research that many women had a fear that such a weapon could be turned against them by an attacker.
While emitting a loud, startling noise is one feature (though it does have a silent mode too), the second component is how Athena alerts emergency contacts, which the user programs in, that the user might be in trouble.
"You need to help Sarah right now. This is an emergency," a text to these contacts would state if the button is pushed along with a map pinpointing the wearer's location.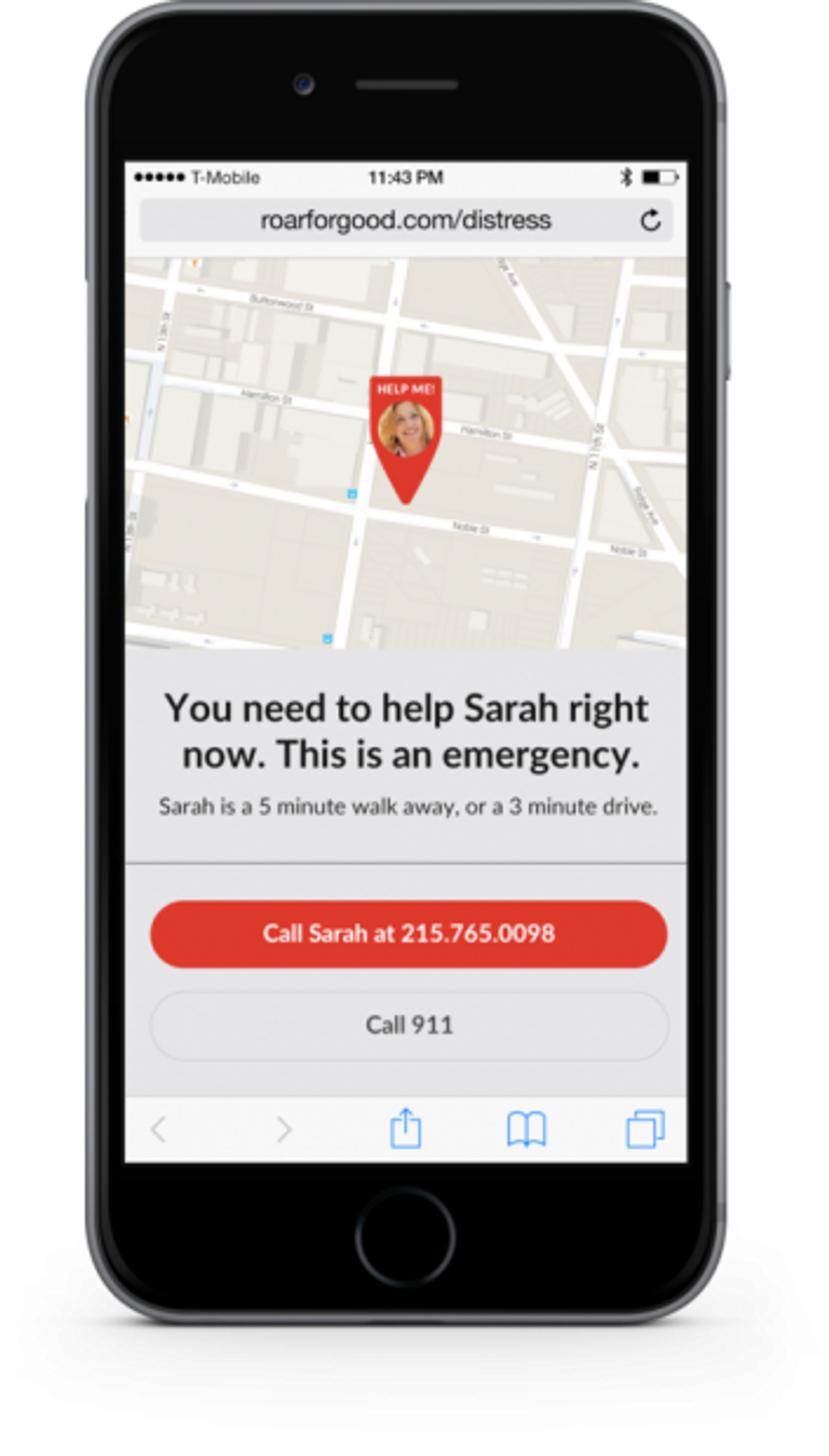 Image source: Roar for Good
You might be asking yourself, since this is a wearable device, what's the risk for accidentally issuing an alert.
"Our biggest challenge was to create a design that it's easy to use but not so easy to accidentally trigger it," Mustafa said. "The way we designed it, the texture of device, the bumps on it help guide your finger to button. The button is recessed and you have to press and hold for three seconds to activate it."
Athena, which exceeded its $40,000 fundraising goal on Indiegogo in less than a week (as of the time of this posting over $60,000 has been raised), also has another facet.
"What's resonating is the social impact element of it," Mustafa said, adding that she believes "we will be successful when the product is no longer needed."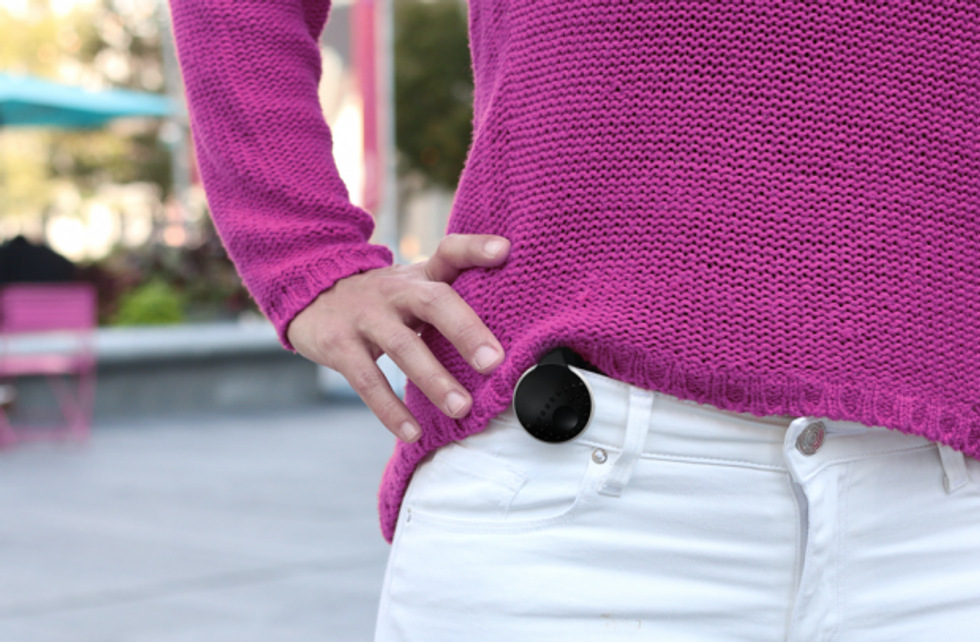 Image source: Roar for Good
To reach that goal, 10 percent of the proceeds are going to the One Love Foundation, which is devoted to helping people identify the signs of abuse within a relationship and give them resources for how to deal with it.
"The media plays up attacks against women on the street, but 80 percent of the time it's someone that you know," Mustafa said, explaining that she believes there is an increasing lack of empathy in our culture, leading to abuse and attacks.
"Building these devices is a short term solution to help you in the moment. The long term is taking a part of those proceeds [and giving it to an organization] that teaches skills that help decrease aggression later in life," she said.
Learn more about the project on Roar for Good's website.