White House press secretary Josh Earnest defended the Obama administration's decision to include Iran in the Syrian peace talks.
"For all of our differences with Iran, where our interests come into vigorous conflict, the president and secretary of state determined it's in our interest to test whether or not our interests overlap sufficiently that the Iranians could actually make a constructive contributions to this effort," Earnest said Thursday.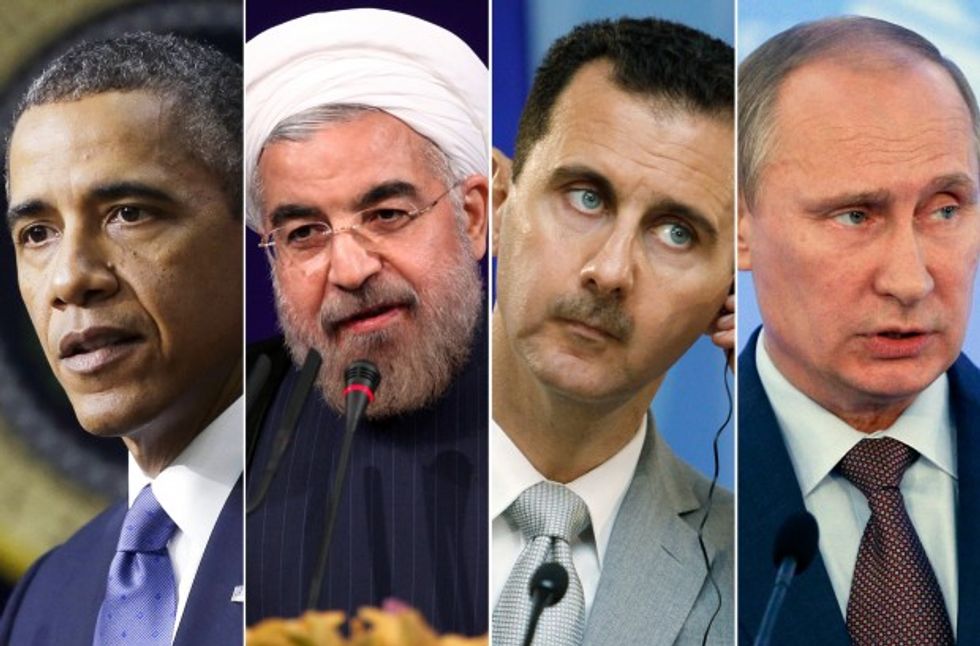 From left: President Barack Obama, Iranian President Hassan Rouhani, Syrian President Bashar Assad and Russian President Vladimir Putin. (AP file photos)
President Barack Obama and Secretary of State John Kerry have already included Russia in talks to stop the violence in Syria, where Syrian dictator Bashar Assad refuses to relinquish power.
"Given the deeper involvement by the Russians and the Iranians, they now have an even greater stake than they did before in trying to bring about the political transition that we all acknowledge is necessary," Earnest said. "As Russia and Iran get mired more deeply in the quagmire inside of Syria, it becomes even more in their interest for the kind of political transition that even they acknowledge is necessary to occur."
Earnest went on to say that the administration is still trying to convince both countries that Assad must step aside.
"Given the fact that essentially the Iranians are propping up the Assad regime, you might reasonably conclude the Iranians have a lot of influence over the Assad regime," Earnest said. "The Assad regime has for years been resisting a political transition and the question is now, are the Iranians willing to use their influence over the Assad regime to compel them to engage in this discussion — constructively in this discussion — to enact a political transition in Syria. It's unclear right now whether the Iranians are willing to do that. Maybe they won't be. It certainly is in their interest to do so."
"They certainly have the capacity to do so because we know the Assad regime relies on them almost for their very existence," Earnest continued. "So the question is, how are the Iranians going to use that influence. Again that's a proposition that Secretary Kerry is testing out. It's unlikely it will be clear right away whether they will be willing to use that influence to hasten this political transition, that continues to be up in the air but we'll see. To exclude Iran and Russia from these conversations would be a missed opportunity."