A pair of American Airlines passengers subdued a man who went off on a frightening rant about the military, 9/11 and bringing the plane down during a flight from Los Angeles to Philadelphia Thursday.
Witnesses told TMZ that he said, "We will all see the truth, and I will be famous today." The flight was diverted to Phoenix where police took him into custody for an emergency mental health evaluation.
Here's a clip obtained by TMZ allegedly showing the man being escorted from the plane:
After the plane landed in Philadelphia Thursday night, a KYW-TV reporter — who said those onboard cheered when the aircraft touched down — spoke with the passengers who subdued the unnamed man.
"We're sitting there on the plane and the guy comes up to the front to give a speech and he starts talking about the government and his uncle was missing in action," Chip Yates told KYW.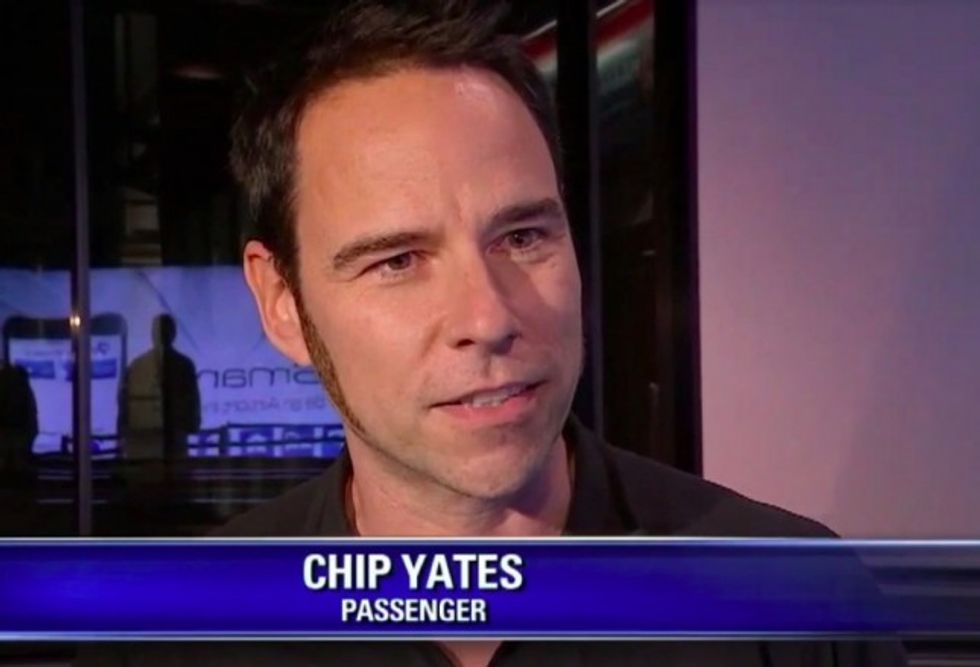 Image source: KSAZ-TV
Yates, who's also a pilot and was sitting just a few feet from the man, sprang into action. "We got duct tape and handcuffs, and we had to hold the guy in his seat and fasten his seatbelt, and said if you get up we're going to duct tape you together," he told the station.
Bill Shaw told KYW he was seated in first class when he witnessed the man pacing up and down the aisle and "being very hostile to people with money."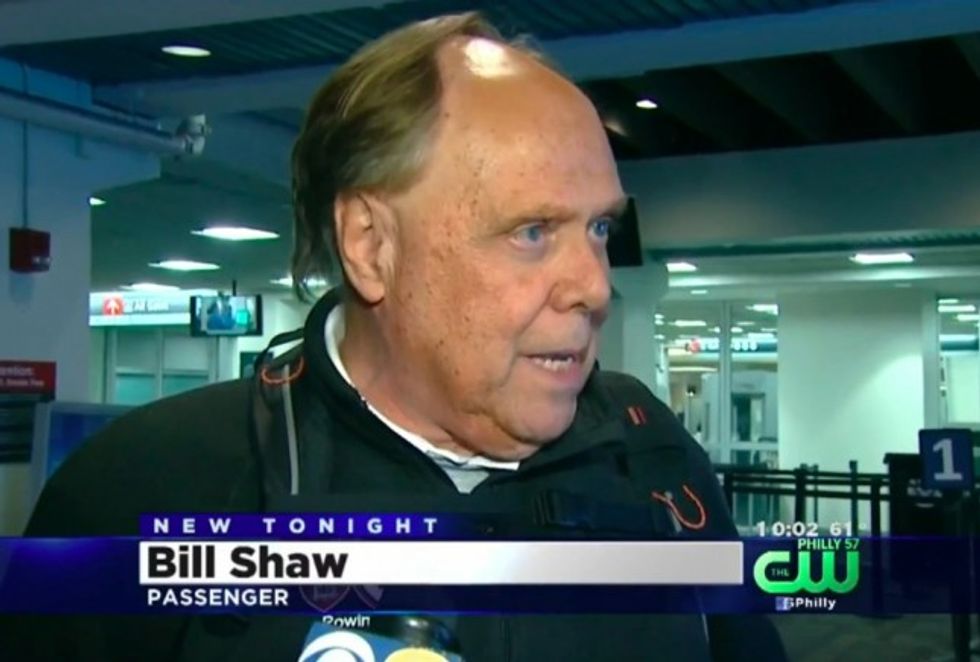 Image source: KYW-TV
"The poor guy needs help," Shaw told the station. "But he scared the hell out of everybody, I think he scared me. We didn't know at first if he had somebody with him."
Nicoletta Heidegger spoke to KSAZ-TV in Phoenix by telephone about the incident. "He started ranting about the military, the government, he was incomprehensible," she said. "It sounded like he was giving military commands and he started talking about psychological warfare and bringing the plane down. It seemed like he was having a flashback of sorts, and kind of in this military persona."
After a psychiatric evaluation, police told KSAZ the man could face charges for interfering with a flight crew.
(H/T: Daily Mail)
—
Follow Dave Urbanski (@DaveVUrbanski) on Twitter